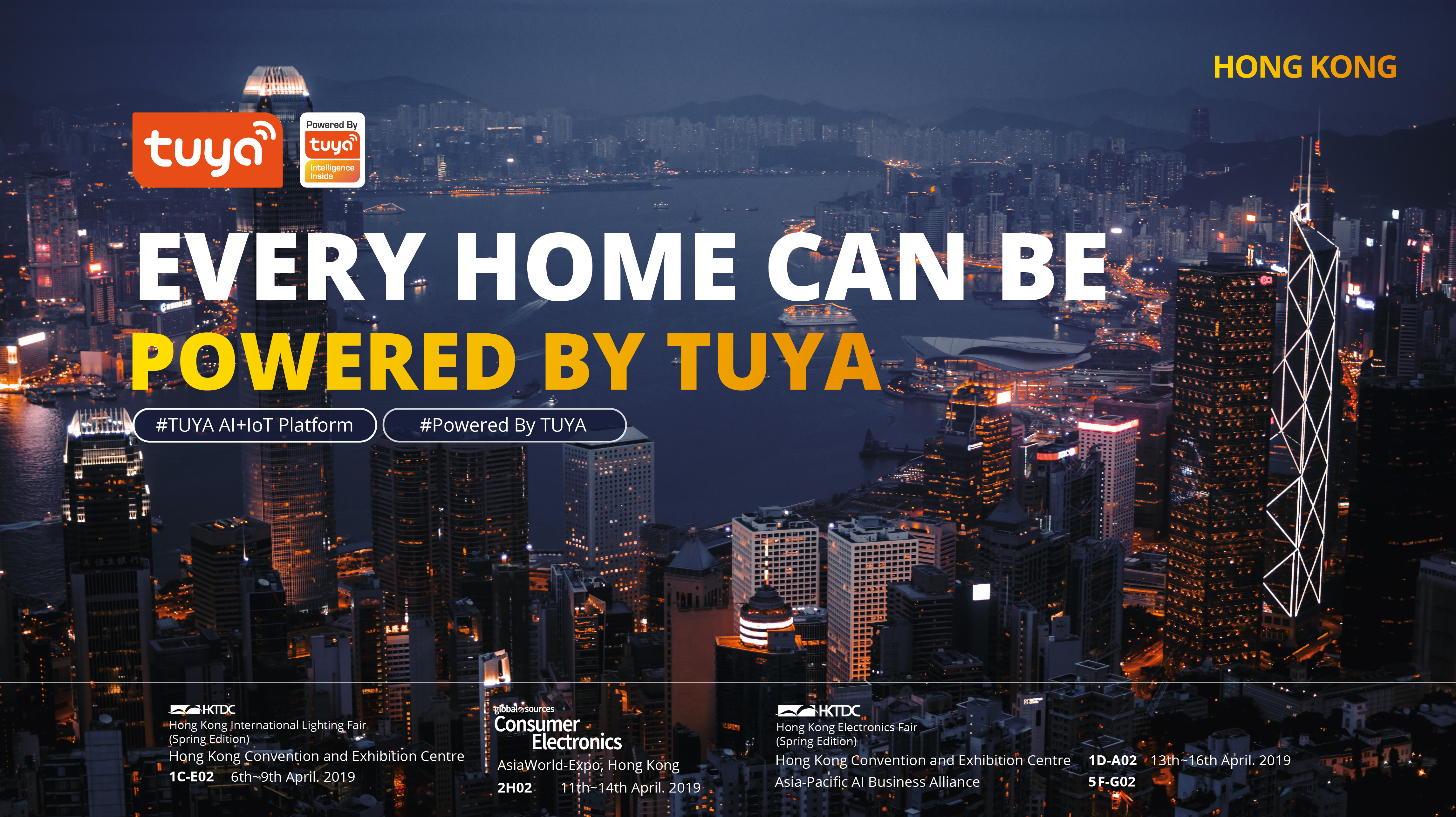 In each April, Hong Kong, China, welcomes a serial of exhibitions. Hong Kong Lighting Fair Spring Edition (April 6th to 9th), Global Sources Consumer Electronics Show (April 11th to 14th) and Hong Kong Spring Electronics Fair (April 13th to 16th) – which are top-notch exhibitions in the world and gathered tens of thousands of exhibitors and buyers from major countries and regions around the world. In 2019, Tuya, the global AI+IoT platform, attended this series of industry events in Hong Kong.
Though focusing on different fields and setting the promotion of foreign trades as one of the main goals for the three shows, one thing you can never neglect is the prevailing trend about AI and Intelligence related topics for these years.
According to statistics provided by the organizers, smart products ranked No.1 in the growth rate among all sales orders recently, and favorite products include intelligent lightings, smart sockets, smart cameras, smart door locks, and smart sensors. The wide range of categories, the speed of market expansion, as well as the functions in interconnectivity are something worth watching out in the global markets.
Another market research conducted by Hong Kong Trade Development Council shows that 72% of the buyers and exhibitors believe that the smart product market is quite promising, and consumers are willing to pay 20% higher to purchase intelligent home devices.
Beholding the fast-growing development of AIoT, a leading company in the industry played quite a crucial role - Tuya's platform, which acts as an engine to enable global players to quickly enter the smart business, and Tuya is a global AI+loT platform and a world-leading voice Al interactive platform. By enabling smart products for consumers, brands, OEM manufacturers and retail chains, Tuya provides users with hardware access, cloud services, and App development, and closes the loop on AI + manufacturing.
By the end of 2018, Tuya has served nearly 93,000 clients across the globe and have 100 million connected devices in the market with 30,000 smart products available on the platform.
One of the highlights that stands out Tuya is the PBT label, which means "Powered by TUYA (PBT)" and any smart product with the technical tag can interact with each other regardless of the brand and categories to have interoperability and easy control. So when consumers choose smart products with PBT logo, they can use a mobile phone App to control all devices and get rid of the cumbersome experience of managing multiple brands and different products in many Apps.
As an outpost for innovative technologies to achieve full commercial scale, the exhibitions in Hong Kong have welcomed quite some fantastic products that might reshape the future. In the spring of 2019, Tuya with its "PBT" technology empowerment of IoT OS with easy Plug and Play is sure to redefine the prospect of intelligent life and integrate with the ecosystem together with its global partners.
Click on the "Read the original>" and know more