Deltaco will use Tuya's IoT platform to launch its own smart home collection.
Düsseldorf, 20th January 2021 — Tuya Smart, a leading global IoT Development Platform, and Deltaco, an IT distributor with 28 brands in the Nordics region, announced the first strategic partnership in the Nordics Region to give both companies new key advantages in the local smart home market.
The partnership aims to establish and continuously evolve Deltaco's strong, smart home product portfolio in the categories of power, light, security, and climate. Together with the Deltaco Smart Home App based on Tuya's IoT platform, end customers have the perfect foundation to create their individual Smart Home and easily control and personalize it across categories and devices from one App.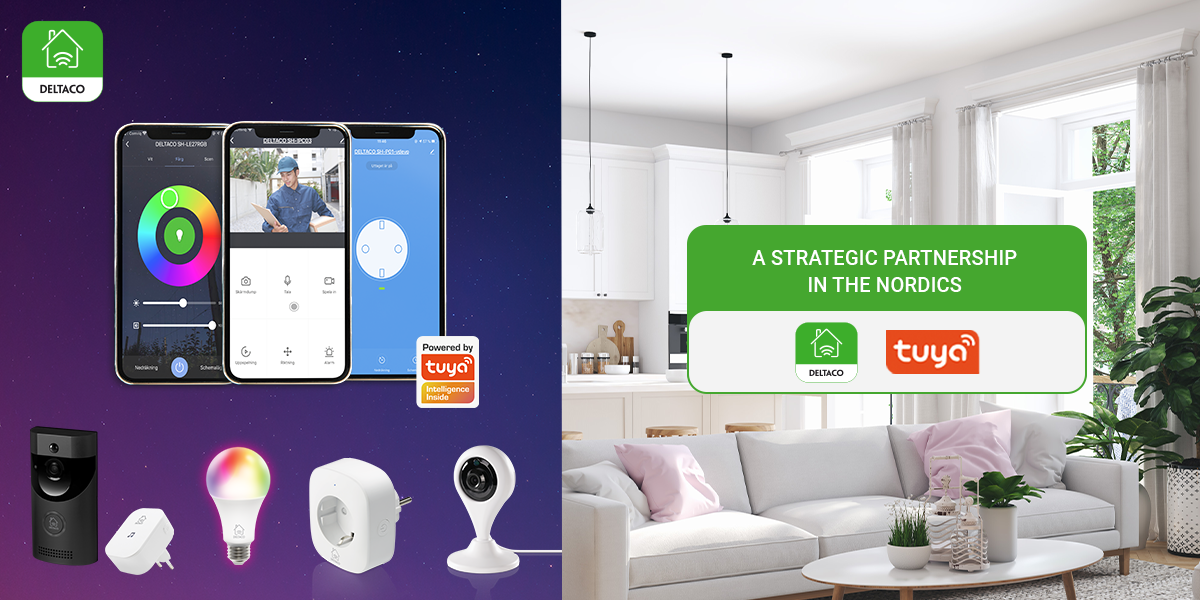 Since the beginning of the cooperation, Deltaco has now gathered more than 100,000 users in the App, sold more than 300,000 smart home products, and grew fast. "We are very proud to have the Deltaco Group," says Tina Yu, Tuya's General Manager of Eurasia Region from Tuya Smart, "Deltaco has been leaving significant footprints since entering the smart home market, and in the future, Tuya will continue to cooperate with Deltaco in the field of smart life to jointly develop better and convenient smart products, including electricians, lighting, security, etc."
Deltaco will continue building an intelligent ecosystem by entering the mainstream retail channels online and offline in Northern Europe, with the ambitious target of doubling their numbers of App users and product sell-out in 2021.
"We chose Tuya as software provider because they offer an open and stable platform that also complies via voice control with Google Home and Amazon Alexa," says Claes Eriksson, Chief Purchasing Officer of Own Brands and a member of the Management team in the Aurora & Deltaco Group, "Tuya has also been able to gather many of the smart home suppliers to choose their software solution and chipsets which gives the end consumer and us a wide product range to select from."
About Deltaco
Deltaco was founded in 1991 and has since had 28 years of stable profitability. Deltaco is an IT distributor with 28 brands. Dist-IT has been listed on Nasdaq OMX, First North, since April 2011. Headquartered in Stockholm, the company has subsidiaries in Denmark, Finland, Norway, and Lithuania. Deltaco's product range includes approximately 4,000 products focused on cabling, networking, multimedia products, storage products, mobile device accessories, computer components, mice and keyboards, and more. The assortment can mainly be divided into two groups: consumer and business products.
About Tuya Smart
Tuya Smart is a leading global IoT development platform with a unique, all-in-one offering of cloud + connectivity + app that makes it easy and affordable for brands, retailers, and OEMs to make their products smart. Tuya's platform has smart-enabled more than 250,000 product SKUs in hundreds of categories worldwide, serving over 260,000 developers globally. Tuya is internationally operated with headquarters in the U.S., Germany, India, Japan, Colombia, and China.
For more information, please visit: Tuya's website, LinkedIn, Facebook, Twitter or YouTube.