DÜSSELDORF, April 29, 2021—Tuya Smart (NYSE: TUYA), a leading global IoT cloud platform today held the final event in the virtual conference series, The AI+IoT Business Conference Europe. This event, focusing on the German smart home market, is the final in a ten-part series on the European smart home market. The conference invited industry experts to share their insights in virtual presentations. The previous nine events focused on Italy, Russia, the Netherlands, Poland, Spain, France, Britain, Greece, and Turkey.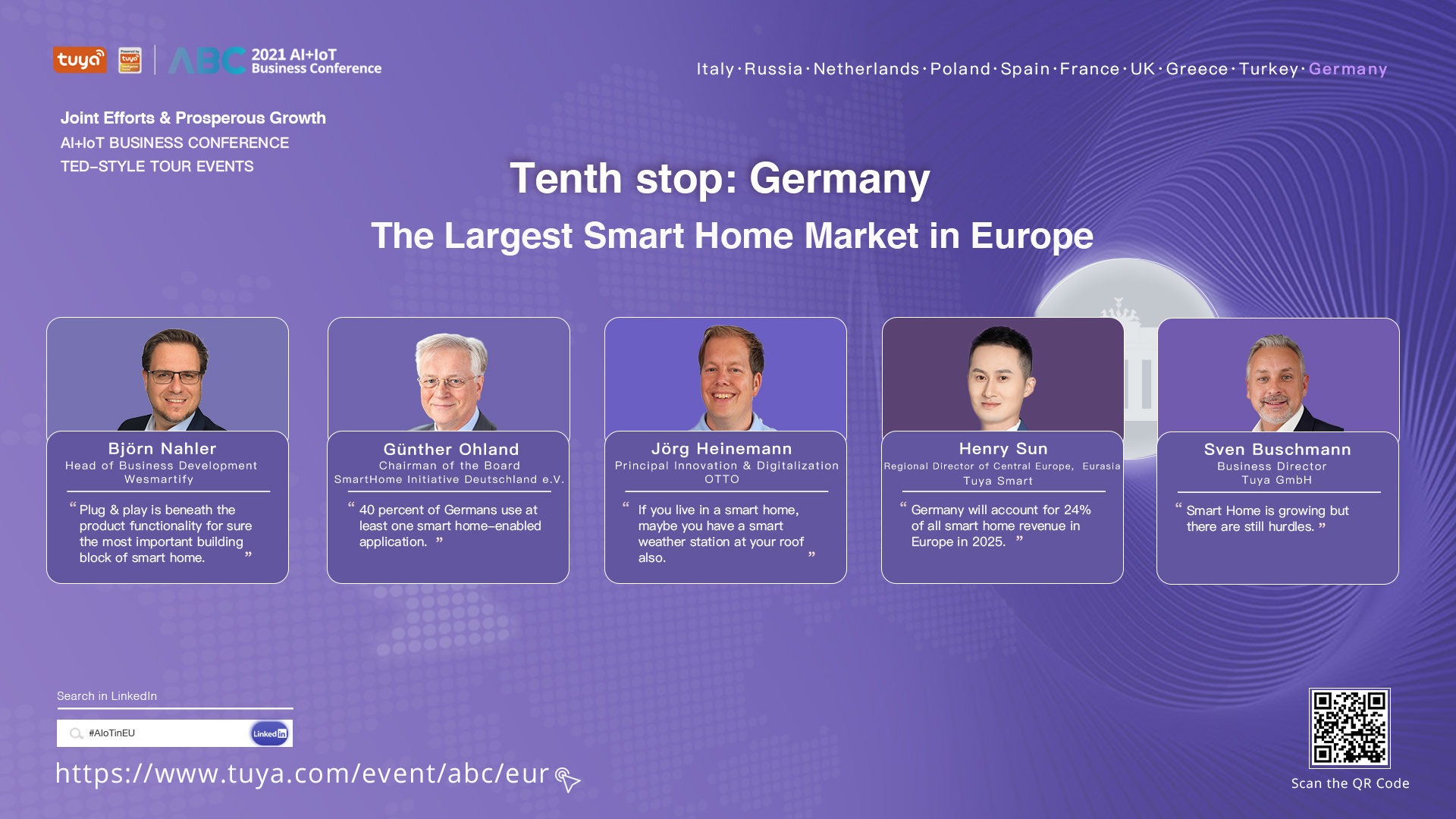 Henry Sun, Regional Director of Central Europe, Eurasia from Tuya Smart, provided two pieces of data in his speech: a new research report published by MarketsandMarkets shows that the European smart home market size is expected to grow to USD 39.6 billion by 2025. Secondly, according to Dr. Jeremiah Lasquety-Reyes, a digital market analyst focusing on e-services, smart home technologies, and IoT, the revenue of the smart home market in Germany is expected to reach USD 9,644 million in 2025.
Sven Buschmann, Business Director from Tuya GmbH, shared his view that the smart home market is growing but there are still challenges around security and data protection, B2B overhead cost and interconnection between equipment.
Björn Nahler, Head of Business Development at Wesmartify, a German smart home startup, indicated in his presentation that the real advantage of smart home products is that users can connect different devices in the home to provide additional value to the user. However, the connections of many smart home systems now are not established automatically by the system, but must be done manually by the user.
Günther Ohland, Chairman of the Board at SmartHome Initiative Deutschland e.V., shared the results of a survey in his speech revealing that 40% of Germans use at least one smart home App, and that 38% are interested in the smart home. He suggests manufacturers of smart home products focus on these two groups and strive to address their needs.
Jörg Heinemann, Principal, Innovation & Digitalization at OTTO, a German e-commerce company, demonstrated a day in the life of a smart home in his presentation and showed how smart products can greatly enhance the daily needs of consumers, making their home life safer and more convenient.
To view the conference presentations, please register at https://www.tuya.com/event/abc/eur
About Tuya Smart
Tuya Smart (NYSE: TUYA) is a leading global IoT cloud platform with a unique, all-in-one offering of cloud + connectivity + app that makes it easy and affordable for brands, retailers, and OEMs to make their products smart. Tuya's platform has smart-enabled more than 252,000 device SKUs in hundreds of categories worldwide, serving over 262,000 developers globally. Tuya is internationally operated with headquarters in the U.S., Germany, India, Japan, Colombia, and China.
For more information, please visit: Tuya Smart's website, LinkedIn, Facebook, Twitter or YouTube.