November 3, 2022 -- Tuya Smart (NYSE: TUYA, HKEX:2391), a global IoT platform service provider, officially launched Tuya's solutions for Bluetooth Mesh Simple Setup (BSS) for Bluetooth Mesh smart devices, the latest collaboration between Tuya and Amazon in the development of IoT industry.
Tuya provides support for Frustration-Free Setup (FFS). FFS is an Amazon program that enables customers to connect supported smart devices to their Wi-Fi network in a few easy steps. The consumer can take the device out of its packaging and power them in order to complete the smart device setup.
In 2020, Tuya developed a solution for Wi-Fi Simple Setup (WSS), a part of FFS, for Wi-Fi devices. Tuya started to develop a solution for BSS, another part of FFS, for Bluetooth Mesh devices in 2021, marking another significant step in its long-term collaboration with Amazon.
Tuya's solution for BSS can directly connect Tuya-enabled smart devices to select Amazon Echo devices via Bluetooth. Consumers can configure the device for use through the Amazon Echo using Zero-Touch Setup (ZTS) mode, or manually set it up through User-Guided Setup (UGS) mode. In addition, consumers can also configure the device through the Tuya-enabled App. After the device is configured, customers can control the device through Amazon Echo, Alexa App and Tuya-enabled App. This allows the consumers to use remote control, voice control, and to manage the device without a smart speaker at home. Tuya's solution for BSS addresses the pain points of the previous cumbersome device configuration processes and improves the user experience for smart device consumers.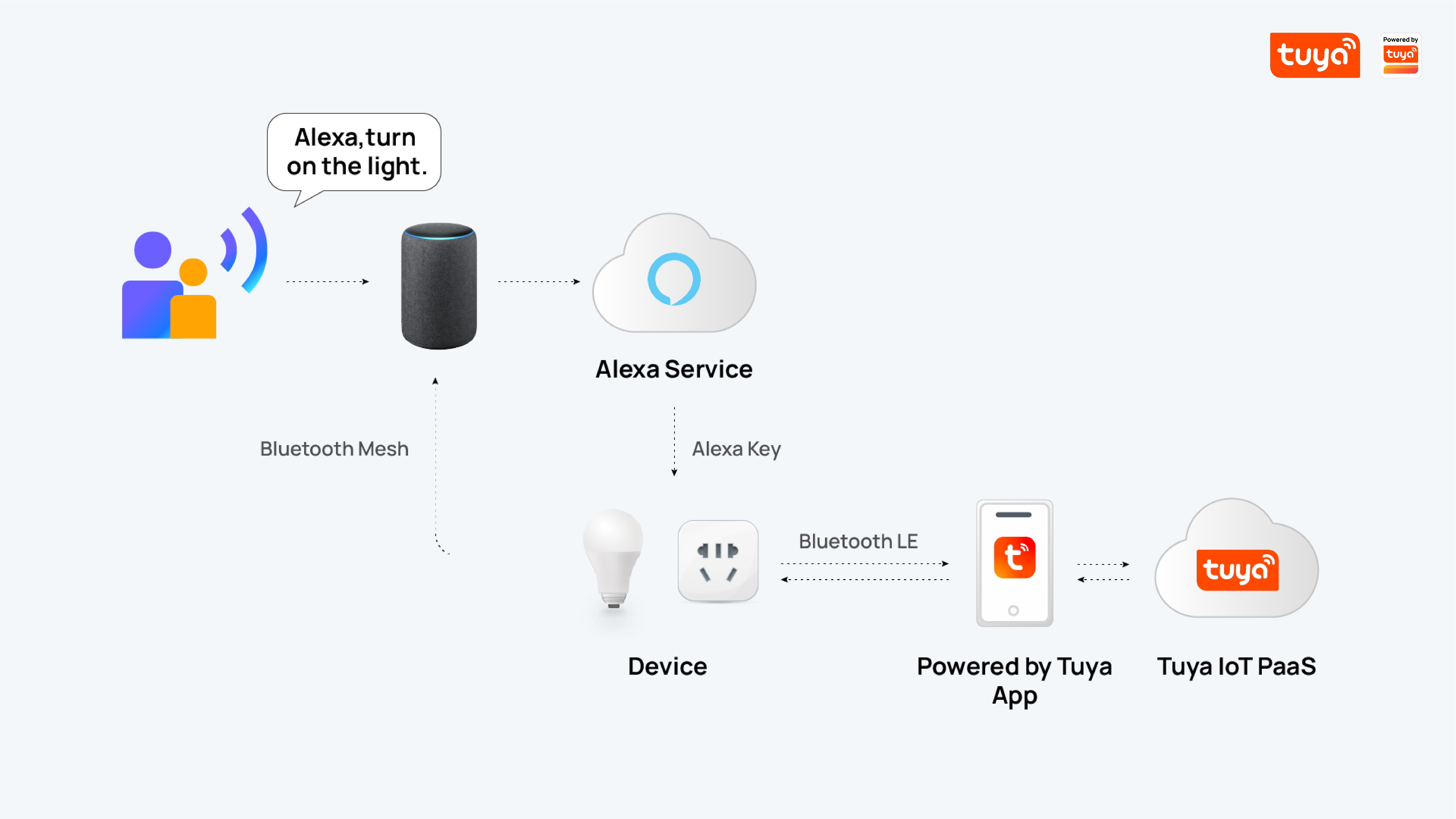 The Tuya solution for BSS features four clear advantages: 1.It enables access to different IoT ecosystems and provides functional support. Devices powered by Tuya will not only be able access to Amazon's services, but they can also enter other third-party ecosystems through Tuya's open ecosystem. Consumers can easily configure their smart devices through Tuya-enabled App even without Amazon Echo in their home. In addition, the Tuya solution for BSS enables global manufacturers to develop more device features, such as music rhythms, dynamic scenarios, recurring timing, Over-the-air (OTA) firmware updates, and more.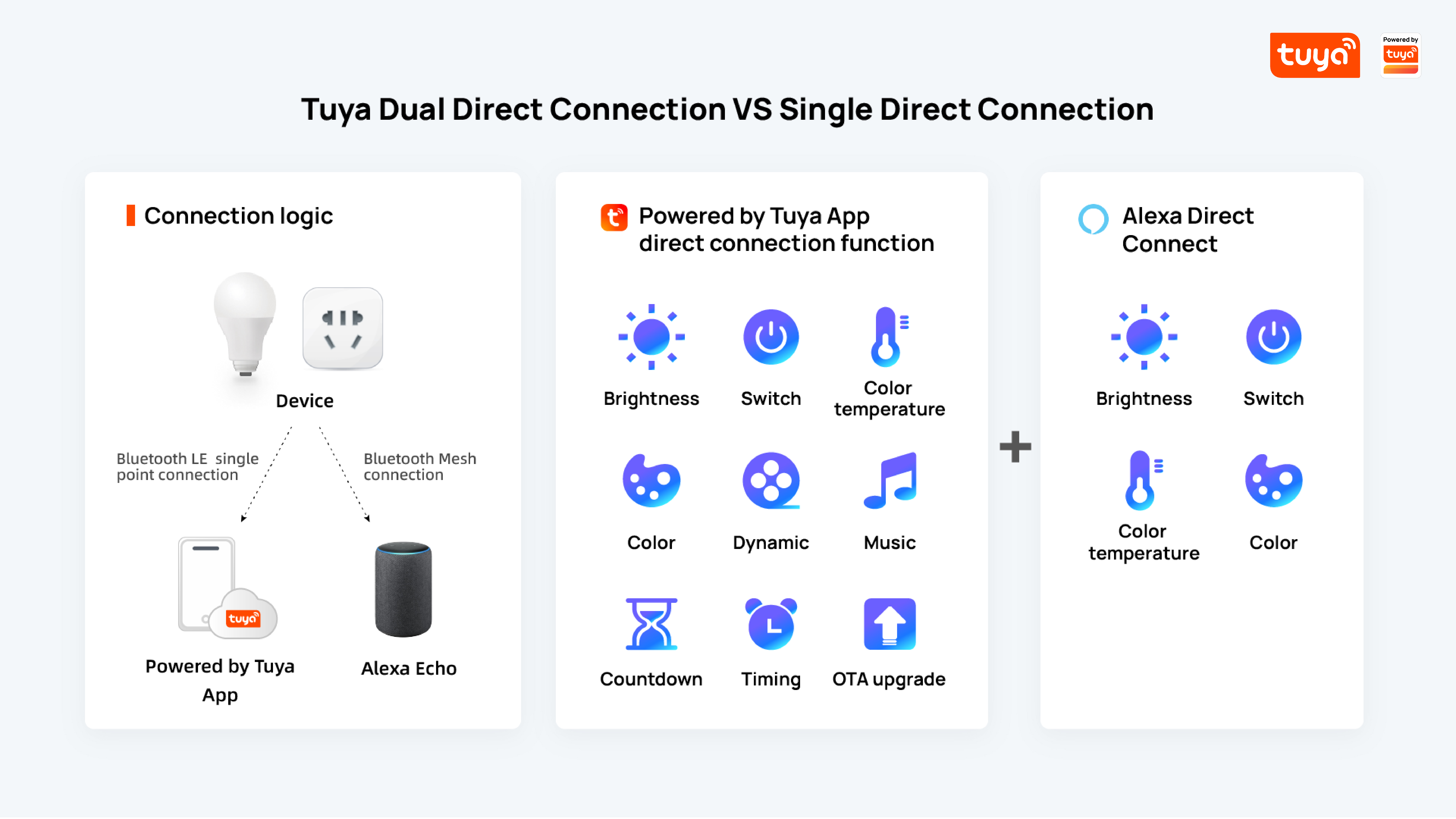 2.The Tuya solution for BSS has the advantages of Tuya Bluetooth Mesh protocol. It allows customers to have more options for their smart devices control, including direct connection via Bluetooth on mobile phones and remote control through a gateway. The connection is more stable. Smart devices are less susceptible to the interference from the 2.4GHz band with Tuya's frequency-hopping technology. At the device management level, it enables smart devices to communicate up to 100 meters, and supports stable interconnection of over 300 sub-devices. The Tuya solution for BSS enables customers to provide consumers with a stable smart device setup.
3.Tuya provides a solution for BSS in a more cost-effective way with technical support from Tuya IoT Development platform. The many development solutions with low-coding or no-coding of the Tuya IoT Development Platform save developers a lot of labor and capital costs for development, allowing them to complete development cost-effectively and efficiently, so that they can provide valuable services and products to enable the best customer experience.
4.Tuya also provides full-service support from development-to-production that means when customers develop smart devices on Tuya IoT Development Platform, Tuya also could help developers to quickly produce smart products that meet market expectations.
Implementing BSS technology is one of the prerequisites for Certified for Humans (CFH) certification. CFH is an Amazon certification for devices that identify high-quality smart home experiences across setup, usability, and performance. When the products are identified as Certified for Humans, they are eligible for Certified for Humans merchandising on Amazon.com, featured in the Certified for Humans storefront on Amazon, and backed by Amazon product support. These services increase customer confidence in your products and customer traffic to your listings.
Tuya has collaborated with Amazon Alexa to add support for BSS and WSS, and is expected to launch FFS solution for devices based on Matter (MSS), the new industry-unifying connectivity protocol, by the end of 2022. In the future, Tuya will also continue to work with Amazon Alexa in smart home and other segments to help global manufacturers enter the market faster.
As a global IoT development platform service provider, Tuya always helps global developers gain more smart business opportunities. In terms of marketing, Tuya has over 120,000 global online and offline channels. In terms of technology, through continuous upgrades of Tuya's solutions for FFS and other cutting-edge solutions, Tuya is committed to making it easier, more cost-effective and more convenient for global customers to enter the smart era.
About Tuya Smart
Tuya Smart (NYSE: TUYA, HKEX:2391) is a leading technology company focused on making our lives smarter. Tuya does this through offering a cloud platform that connects a range of devices via the IoT. By building interconnectivity standards, Tuya bridges the intelligent needs of brands, OEMs, developers, and retail chains across a broad range of smart devices and industries. Tuya solutions empower partners and customers by improving the value of their products while making consumers' lives more convenient through the application of technology. Through its growing commercial SaaS business, Tuya offers intelligent business solutions for a wide range of verticals. The Company's platform is backed by industry-leading technology complete with rigorous data protection and security. Tuya partners with leading Fortune 500 companies from around the world to make things smarter, including Philips, Schneider Electric, Lenovo and many others.