Tuya Smart (NYSE: TUYA, HKEX: 2391), a global IoT developer service provider, has been committed to advancing the adoption of Matter standards in the industry, helping customers to reduce the cost to receive Matter certification for devices, and shorten product launch times, to seize new opportunities in smart business.
The Connectivity Standards Alliance officially released Matter 1.2 on October 23, 2023. The update adds support for nine new types of connectivity devices, and makes important improvements to the existing technical specifications, SDKs, certification policies, and testing tools.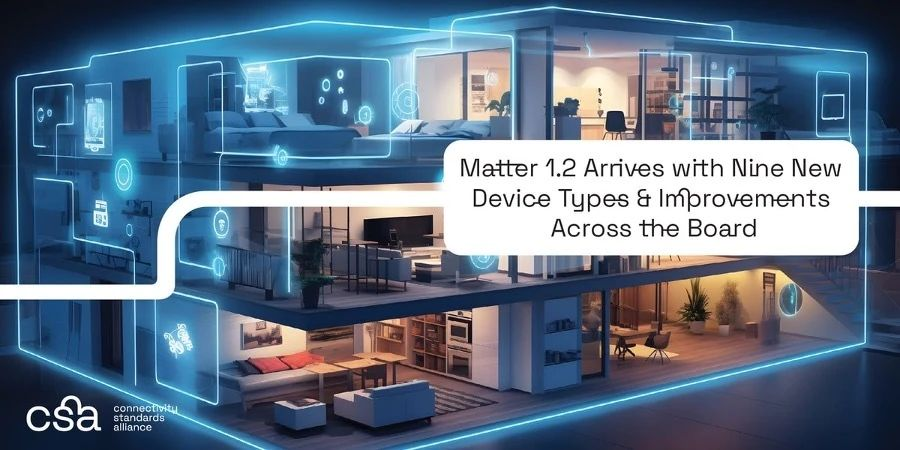 [Matter 1.2 released]Source: Connectivity Standards Alliance
As a pioneer in promoting Matter, Tuya has showcased its full-stack solutions for Matter at several well-known industry events, including CES, MWC, IFA, and the Hong Kong Electronics Fair (Autumn Edition). Tuya was also invited by ecosystem partners to show its full-stack solutions for Matter at marketing events including AWS Summit, Google I/O, Google Smart Home Summit, among others. It also joined the Connectivity Standards Alliance Boston Member Meeting, and the Samsung Developer Conference. Meanwhile, Tuya, as a member of the Connectivity Standards Alliance's China Member Group, also participated in the Matter Interoperability Wall Program, and presented at the Guangzhou International Lighting 2023.
Matter 1.2 officially released
Tuya Continues to Expand Matter Product Categories
The newly released Matter 1.2 adds support for nine new types of devices, including refrigerators, room air conditioners, dishwashers, washing machines, floor sweepers, smoke and CO alarms, air quality sensors, air purifiers, and fans. Additionally, Matter 1.2 features important improvements to its testing and certification program, such as the addition of new chip platform support to the SDK, enhancements to the Matter testing tool, and other functionality improvements that will help companies shorten product launch times.
With Matter 1.2, Tuya continues to improve its full-stack solutions for Matter, helping customers expand their Matter smart home product portfolios. As of October 5, Tuya has obtained 217 Matter certificates, covering five main categories: electronics, lighting, sensors, gateway, and home appliances. The launched hardware solutions cover a number of smart home categories: light bulbs, light strips, switches, gateways, sockets, sensing, curtains, thermostats, and others.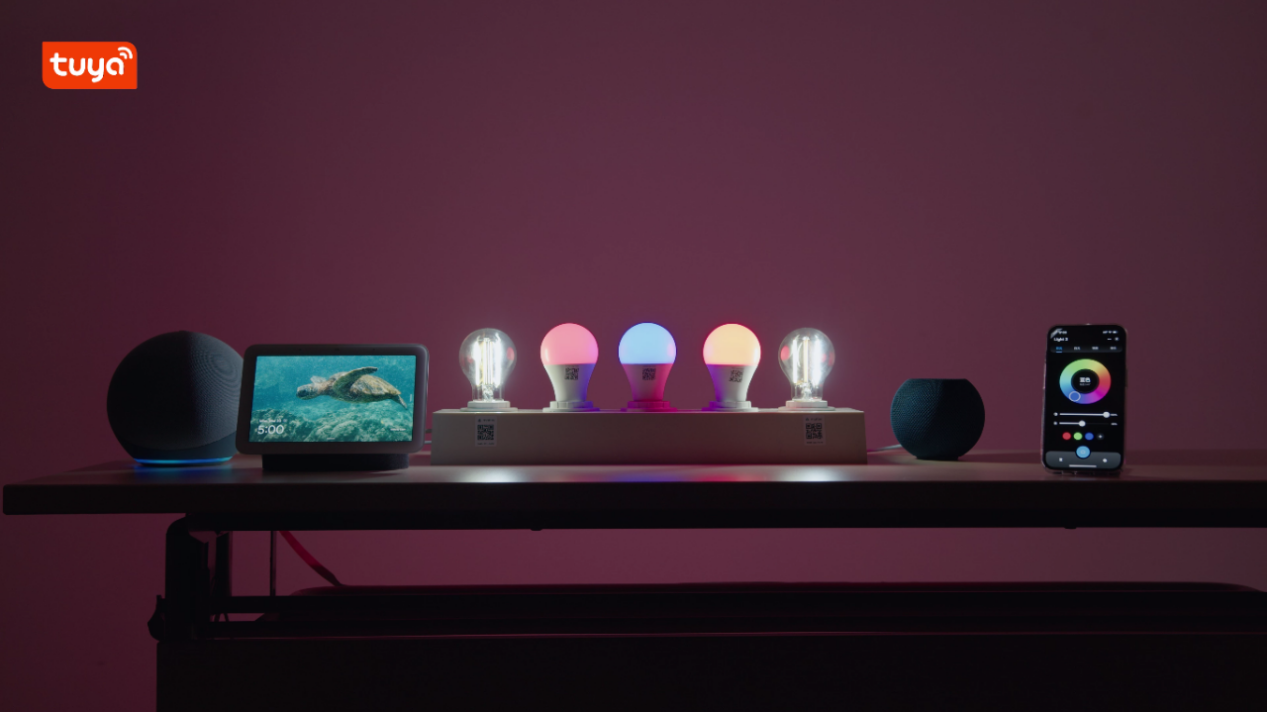 [Demo Station of Tuya's Full-stack Solutions for Matter]
In July, Tuya Smart became one of the few businesses in the world to offer both full-stack solutions for Matter and Matter Non-VID Scoped PAA certificates that are recognized by the Alliance. This enabled Tuya to help more than 846,000 global developers in its ecosystem to complete the security certification of Matter devices in a highly efficient and cost-effective way.
Last month, Tuya also participated in the test of Matter 1.2 SVE including Matter over Thread Smoke and Carbon Monoxide Alarms, and Matter over Thread Air Quality Sensors. With the release of Matter 1.2, the two new tested product solutions will soon be available.
In addition, Tuya is also actively involved in the upgrading and iteration of the Matter TV standard, aiming to ensure that the Tuya-enabled center control panel's features align with the next standard. It is reported that the Matter TV standard with Tuya-enabled center control screen capabilities is expected to be officially released next spring.
Tuya is further strengthening its relationship with ecosystem partners to advance the application of Matter in various spheres. In response to Amazon's introduction of Matter Simple Setup (MSS), Tuya has launched its solutions for MSS and finished MSS testing for Tuya-enabled Wi-Fi and Thread devices. Meanwhile, customers are further enabled by Tuya in accordance with the Commissionable Endpoint functionality from Amazon. After adding the device, end-users can use the Tuya-enabled App to immediately synchronize Matter devices to local system. Thus, end-users can use Amazon Echo speakers to achieve local control of Matter devices even when there is no network connection.
Lower the Barrier to Receive Matter Certification
Enable Customers to Build Differentiated Competitive Strengths
As the Alliance's highest-level member, Tuya possesses several qualifications, including Matter product compliance certificate transfer, similarity certification, and new certification, among others. That is to say, all products created using Tuya's Solutions for Matter can be certified quickly and affordably through Tuya's certificate transfer, significantly reducing the time required for certification.
MOMAX SMART, a leading AIoT and consumer electronics brand, recently developed the Matter Gateway and Matter LED through Tuya's full-stack solutions for Matter and obtained the Alliance's Matter certification. With Tuya's support, MOMAX SMART received certification within thirteen business days and became the first Hong Kong brand to enter the Matter ecosystem.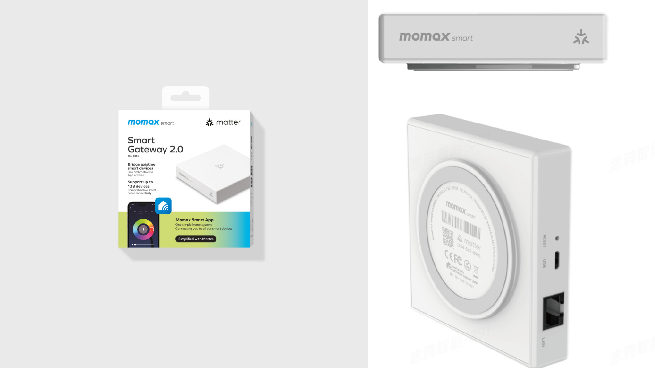 [MOMAX SMART's Matter gateway built on the Tuya developer platform]
Meanwhile, relying on the Tuya developer platform, MOMAX also achieved interconnection with Amazon Alexa, Google Home, Apple Home, and other mainstream ecosystems, which provides a boost to the layout of MOMAX in overseas markets. Currently, MOMAX has won a good reputation in Hong Kong and Taiwan, Southeast Asia, and Europe. John Cheng, CEO of MOMAX SMART, said that in the future, he hopes to develop more Matter devices and work with Tuya to promote the penetration of Matter in the smart home industry.
Matter's continuous upgrading will accelerate the breaking down of ecosystem barriers and further tackle the problem of smart home fragmentation for both upstream and downstream businesses in the smart home market. In the future, Tuya will continue to promote the development of Matter devices, design, test, and validation of Matter, and facilitate the adoption of Matter in the global market.