2021 AI+IoT Business Conference Online South Korea aims to promote the development of IoT by sharing insights on the South Korean IoT industry landscape.
Hangzhou, China, May 24, 2021—Tuya Smart (NYSE: TUYA), a leading global IoT cloud platform, on May 26 will host its first ever AI+IoT Business Conference Online focused on South Korea. Themed "Joint Efforts & Prosperous Growth", the conference will share the latest Internet of Things (IoT) trends, successful business practices and experience from the South Korean IoT market all to promote the development of the IoT industry for consumers, manufacturing brands, OEMs, operators and retailers.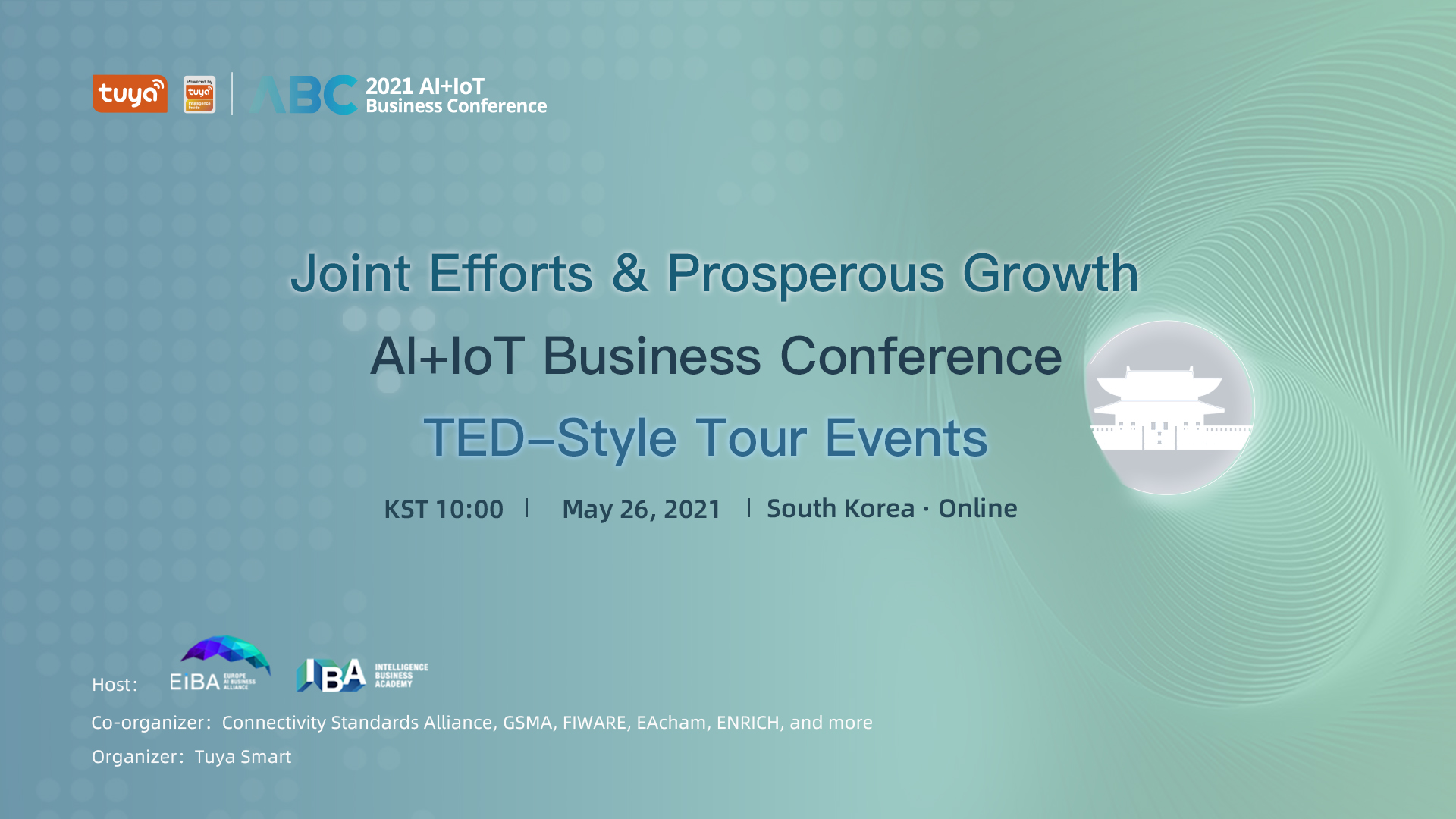 South Korea is a challenging but promising IoT market. Its smart home market is expected to expand from approximately ₩15 trillion Korean Won (USD 13.5 billion) in 2017 to approximately ₩31 trillion Korean Won (USD 27.9 billion) in 2025, with an average annual growth rate of 9.5%.
Tina Yu, General Manager of Eurasia from Tuya Smart remarked on the upcoming conference, "South Korea is a very promising market for IoT development. We find that state-of-the-art technology is widely accepted by people there of different ages. Despite intense competition we might face, we should not hesitate to embrace the future of IoT or swim against this IoT tide."
Conference speakers will include industry veterans from ABKO Co., Ltd., AnyOnNet Co., Ltd., Goqual Inc., Gocone Corporation Co., Ltd., Intelika Co., Ltd., and Tuya Smart who will share insights and their views on the local IoT industry. Invited industry experts will also shed light on global IoT trends and IoT business opportunities in South Korea.
Since 2017 Tuya Smart has hosted five global AI+IoT Business Conferences and three AI+IoT regional conferences focused on Southeast Asia, Europe and Latin America. These conferences were attended by hundreds of leading companies, thought leaders, and smart business pioneers.
For more information and registration, please visit: https://www.tuya.com/events/abc/KR
About Tuya Smart
Tuya Smart (NYSE: TUYA) is a leading global IoT Cloud Platform with a unique, all-in-one offering of cloud + connectivity + app that makes it easy and affordable for brands, retailers, and OEMs to make their products smart. Tuya's platform has smart-enabled more than 310,000 device SKUs in hundreds of categories worldwide, serving over 324,000 developers globally. Tuya is internationally operated with headquarters in the U.S., Germany, India, Japan, Colombia, and China.
For more information, please visit Tuya Smart's website, LinkedIn, Facebook, Twitter or YouTube.