Berlin, Germany, August 11, 2023 - Tuya Smart (NYSE: TUYA, HKEX: 2391), a global IoT developer service provider, will attend IFA 2023 in Berlin to demonstrate several Tuya-enabled smart products and solutions, under the theme "Driving Low-carbon Living with loT". Tuya's display will be at Messe Berlin's Booth 114, Hall 25.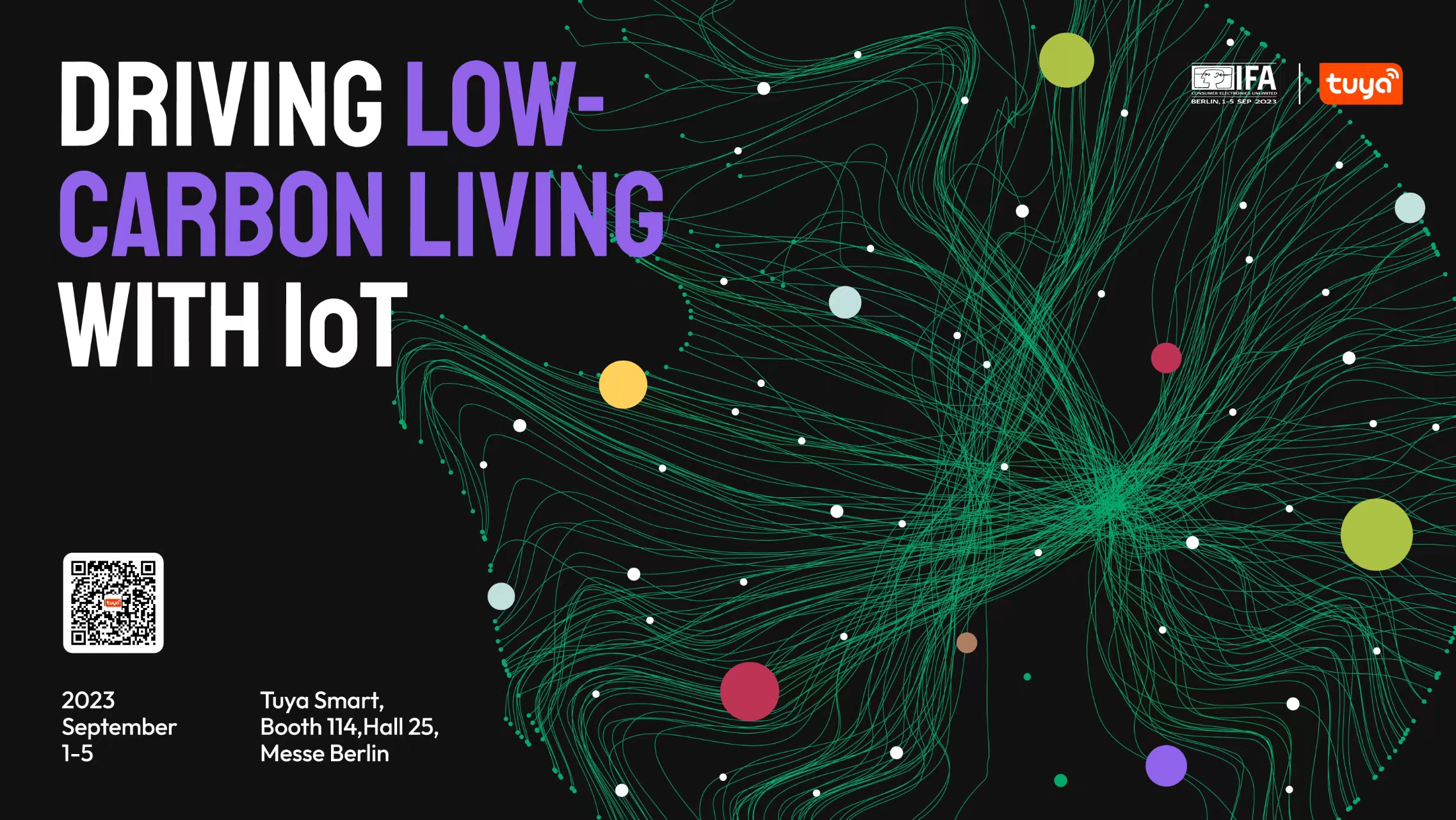 Multifaceted Player: Tuya's Many Energy Saving Solutions
According to a World Bank report, rising energy prices could persist until the end of 2024. The global energy market is undergoing significant upheaval, and the global energy situation is becoming increasingly serious. Meanwhile, consumers have progressively developed a green perspective. Against this backdrop, the need for energy savings in all walks of life is increasing day by day, and the building and deployment of energy-saving solutions have turned into one of the hottest topics in the market.
As a leading company in the global IoT field, Tuya has launched many effective energy solutions in recent years to assist customers in tracking energy generation, consumption, and storage, significantly improving energy management efficiency, and achieving remarkable results in energy savings and lowering carbon emissions. For example, the SMB lighting system Tuya introduced has helped offices reduce energy use by an average of 63%.
Lowering household energy expenditures and personally contributing to climate change prevention are two of the most pressing energy-related consumer demands worldwide. At the show, Tuya will present its latest home energy management solutions at IFA 2023. The solutions can visualize the entire process of energy flow, covering generation, storage, use, charging and others in real-time. Leveraging Tuya-enabled infrared sensors, smart thermostats, smart sockets, energy-saving kits, and Tuya's Energy Saving Dashboard, further allows developers to build a green and low-carbon integrated energy ecosystem, to meet the energy management needs of end-consumers.
Mordor Intelligence stated that the global heating, ventilation, and air conditioning (HVAC) equipment market reached $98.76 billion in 2020, and is expected to grow to $144.24 billion by 2026, a considerable market potential that has piqued the interest of global industry players. Tuya will present its revolutionary integrated software and hardware solutions for the HVAC industry, which it has already deployed for many HVAC industry customers.
Aside from home energy usage, energy conservation in other settings is a trending topic as well. Tuya will exhibit several smart solutions, such as e-bikes and charging piles, to enable more customers to seize global market opportunities as more people embrace green and healthy outdoor travel.
Tuya will also deliver energy-saving and carbon-reduction solutions, particularly for hospitality, multi-dwelling units, offices, and other vertical businesses, to meet the objective of a green transformation.
Greener and Smarter: Tuya-enabled Products
The Tuya-enabled portable power station won significant attention from consumers at last year's IFA. Fitted with solar panels, the Tuya-enabled portable power station greatly reduces people's reliance on traditional energy sources.
This year at IFA Berlin, new environmentally friendly items, such as solar-powered smart bird feeders and smart air heaters, will be shown at Tuya's booth, presenting customers with many methods to realize a low-carbon and smart lifestyle.
Under the Spotlight: "Tuya Day" and More
Tuya will continue to host its hallmark event "Tuya Day" at IFA 2023. As a communication platform for worldwide customers, partners, and industry influencers, Tuya Day consistently delivers cutting-edge insights that drive improvements in the global IoT market. Arcelik, a Fortune 500 Turkish home appliances brand, Astara, a global smart mobility brand, Goqual, a South Korean smart home brand, and a number of other industry leaders invited by Tuya, will come together to deliver keynote speeches on how smart mobility, smart home appliances and other innovative solutions are all joining forces to create a more sustainable and intelligent world.
Notably, Tuya will also present Cube Solution, Tuya's Turn-key Solutions for Matter, as well as various integrated hardware and software solutions at the booth to collaborate with global developers to harvest huge business opportunities in energy and other fields and to further promote the global low-carbon life to land faster and smarter.