We are all fascinated by smart products, from our robot vacuum to our smart light bulbs, because they add interest and convenience to our lives. But how engaged are we truly with these products and the brands that manufacture them?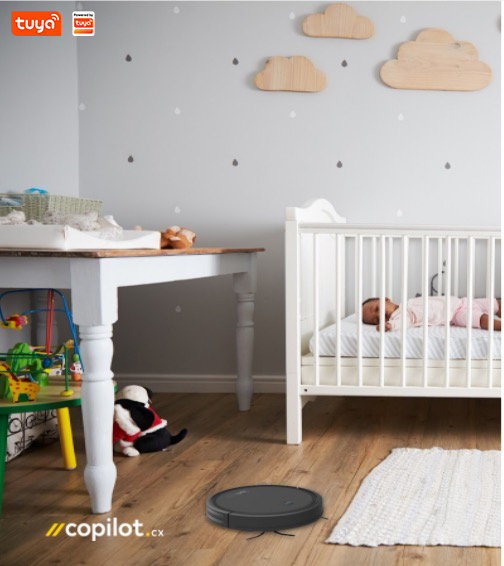 According to a recent survey by TechSee, a remote visual assistance platform service provider, the number of returned products is on the rise as consumer behavior shifts further away from traditional retail to online shopping, costing e-commerce businesses US$7.4 billion in 2019. The survey show that nearly 70% of customers said that they would return a product if it's hard to operate and 54% said they'd return it if it's difficult to install.
Copilot.cx, a U.S.-based SaaS company, saw this big disparity between the way brands with connected devices and apps were launching products and market needs. The sales cycle for connected devices can produce new friction points from onboarding, understanding features, and getting comfortable with the product, which can all creates new challenges in the customer and brand relationship.
Copilot.cx realizes that brands are missing opportunities by viewing connected devices in a transactional mindset, even though products are no longer plug and play with revenue only to be earned with the initial product sale. Some brands also don't realize that timely engagement with their clients will create long-lasting success and reoccurring revenue. This is where Copilot.cx steps in to help and engage customers in a positive and ongoing way, allowing consumers to realize the full potential of smart products and the value-added services they offer.
Another barrier faced by many brands is knowing the correct time to reach out to the right customer. Reaching out to all customers could risk triggering negative reviews if contacted while a customer is in the midst of product return or other difficulties. Copilot's ability to deliver precision user segmentation and targeting allows brands to differentiate between the happy customers, the not-so-happy customers, and the angry customers. It tailors interactions to the specific user so brands can use the correct messaging at the right time, making users feel comfortable and more likely to engage with that brand and their products in the future.
Tuya and Copilot.cx Help Smart Brands Build Loyal Consumer Relationships
In 2021, Genesys, the market leader for omnichannel customer experience and contact center solutions, published "State of Customer Experience" to examine consumer preferences and how businesses are approaching customer experience. According to the report, 58% of the businesses see customer experience as the main driver of consumer trust and loyalty, so much so that it has become a board-level priority. Many organizations are developing sensors, devices, or other technologies that can communicate independently with customer support. However, deployment of these devices has been slower than was anticipated in 2017, according to the research.
The partnership between Tuya and Copilot.cx comes in a time when consumer electronic brands realize that their customers relationships must be extended beyond the transaction point in order for their brands to scale or even survive. Many of Copilot.cx's brand customers suggested Copilot.cx work with Tuya and vice versa. The brands had collaborated with Tuya on smart products and were happy with the results. However, there was a lot of user data generated that the brands were not utilizing or aware of. The ability to seamlessly integrate data into Copilot.cx brings unprecedented opportunities to brand customers to leverage both business and brand loyalty goals. Once brand customers realized the combined value of connected devices and customer experiences, it completely transformed their business approach and outlook.
The key to the Tuya Smart and Copilot.cx partnership is the ability to integrate at scale. Now that brands realize the importance of shifting into smart products for their brand longevity, they need partners to seamlessly share and integrate data, and to deliver a simplified, easy-to-use solution is a game-changer for brands.
The seamless integration with Tuya's platform services via the Tuya API enables brands to immediately gain real-time consumer insights and directly communicate, via in-app messages or email, to deliver a frictionless customer journey from onboarding and beyond. Thorough testing of app SDK integrations, both sides also ensured quick implementation for future customers.
With both companies being customer-centric in nature, the goal was and is always to make the integration better for customers and as effortless as possible.
Zvi Frank, founder and CEO, Copilot.cx said, "We enable brands to meet the right customer at the right time so they in turn can trigger an action that enhances both the brand and customer satisfaction. The partnership with Tuya is so powerful because it does much more than transform products into smart products, it also enables brands to communicate better with customers. Together with Tuya, we are shifting businesses from a transactional mindset to realize the full customer longevity business model."
The Tuya and Copilot.cx Partnership Uplifts Tzumi Smart Device Sales and Improve Customer Engagement
One of the companies that experienced first-hand the benefit of this partnership is Tzumi U.S. With innovations ranging from smart home, physical health and wellness, and portable and digital accessories, Tzumi aims to accommodate every lifestyle through smart product integrations. The company strives to deliver solutions that are reliable, edgy, and most importantly fun. Tzumi's commercial activity spans the largest online and brick-and-mortar locations such as Walmart, Target, Best Buy, Home Depot, and more.
Several products in Tzumi's portfolio received low rankings on major app stores. In particular, the company wanted to better position its offerings on Walmart.com and increase sales.
Through the activation of Copilot.cx on the Tzumi's Tuya account, Tzumi was able to meet the right users at the right time and drive them to action. The goal was to drive customers to write positive reviews on Tzumi's products through a sequence of in-app messages and emails. The results of the campaigns were overwhelmingly successful. Reviews on leading stores such as Walmart, App Store, Google Play, and more increased on average by over 0.50 points.
In addition, as a result of the targeted campaigns via Copilot.cx, Tzumi saw powerful conversion rates on sales of two categories of its brushing products. The Filter & Brush kit campaign was aimed to drive people to buy more such kits. Within two weeks, Tzumi enjoyed a 7.89% conversion off of its campaign efforts. On Walmart.com, Tzumi's Edge Brush sales campaign resulted in a 23.48% conversion rate with increased customer ratings as well. Tzumi was able to obtain 1,986 new positive reviews that stabilized the rating at 4.3.
Avi Benhamu, Tzumi's COO stated, "We used to think of our customer interactions by measuring the monetary transactions as our primary KPI for growth. Once we understood the true power that Tuya and Copilot.cx brought to us, we realized that our biggest asset is our customer base. The data we have and our ability to engage our customers in such a targeted way, expanded our business opportunities far more than we originally imagined. Now, we realize the engagement power these tools are delivering to our brand."
The partnership between Copilot.cx and Tuya Smart enables brands to have a simplified and cohesive solution enabling a full circle transformation for consumer electronic brands to quickly smart-enable their products on the Tuya IoT development platform and gain consumer conversional intelligence by Copilot.cx. With the goal of making everything smart, both companies continue to collaborate and explore ways to help brands release the full potential of smart products to ultimately help customers get the most out of the ecosystem of smart products.