The TUYA Developer Summit (Singapore) will take place on August 31. Following the theme of "Everything Connected, Everyone Sustainable," Tuya Smart will bring together global developers to explore how IoT and AI technologies may be utilized and incorporated in sustainable smart city scenarios in line with the backdrop of smart transformation trends and dual-carbon policies.
As the first overseas stop of the TUYA Developer Summit, Singapore is not only a major global financial hub but also one of Asia's most competitive nations, with a thriving high-tech workforce, numerous data centers, a robust digital infrastructure, and a reliable power supply system that can support the growth of the IoT industry.
Back in 2014, the Singaporean government unveiled a ten-year plan, "Smart Nation 2025", which is the world's first smart nation blueprint. The concept of Connect, Collect, and Comprehend (3Cs) was actively promoted to successfully actualize the vision. By leveraging advanced technologies, the government aims to systemize and rationalize city operation, offering better public services to local residents.
Singapore then began to identify IoT, AI, big data, and other critical technologies as significant developments, and has begun to widely deploy them in the construction of smart cities. As a practitioner and barometer of the IoT sector, Tuya has substantial technical strength and open platform expertise to provide full support to Singapore at all stages of the execution of its 3Cs concept.
Firstly, Tuya can realize interconnection for a wider range of smart devices through its PaaS2.0 and developer platform. Secondly, Tuya can quickly and efficiently develop various applicable solutions for multiple industries' management systems and scenarios to achieve smart information collection and management. Thirdly, by merging AI and IoT technologies, Tuya can perceive and predict changes in market trends and assist customers to make better decisions towards a rapid change environment.
Given the coincidence of Tuya's IoT capabilities and Singapore's city development concept, as well as Singapore's robust policy support and extensive financial resources, Singapore ranks as one of the best choices for the TUYA Developer Summit's first overseas stop.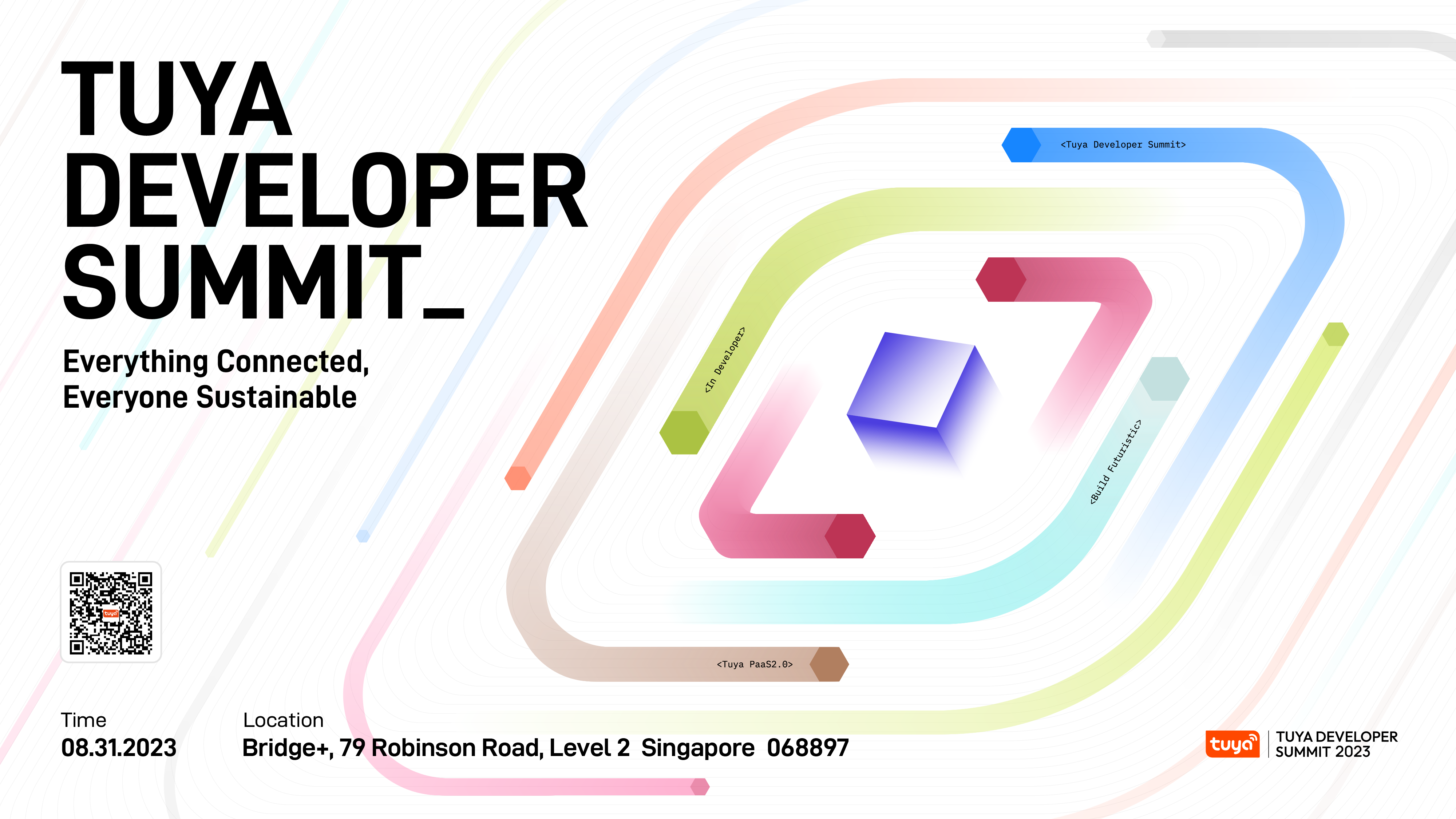 Tuya's PaaS2.0 and HEMS will Take the Lead
Previously, at the TUYA Developer Summit in Shenzhen, Tuya showcased the PaaS2.0 fundamental framework and numerous projects in service, drawing much industry attention. This time, the Summit will go even further in terms of understanding and application of PaaS2.0 from the perspectives of technology, ecosystem, and business development, to inspire global developers with a more open and inclusive mindset, support them in developing innovative smart devices and solutions, and bring about an unprecedented level of innovation for end-users.
For instance, the energy industry is currently undergoing a significant transformation, and the discussion of "how to save energy on the user side" has continued to attract more attention. Customers around the world are searching for energy-saving solutions to maximize the energy efficiency of households.
In light of this, Tuya will present the newly developed Home Energy Management System (HEMS) and the energy-saving kit developed based on PaaS2.0, to enable customers to help families save at least 25% of their electricity bills, while considerably increasing energy use efficiency.
In addition, how to efficiently address the application needs for the numerous smart industry systems under Singapore's Smart Nation initiative? What fresh improvements will Tuya bring to the smart city as an industry leader, given the general trend of AI and IoT integration? All of these questions are expected to be addressed during the upcoming Summit.
Building a Smart Ecosystem Together
So far, the Summit has attracted the attendance of many international developers and industry leaders. Siam Cement Group, the largest cement and construction materials producer in Southeast Asia, ESR Group, the leading real estate and logistic platform in Asia Pacific, and M1, Singapore's leading telecom operator, as well as many other world-renowned companies, have confirmed their attendance.
The guests will share their understanding of the IoT market potential, practical experience, and insights on industry technologies and trends from multiple perspectives based on the current status, challenges, and opportunities of IoT development in Singapore. They will also help developers more accurately grasp IoT development trends and deeply embed the concept of innovation and sustainability in people's minds.
The Summit will also be broadcasted live, enabling more developers to join and enjoy the event through the online channel.
Tuya will bring developers together on the same stage, aiming at the establishment of more business collaboration, and, ultimately, the building and sustainable growth of smart cities.