Two energy storage products powered by Tuya Smart (NYSE: TUYA, HKEX: 2391), a global IoT development platform service provider, have acquired a NISTIR 8259 certification, which is one of the most widely accepted roadmaps for manufacturers to help protect their customers from cybersecurity threats. This is the first set of products to obtain a NISTIR 8259 certification that are supported by Tuya's technologies. These products that have Tuya's built-in CBU communication modules were launched by Geneverse, the makers of the most reliable, affordable, and safe compact solar generators designed for the home. (Geneverse is a subsidiary of Hello Tech, a leading developer in portable power stations and solar generators.)

Geneverse HomePower PRO Series Solar Generators
Hello Tech adheres to the mission of "providing green power everywhere." The Company is committed to the research and development, manufacturing, and sales of portable power products. The Company and its subsidiaries have obtained 237 patents. The firm is widely recognized in the international industrial design sector with 21 international awards, including the U.S. CES Design Award, the German Red Dot Design Award, the IF Design Award, and the A' Design Award & Competition. Geneverse's energy storage stations that passed the cybersecurity test are portable and have sufficient power. The products support solar charging and are suitable for outdoor travel, RV camping, emergency rescue missions, geological surveys, and other areas where charging is inconvenient. In case of abnormal conditions, Geneverse's energy storage products can also immediately send an alert to the user's mobile phone, ensuring the safety of power consumption.
Tuya's CBU module and Zigbee module (model: ZSU, ZSU-IPEX) have passed the NISTIR 8259A series of cybersecurity test and received a testing and evaluation report issued by Technischer Überwachungs-Verein SÜD (hereinafter called "TÜV SÜD"), a German testing and certification agency that is in charge of IoT security certification.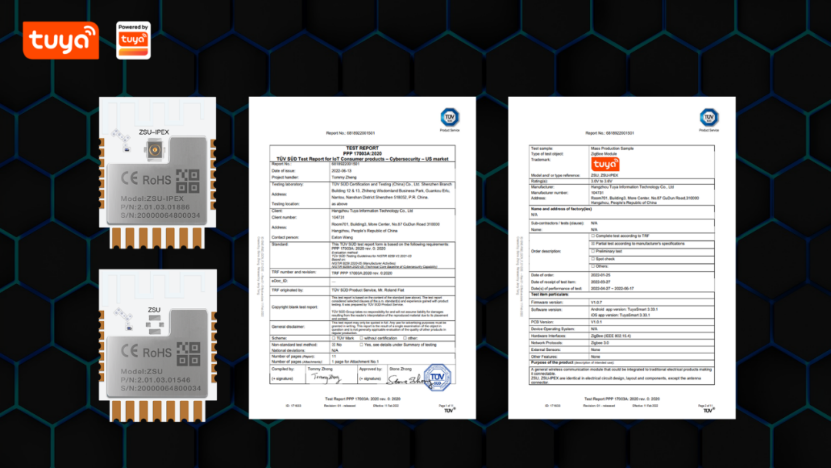 NISTIR 8259 series was released by the National Institute of Standards and Technology (NIST) in May 2020. It is a foundational U.S. standard for smart device manufacturers and service providers, and one of the most comprehensive and widely accepted roadmaps available to protect customers from increasingly sophisticated cybersecurity threats. This indicates that smart products with built-in Tuya CBU communication modules will meet the U.S. cybersecurity requirements in a short period of time and quickly be allowed into the U.S. smart product market.
Tuya Smart's achievements in cybersecurity certification tests not only show the importance Tuya places in its cybersecurity practices, but it also demonstrates that the smart product solutions developed by Tuya Smart have reached a high level of security.
In addition to the NISTIR 8259 series, Tuya's IoT security module WBR3 launched earlier this year has also passed the TÜV SÜD's ETSI EN 303 645 (EU) evaluation and Attestation of Conformity.
By partnering with TÜV SÜD in 2021, TÜV SÜD has been able to provide certification and identification services, such as ETSI EN 303 645 AoC assessment, EU-GDPR data protection assessment, NISTIR 8259 series of standards assessment, CLS Label certification, and voluntary assessment for Tuya Smart. The partnership will improve data security throughout the smart product's development lifecycle and provide end users with secure smart devices.
Ensuring safety is critical for the IoT industry to achieve high-quality development. Tuya Smart has always made security a key priority and has been committed to improving cybersecurity and providing more comprehensive technical security support for developers. In the future, Tuya Smart will continue to strengthen its cooperation with major safety certification agencies and jointly promote security and the development of the IoT industry.