This collaboration will help more operators understand Tuya deep value and cooperate to launch more intelligent product categories and solutions.
INDONESIA—June. 3, 2021—Tuya Smart, a leading global IoT cloud platform, and BARDI, a respected smart home brand in Indonesia, as well as PT XL Axiata Tbk, one of the largest mobile network operators in Indonesia, recently announced a new partnership to fully leverage their own advantages in technology, market, and channel, to bring a better smart home experience and a healthier smart lifestyle to consumers in Southeast Asia.
As one of the largest mobile telecommunication companies in Indonesia, XL Axiata offers voice, SMS, data, and other value-added mobile telecommunication services with a network covering the entire country for Indonesian consumers.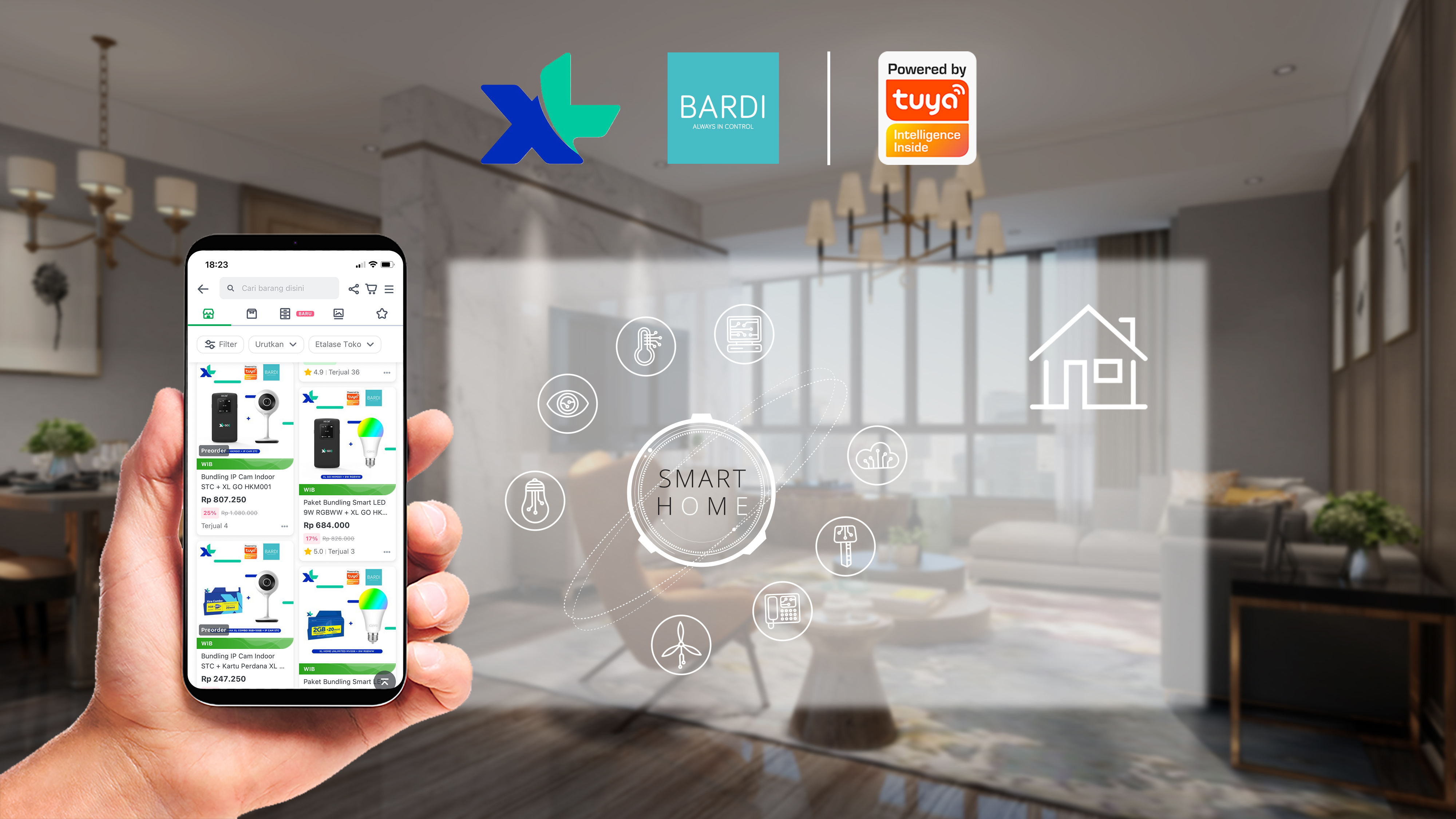 The cooperation with XL Axiata is the first time that BARDI, a Tuya's brand partner, collaborates with the local operator in Indonesia. Currently, BARDI and XL Axiata sell smart IPC and lighting products based on Tuya's technology on Tokopedia, Indonesia's largest e-commerce platform. This is just the beginning of trilateral cooperation. In the future, by virtue of Tuya's IoT development tools, BARDI and XL Axiata will jointly launch more new, easy-to-use, and affordable smart products and solutions. At the same time, XL Axiata will also join Tuya's open ecosystem, and interconnect with other 'Powered by Tuya' products to realize the "one app, all smart" vision.
In addition, XL Axiata's advantages in cellular services and broad network coverage will further improve the capabilities of 'Powered by Tuya' products. As more and more smart products enter Indonesian households, the market clout and awareness of Tuya, BARDI, and XL Axiata will be further enhanced.
"We welcome the strategic collaboration with Tuya Smart and Bardi, which forms part of our efforts in developing IoT-based services, one of which includes the smart home. Tuya Smart is an IoT platform, while Bardi is a product provider. Superior smart home products have a reputation that is well-known globally. We believe that with the help of their products, XL Axiata will be able to provide a satisfying experience for our customers," said Chief Sales Officer of XL Axiata, Octavia Kurniawan.
CEO of BARDI, Ryan Maurice Tallulah said, "the support of Tuya Smart enables us to help more enterprises enter the IoT market and jointly promote the prosperity and development of the smart home market in Southeast Asia."
"Tuya is honored to provide capability and support for the two partners, so that more Indonesian consumers can experience the convenience of a smart home in their daily life," stated Ross Luo, General Manager of Asia Pacific Region from Tuya Smart.
About XL Axiata
PT. XL Axiata Tbk (XL Axiata) is one of the leading telecommunications companies in Indonesia, focusing on providing digital services to facilitate the daily activities of the Indonesian society while encouraging the development of Indonesia's digital economy. XL Axiata started operating commercially on October 8, 1996. Currently, the company provides a variety of services to retail users and corporate customers, supported by a stable and wide network throughout Indonesia. Since December 2014, XL Axiata has implemented the 4G LTE network, followed by the development of a commercial 4G LTE network on a national scale in July 2015. XL Axiata is part of the Axiata Group together with Celcom (Malaysia), Dialog (Sri Lanka), Robi (Bangladesh), Smart (Cambodia), and Ncell (Nepal).
About BARDI
Founded in 2019, BARDI currently has more than 30 SKUs of smart products, including a smart wake-up lamp, pet feeder, drinking water dispenser, and more. All of BARDI's smart home products of can be connected and controlled through the BARDI app, which has been downloaded more than 300,000 times on Google Play Store and iOS.
About Tuya Smart
Tuya Smart (NYSE: TUYA) is a leading global IoT Cloud Platform with a unique, all-in-one offering of cloud + connectivity + app that makes it easy and affordable for brands, retailers, and OEMs to make their products smart. Tuya's platform has smart-enabled more than 310,000 device SKUs in hundreds of categories worldwide, serving over 324,000 developers globally. Tuya is internationally operated with headquarters in the U.S., Germany, India, Japan, Colombia, and China.
For more information, please visit: Tuya's website, LinkedIn, Facebook, Twitter or YouTube.