The 2021 AI+IoT Business Conference Online Hong Kong aims to explain the IoT industry structure by sharing insights on the Hong Kong IoT industry.
HONG KONG, China, June 7, 2021 – Tuya Smart (NYSE: TUYA), a leading global IoT cloud platform, will host its first ever AI+IoT Business Conference Online focused on Hong Kong on June 15. Themed "Joint Efforts & Prosperous Growth," the conference will share views on the development of IoT industry in Hong Kong and explain how IoT promotes the smart transformation of traditional Hong Kong industries.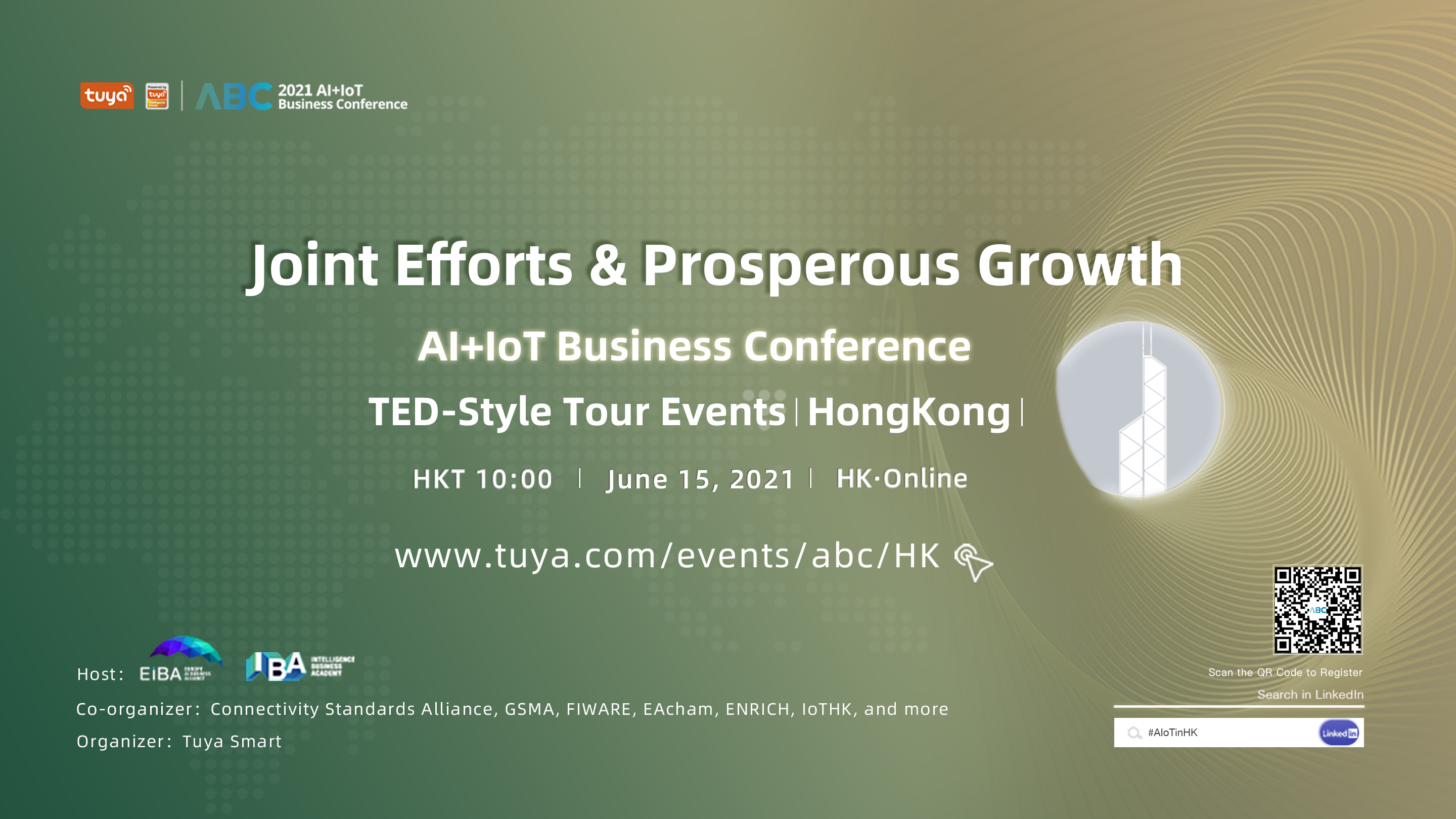 According to the Digital Market Outlook, revenue of the Smart Home market in Hong Kong is expected to be USD$215.1 million in 2025. This signifies the power and strength of Hong Kong IoT industry.
Tina Yu, General Manager of Eurasia from Tuya Smart, believes that Hong Kong possesses location advantage for the development of IoT industry. Actively embracing IoT is an effective measure for Hong Kong to boost its IoT related industries. With the concept of IoT gaining greater popularity, smart life will be the future trend in various industries.
At the conference, industry veterans from RHT Industries Limited, Earn Well Technology Limited, City University of Hong Kong, IoT HK Association and Tuya Smart will share insightful views and successful cases related to Hong Kong's IoT industry, so that IoT developers understand the ecosystem and business opportunities of Hong Kong's IoT industry.
Since 2017, Tuya Smart has hosted multiple AI+IoT business conferences to discuss the development trend of IoT in Southeast Asia, Europe, Asia and Latin America. These conferences were attended by hundreds of leading companies, thought leaders, and smart business pioneers.
For more information and registration, please visit: www.tuya.com/events/abc/HK
About Tuya Smart
Tuya Smart (NYSE: TUYA) is a leading global IoT Cloud Platform with a unique, all-in-one offering of cloud + connectivity + app that makes it easy and affordable for brands, retailers, and OEMs to make their products smart. Tuya's platform has smart-enabled more than 310,000 device SKUs in hundreds of categories worldwide, serving over 324,000 developers globally. Tuya is internationally operated with headquarters in the U.S., Germany, India, Japan, Colombia, and China.
For more information, please visit Tuya's website, LinkedIn, Facebook, Twitter or YouTube.