This cooperation will help both sides gain a firm foothold in the Japanese smart intercom market.
SANTA CLARA, CA—June. 9, 2021— Tuya Smart, a leading global IoT cloud platform (NYSE: TUYA), and Akuvox, a world-renowned smart intercom solution provider, today announced a new partnership. In the global context of intelligent development, this cooperation is an important move for both parties to capture market share in the Japanese smart intercom market, and it also provides a reference case for both parties to innovate in the future.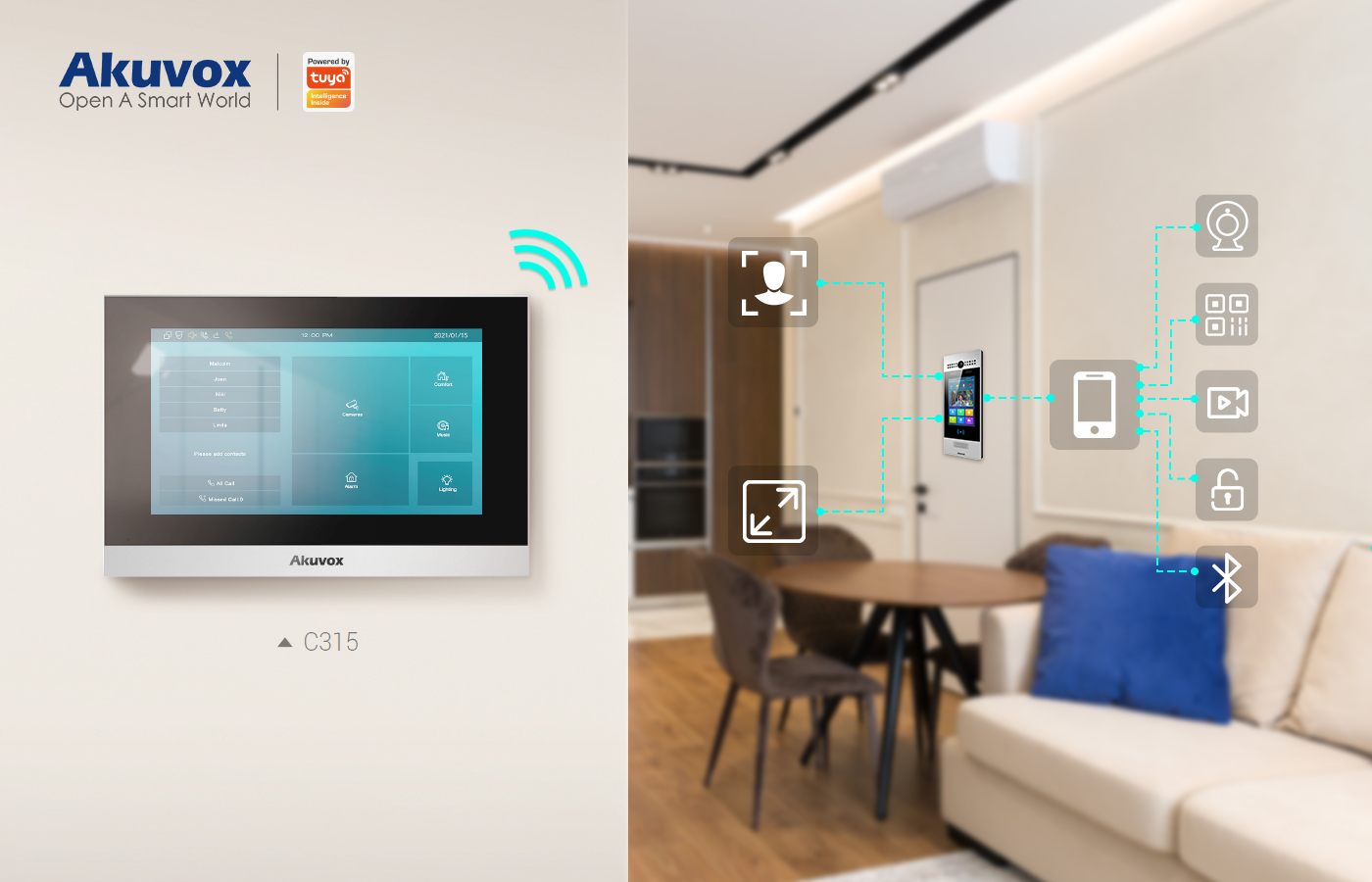 For a long time, in the Japanese apartment market, smart intercom is a segment that has been extremely difficult for foreign companies to enter. Under the control of large local players, the market pattern of smart intercom has taken shape, and it is challenging for foreign enterprises to replace original local suppliers. The price of smart intercom products has been kept high by these giant enterprises in order to maximize profits.
Enabled by the Tuya platform, Akuvox has launched the Tuya SaaS version of its C315 indoor unit and R29C door phone, which feature high quality, ease of use, and affordable prices, and thus have gained a great advantage in the Japanese market. At present, these products have been deployed in four apartments in Japan. Apartment residents can use the Tuya app to control indoor smart home devices and outdoor access control, intercom, monitoring, and other equipment. Akuvox's first IoT platform partner, Tuya enables Akuvox to break into the Japanese residential market.
The cooperation between Tuya and Akuvox brings about an elevated innovation model to further expand the Japanese smart intercom market. Providing services to Japanese apartments is an opportunity for both parties to leverage each other's strengths and abilities to open up the IoT market in Japan. This model of successful conversion of potential customers from project services can be a benchmark for promoting customer cooperation in the future.
Yang Bo, the sales director of Akuvox said, "the cooperation with Tuya will help both parties gain a firm foothold in Japan's smart intercom market. In the future, we will continue to integrate more smart devices with Tuya's IoT Platform and apply them to more application scenarios and industries."
"We are honored to be able to provide Akuvox with technological assistance. In the future, we will continue to deepen cooperation and further broaden into additional areas in overseas markets," said Ross Luo, General Manager of Asia Pacific Region from Tuya Smart.
Tuya concluded the AI+IoT Business Conference TED-Styled Tour Events | Japan. Themed "Joint Efforts & Prosperous Growth," the event was held online with industry leaders to share the best practices in smart business scenarios. For more information, please visit: https://www.tuya.com/events/abc/JP
About Akuvox
Akuvox is a leading global provider of smart intercom and access control products and solutions. It is committed to unleashing the power of technology to improve people's lives with better communication, greater security, and more convenience. Encompassing artificial intelligence, SIP, Android, cloud, security, and other advanced technologies, it continuously drives breakthrough changes in the industry and creatively deliver an unrivaled portfolio of smart intercom products and solutions. It has been deployed and used daily in more than 100 countries and regions, meeting customer needs in various vertical markets that range from residential to commercial, from healthcare to public safety.
About Tuya Smart
Tuya Smart (NYSE: TUYA) is a leading global IoT cloud platform with a unique, all-in-one offering of cloud + connectivity + app that makes it easy and affordable for brands, retailers, and OEMs to make their products smart. Tuya's platform has smart-enabled more than 310,000 device SKUs in hundreds of categories worldwide, serving over 324,000 developers globally. Tuya is internationally operated with headquarters in the U.S., Germany, India, Japan, Colombia, and China.
For more information, please visit: Tuya's website, LinkedIn, Facebook, Twitter or YouTube.