Tuya Smart(NYSE: TUYA, HKEX: 2391), a global IoT developer service provider, created a splash with a selection of eco-friendly energy-saving solutions at IFA 2023. With the theme of "Drive Low-carbon Life with IoT", Tuya presented its cutting-edge solutions, such as home energy management, smart mobility, and many other Tuya-enabled energy-saving products to global developers.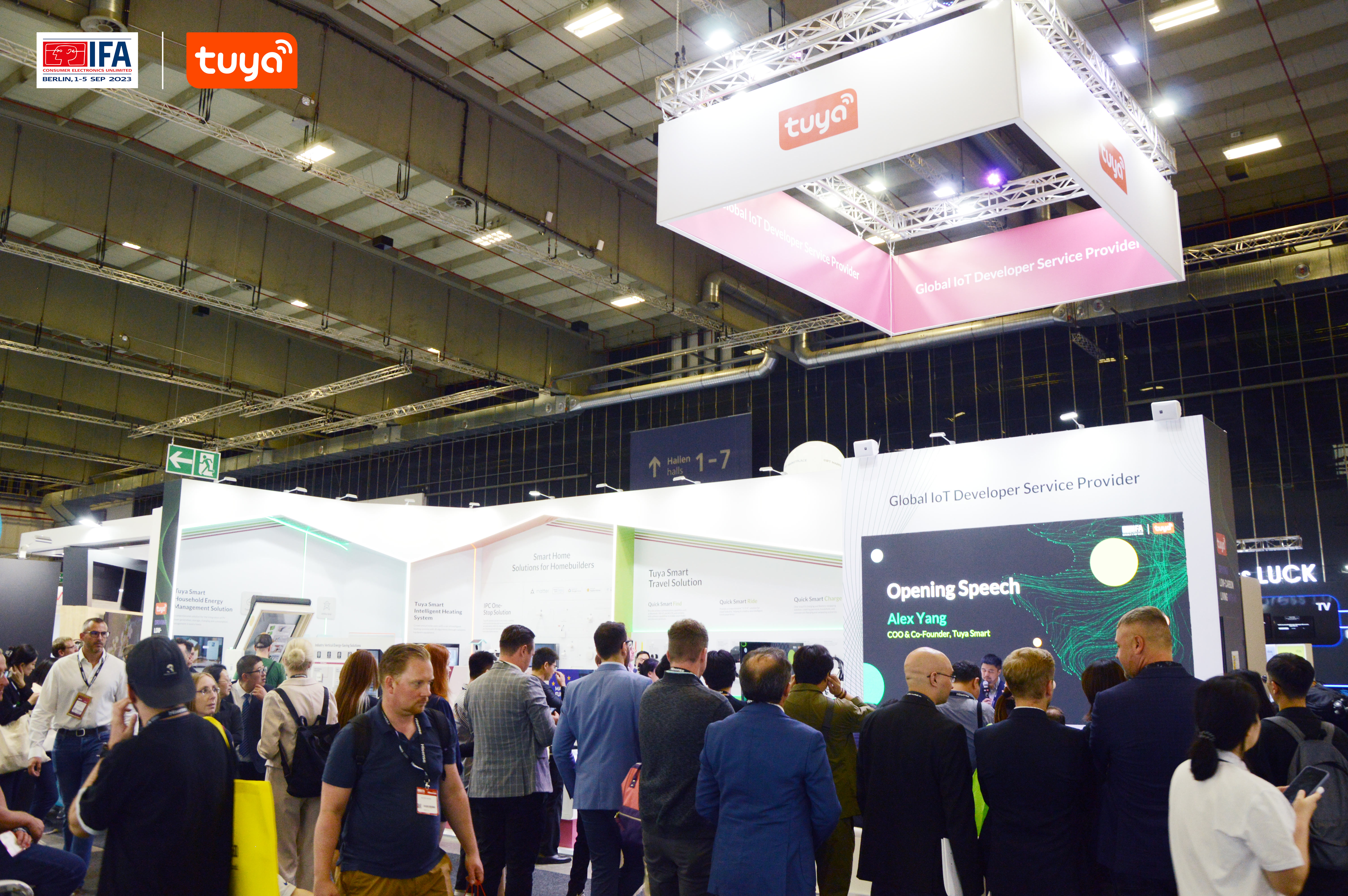 Booth of Tuya Smart
The idea of pursuing a low-carbon lifestyle is growing in popularity, and governments are starting to look into low-carbon and green development options as the globe deals with the confluence of significant issues like the energy crisis and carbon neutrality. For instance, the European Union proposed a plan named REPowerEU to address the rising energy issue to provide affordable, safe, and sustainable energy for Europe before 2030.
As a pioneer in the IoT sector, Tuya has closely watched the movement toward a greener world and supports low-carbon practices by continuously advancing its smart solutions for industries and scenes. A series of green energy-saving solutions and innovative products of Tuya in home, HVAC, and travel scenarios have been widely praised by visitors at IFA2023.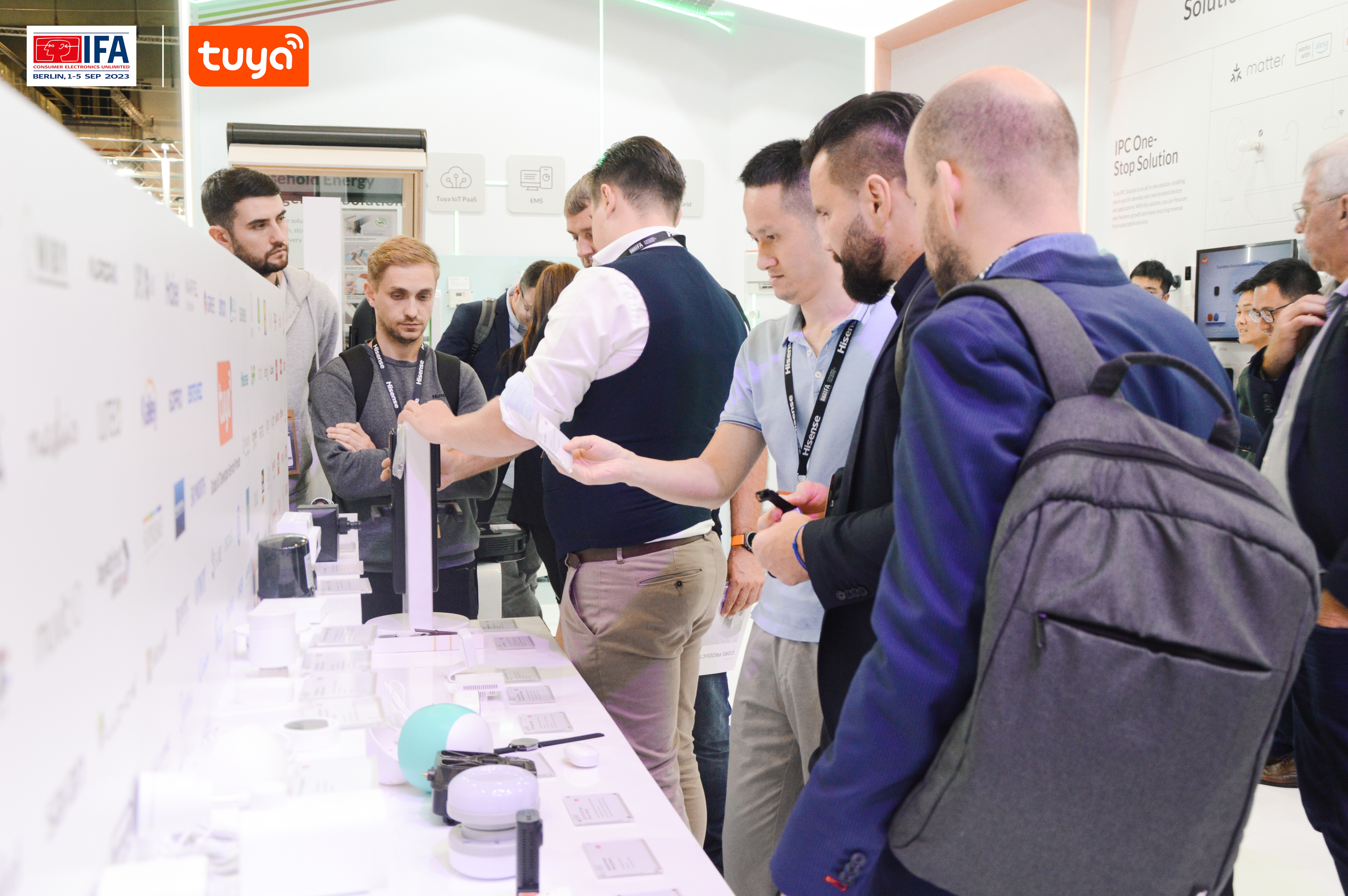 Visitors exchanged ideas at Tuya's Booth
Developing household energy management systems, establishing a sustainable, low-carbon lifestyle
A study that appeared in Nature Energy suggests that variations in energy costs might result in an increase in global household energy spending of 62.6% to 112.9%. Families all across the world are starting to conserve energy to relieve the financial strain of rising energy bills.
Tuya introduced its Household Energy Management Solution at IFA 2023, a one-stop IoT energy solution for the household energy business, to assist global developers in exploring the home energy-saving market further. It offers tools for energy storage and management, energy saving optimization, load scheduling, construction and operation, and maintenance management, and realizing the closed-loop scenario solution of the entire chain of power-storage-charging-usage to homeowners, energy equipment installers, operators, and brands. Load scheduling, for instance, can be used to lower electricity costs when a household's demand exceeds its ability to generate it. Similarly, energy storage and discharge strategies can be set up while a home is off the grid to cut down on unnecessary power waste when the power grid is unstable or experiences sudden blackouts.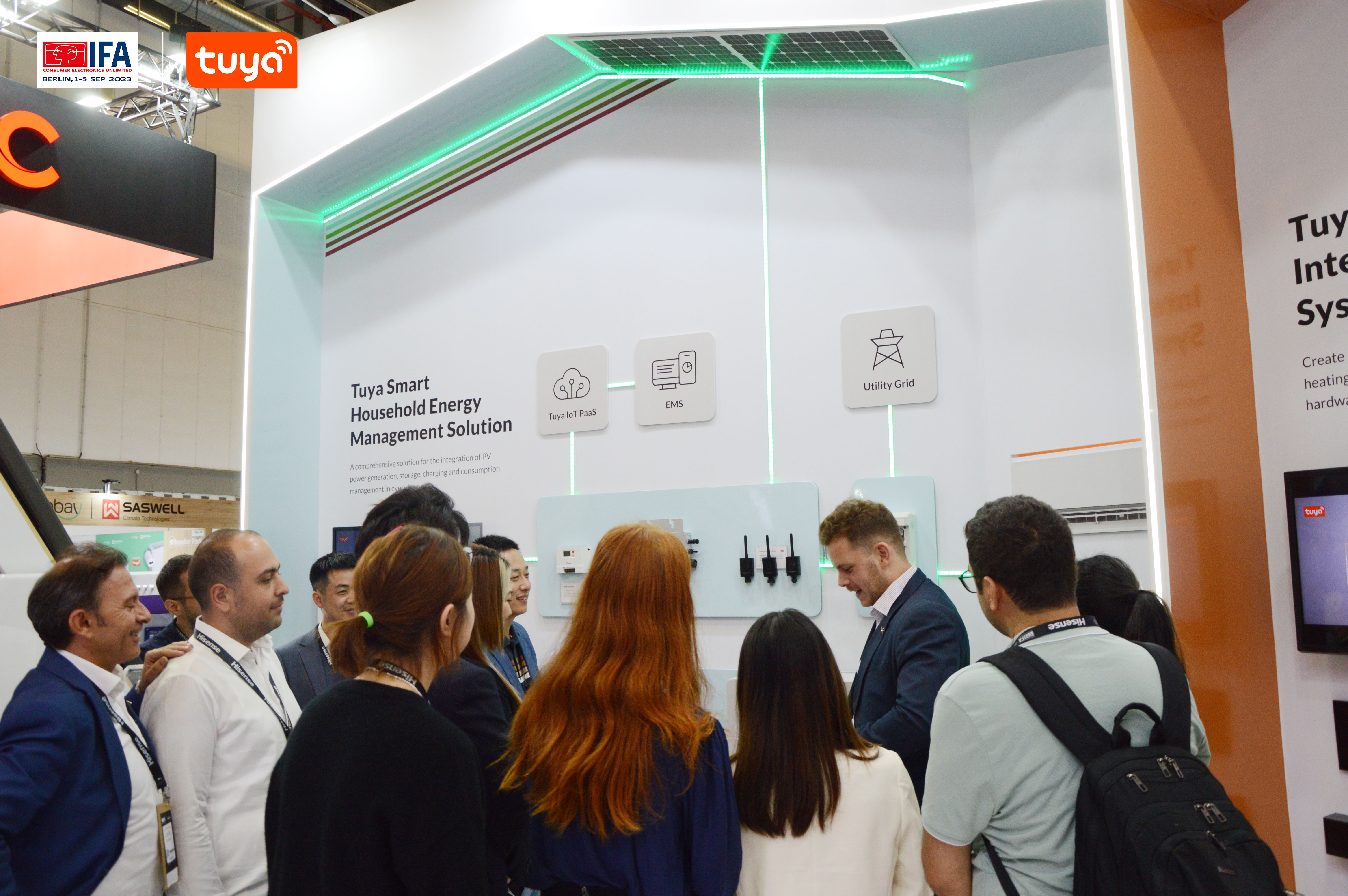 Tuya's Household Energy Management Solution
Tuya also introduced a readily accessible entry-level product to address the needs of a wide variety of consumers for lightweight energy conservation called an energy-saving kit, which can be widely applied to HVAC systems and general home appliances. As an example, when a human presence sensor determines that no one is present in the space, it will activate the infrared universal remote control to control the air conditioner; meanwhile, a composite application of several smart sockets can realize the full-scene application of home energy-saving devices, realize remote switching, time presetting, energy consumption status, and other functions, and assist homeowners in calculating how much electricity they will use each day. The energy-saving kit from Tuya is currently used in Singaporean residences, with an average energy reduction of 25% and the best-performing home even managing to save 54% of its monthly electricity consumption, significantly increasing the home's energy efficiency.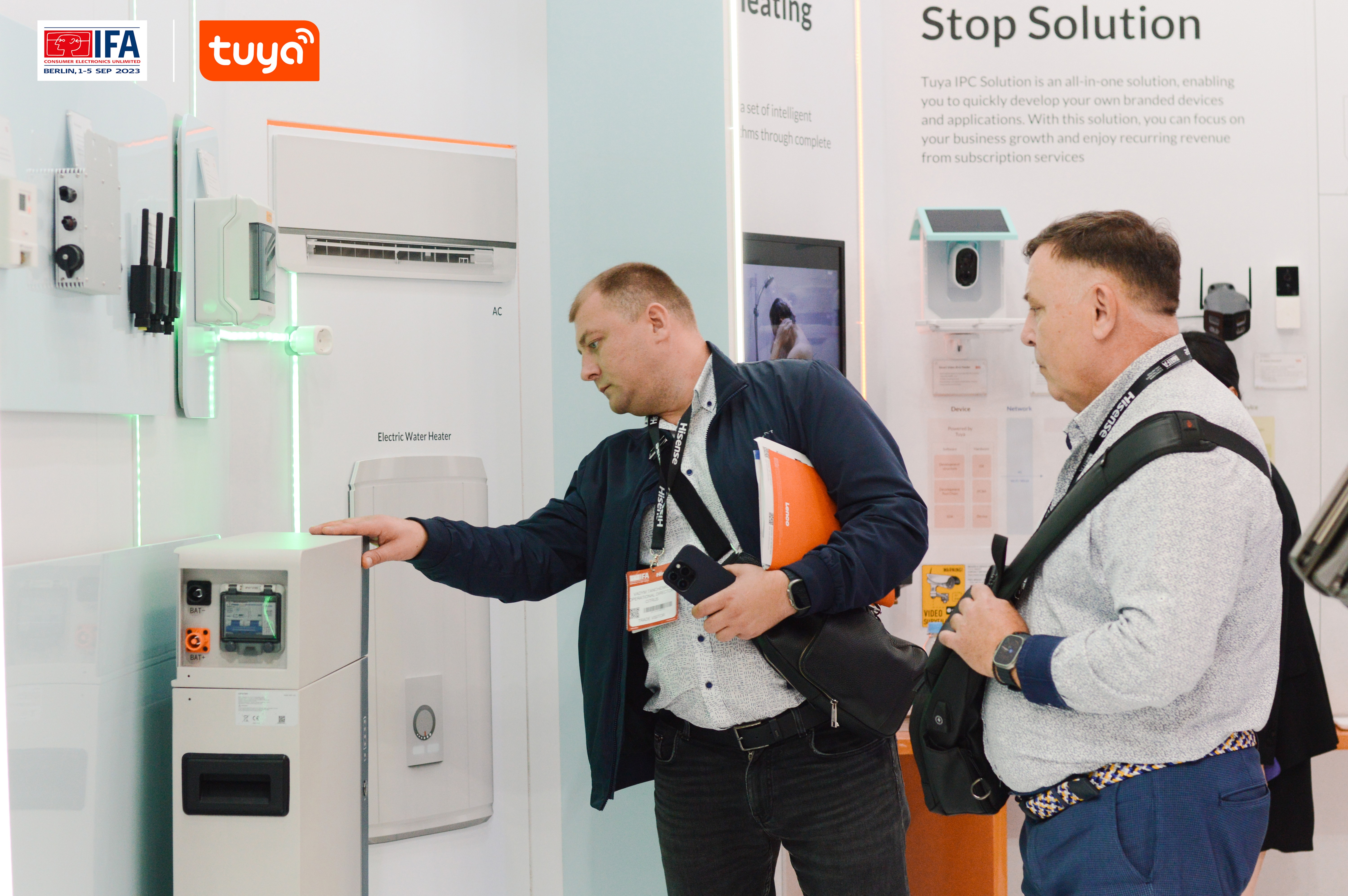 Visitors learned about Tuya's Household Energy Management Solution
Tuya HVAC solution offers integrated hardware and software for highly efficient management
Energy experts predicted that Europe's serious energy issues may persist until the end of 2023 after last year's "long winter" and Europe's rising costs of energy.
Through Tuya's extensive experience working with numerous HVAC companies, Tuya began to iterate and enhance the HVAC system after gaining firsthand knowledge of the current situation with energy management in the HVAC business. Tuya began to iterate and enhance the HVAC system after gaining firsthand knowledge of the current situation with energy management in the HVAC business through its extensive experience working with numerous HVAC companies. As soon as it showed up at IFA 2023, Tuya's comprehensive smart HVAC solution, which integrates hardware and software, caught the interest of a large number of visitors. Based on the solution, developers can quickly construct a smart HVAC system and realize intelligent management of the entire process, including the equipment, cloud, platform, and mobile ends. This enables them to integrate various equipment categories into a single management system for unified management, which in turn provides end users with smart experiences in a variety of areas, including energy management and comfort. Additionally, the solution has a dealer management system that can help customers cut operating and maintenance expenses and boost operational effectiveness by enabling management synergy between the upstream and downstream industries.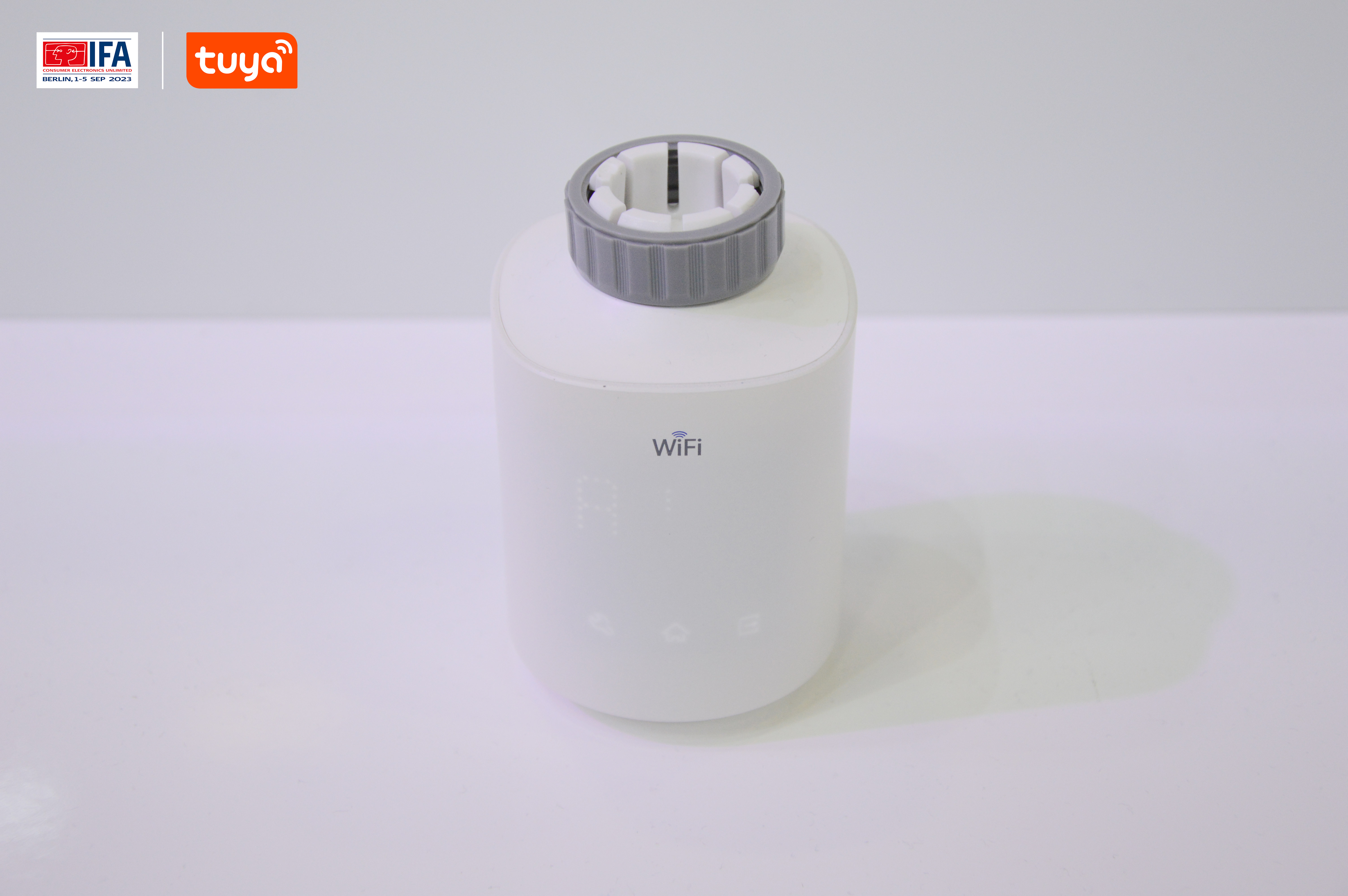 Smart thermostatic radiator valve
Moreover, numerous HVAC energy-saving components allowed visitors to foresee the intelligent low-carbon life at Tuya's booth.
For example, the Tuya-enabled smart thermostat can implement multi-command voice control, freeing up the hands of the end-user and improving their interaction. Since inertia temperature rise is a common problem for thermostats, Tuya provided a solution. Tuya-enabled smart thermostats have PID temperature control functions and can provide smart analysis based on heating speed, heat dissipation status, and cumulative heating results. These capabilities effectively prevent inertia temperature rise and satisfy the needs of both comfortable temperature regulation and energy conservation.
Tuya's smart travel solution, a new option for a green outdoor life
There is a lot of room for growth in the outside scene as well as in low-carbon living indoors. In May 2021, the Pan-European Master Plan for Cycling Promotion was adopted at the Fifth High-level Meeting on Transport, Health, and Environment. Part of the Vienna Declaration, it is the first officially adopted supranational document on cycling policy transcending the EU. Long before this, zero-carbon travel is highly respected globally. Zero-carbon travel has long had widespread respect. Tuya has developed smart travel solutions that lead to the low-carbon travel trend.
At IFA 2023, a high-end, completely intelligent 4G e-bike in Tuya's outdoor travel exhibition area garnered a lot of attention. It offers end-users who travel more frequently an intelligent and energy-efficient short-distance travel choice. Based on Tuya's integrated solution of software and hardware in the field of short-distance travel, this e-bike is equipped with Tuya-enabled 4G+Bluetooth dual-module set, which enables customers to provide end-users a variety of functions through the App, such as the adjustment of the bike's encircling light belt, senseless unlocking, cycling navigation screen display, automatic control of the battery lock, cycling track recording, and electronic geo-fencing, etc. which further brings a greener, safer and more personalized travel experience to end-users.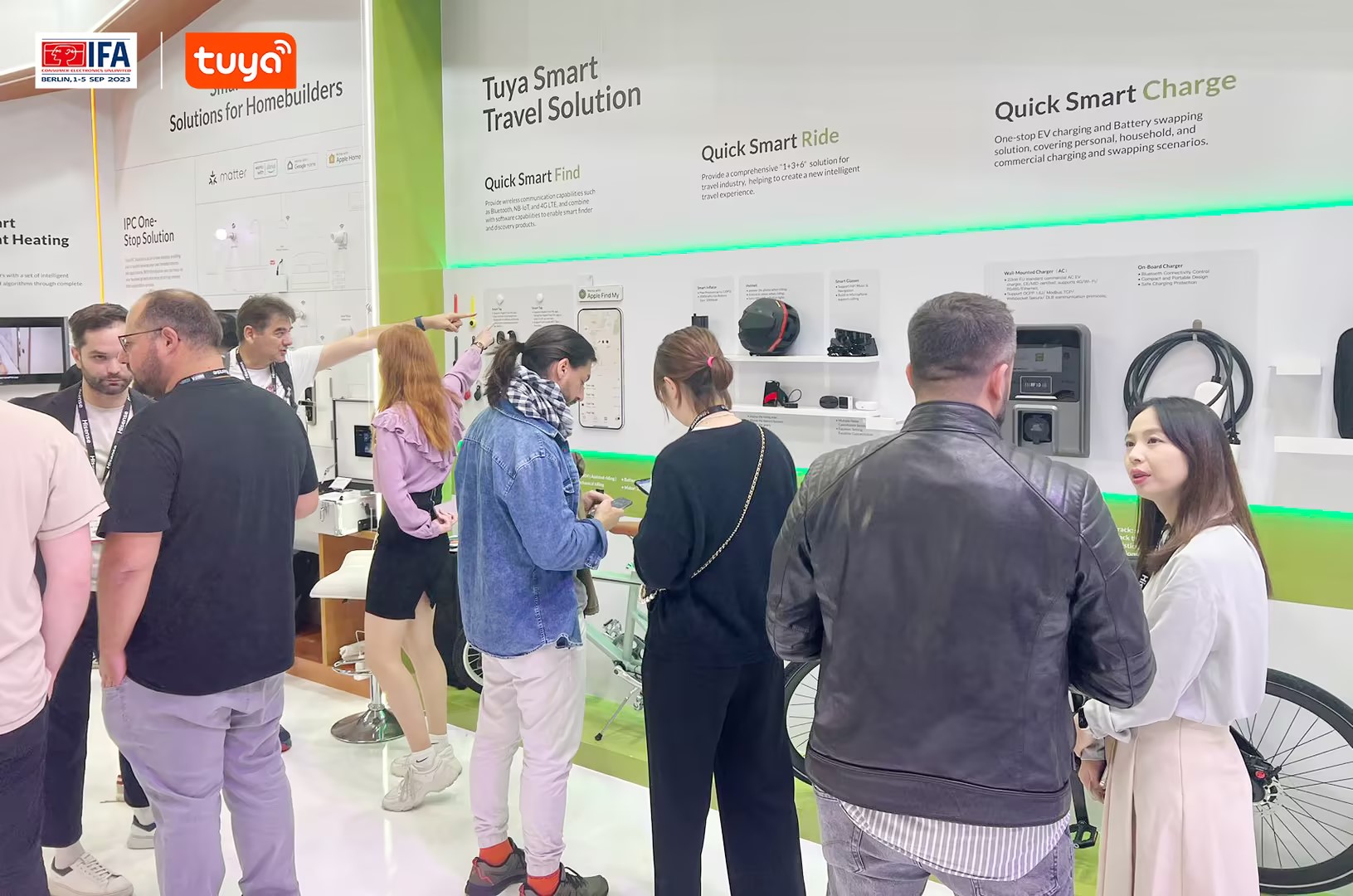 Tuya's Smart Travel Solution
Additionally, the audience was deeply affected by the outstanding design and intuitive experience of the Tuya-enabled charging pile.
The two on-display AC charging piles are "hardcore" smart products that are useful, energy-efficient, and intelligent. They can be utilized with the Tuya-enabled Smart Life or Smart Charge App as they feature 4G, Wi-Fi, and Bluetooth connection modules. When a car needs to be charged in a commercial setting, the user only needs to check the precise location of each charging station via the App, then they can head there right away. Users can see the power level, charging time, and cost of the transaction in real time. In the home setting, users can check the charging information for their own charging piles according to the year, month, and day, export the charging records to share with friends and family, and set up peak charging via the App. Users can create a lean, autonomous, controllable, environmentally friendly, and efficient charging strategy with the use of Tuya's charging pile solution by precisely understanding their charging status through the App.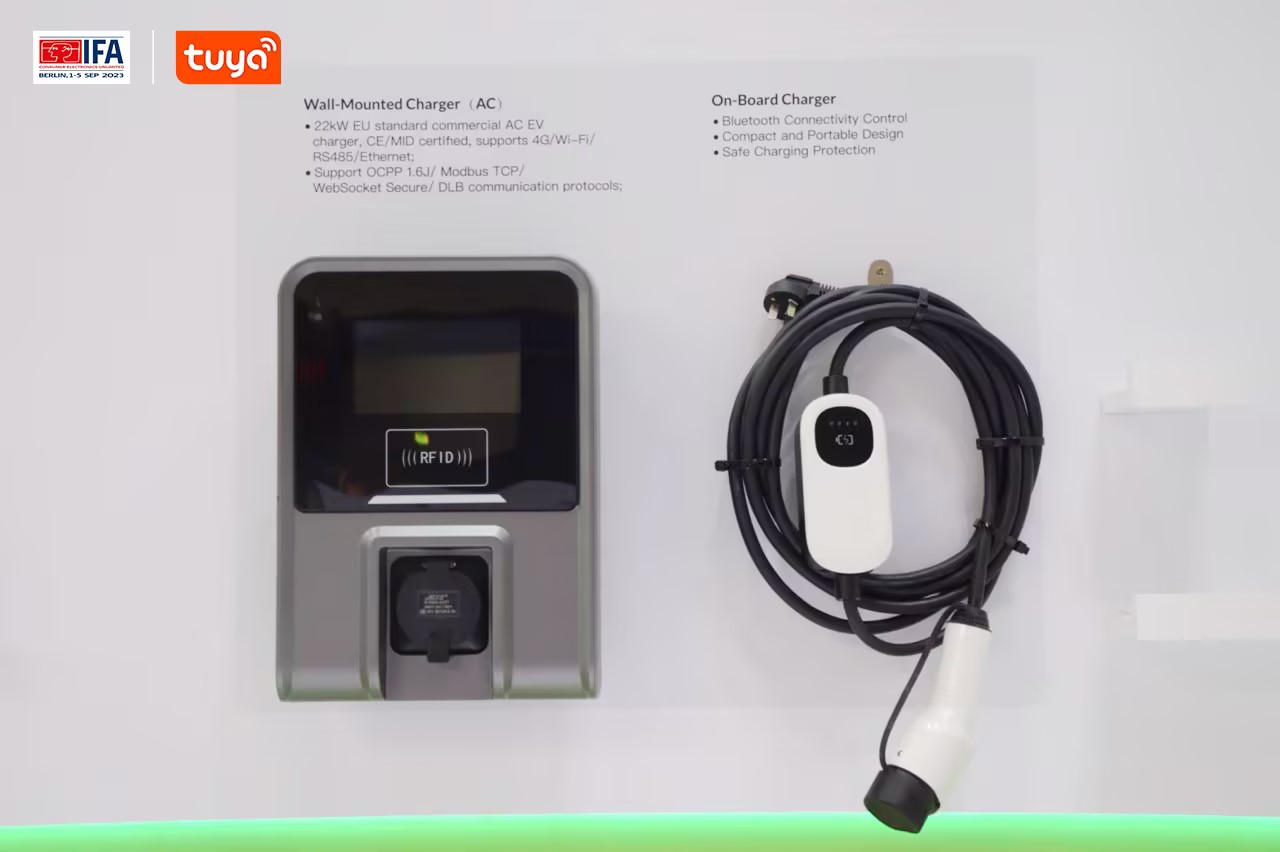 Smart charging pile
Tuya Intelligent Business helps industry diversified scene energy saving from all aspects
All industries are looking into efficient green transformation strategies in line with the trend toward carbon neutrality. Through its "modular" software combination capabilities and Tuya-enabled hardware ecosystem, Tuya Intelligent Business aims to assist hotels, apartments, residences, and other vertical businesses in achieving green transformation and reducing their carbon footprints.
In the rental industry, for instance, property managers can rely on Tuya's hardware and software integration capabilities, customize the configuration of energy consumption rules, and install Tuya-enabled smart heating panels, smart circuit breakers, and other equipment in the apartment rooms and common areas. They can accurately manage the water, electricity, gas, and other energy-consuming equipment in the room through the Tuya-enabled App or the management backend, reducing unnecessary energy waste and realizing green and efficient management and operation. This can be achieved by understanding the overall energy consumption of the apartment through the energy consumption data board.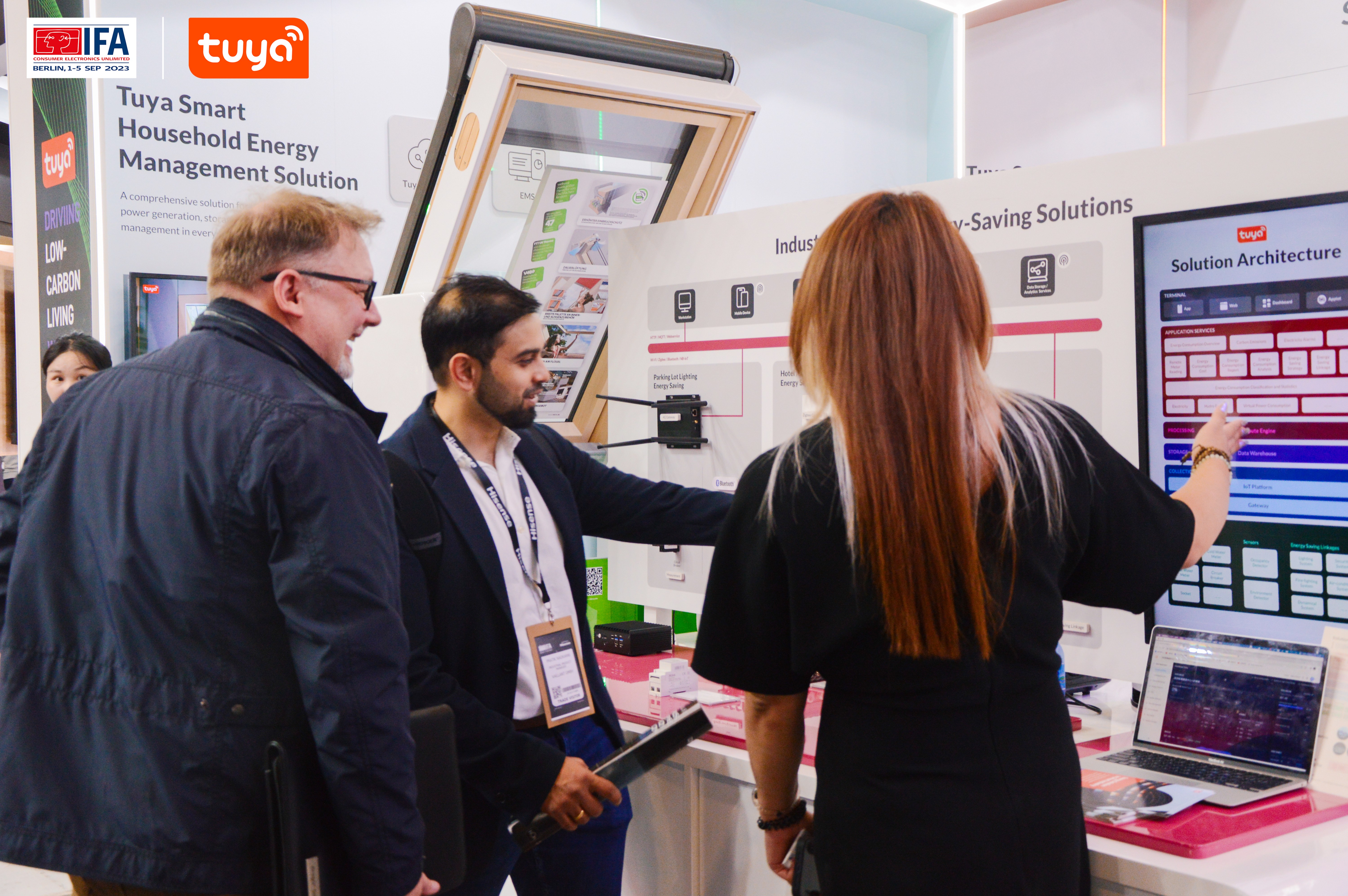 Visitors learned about the energy-saving capabilities of Tuya Intelligent Business
The on-site audience regularly inquired about the Tuya-enabled smart microwave light (T8) on display the stability of product usage and the ease of development with/without a network. When a car is approaching in the parking lot lighting scenario, the light employing Tuya's commercial lighting solution can detect early and gradually brighten up, and slowly dim to fade away as the car leaves, which not only provides the driver with a comfortable lighting experience but also reduces energy waste. After the business has been put to use, it can save 80% of the electricity used for lighting over a year.
Tuya's smart IPC solution, the breakthrough for developing low-carbon nature
The demand for smart IPC is currently growing in the global market, and several video application scenarios have been triggered. Tuya continues to look into new business prospects in the industry to assist customers in improving the core competitiveness of their products and capturing the blue ocean market of smart protection. At IFA 2023, Tuya's smart IPC solution offers a variety of product categories and business scenarios for global developers.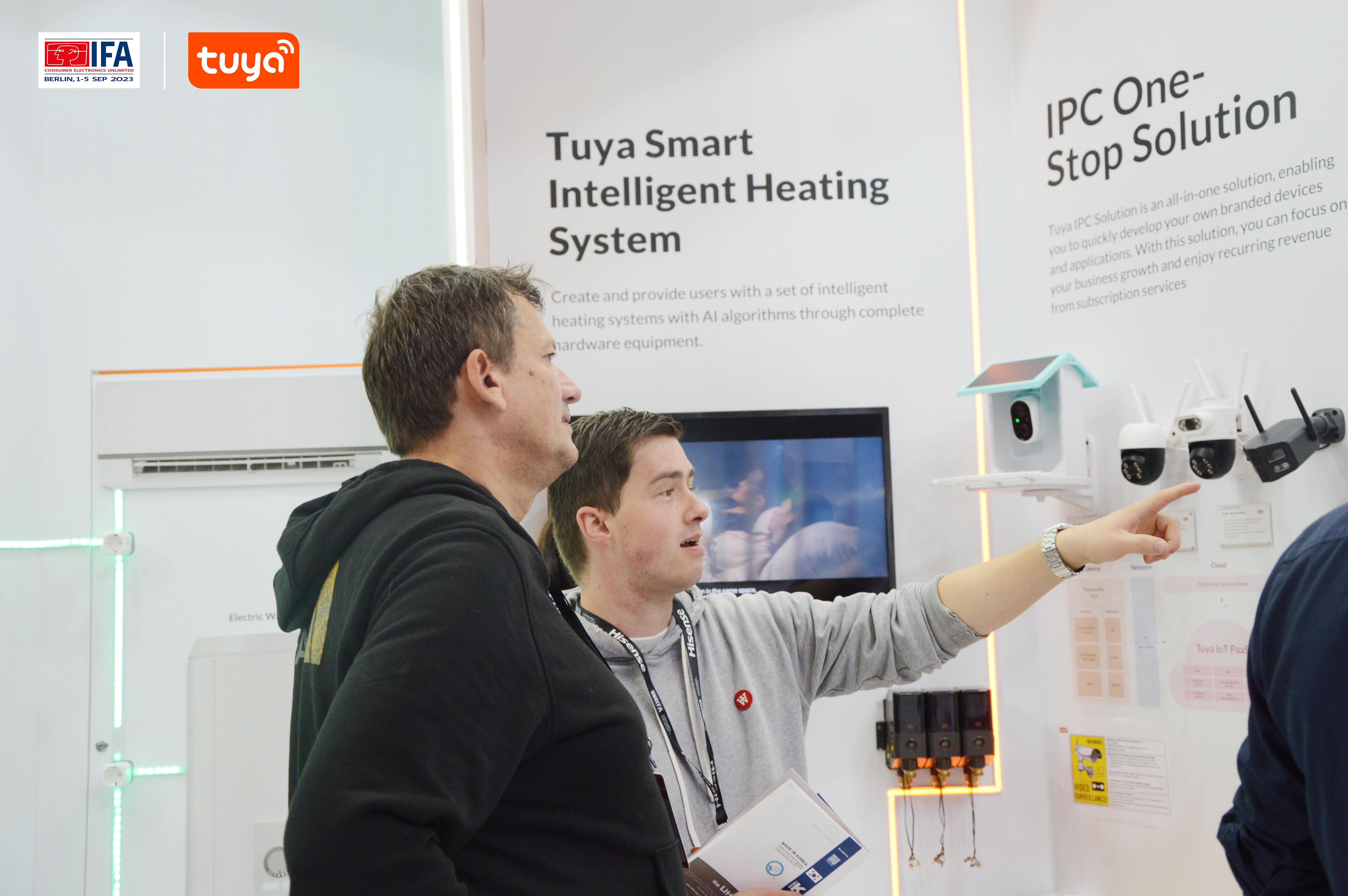 Tuya's smart IPC solution
The smart IPC solution from Tuya can address the entire chain system of end, management, cloud, and usage, and it offers flexible and varied products as well as technical assistance by the business requirements of partners, assisting developers in the creation of rich product forms. For instance, Tuya may assist customers in developing the second revenue growth curve in addition to hardware by offering comprehensive subscription-based value-added services such as cloud storage, cloud protection, cloud diagnosis, cloud phone notification, 4G traffic, etc.
In IFA 2023, where green and low carbon is the "main theme", Tuya-enabled IPC product also has a bright performance in energy saving.
For example, the Tuya-enabled smart bird feeder is superimposed on the IPC solution and based on the cloud's intelligent analysis algorithm library, which can identify more than 10,000+ bird species, and provide developers with innovative functions such as live broadcasting and visitor reminders to solve the pain points of outdoor bird feeding and observation, etc. Not only that, the smart bird feeder is also equipped with a solar panel, which ensures a more durable operation outdoors and provides efficient support for the guardianship of the natural ecosystem.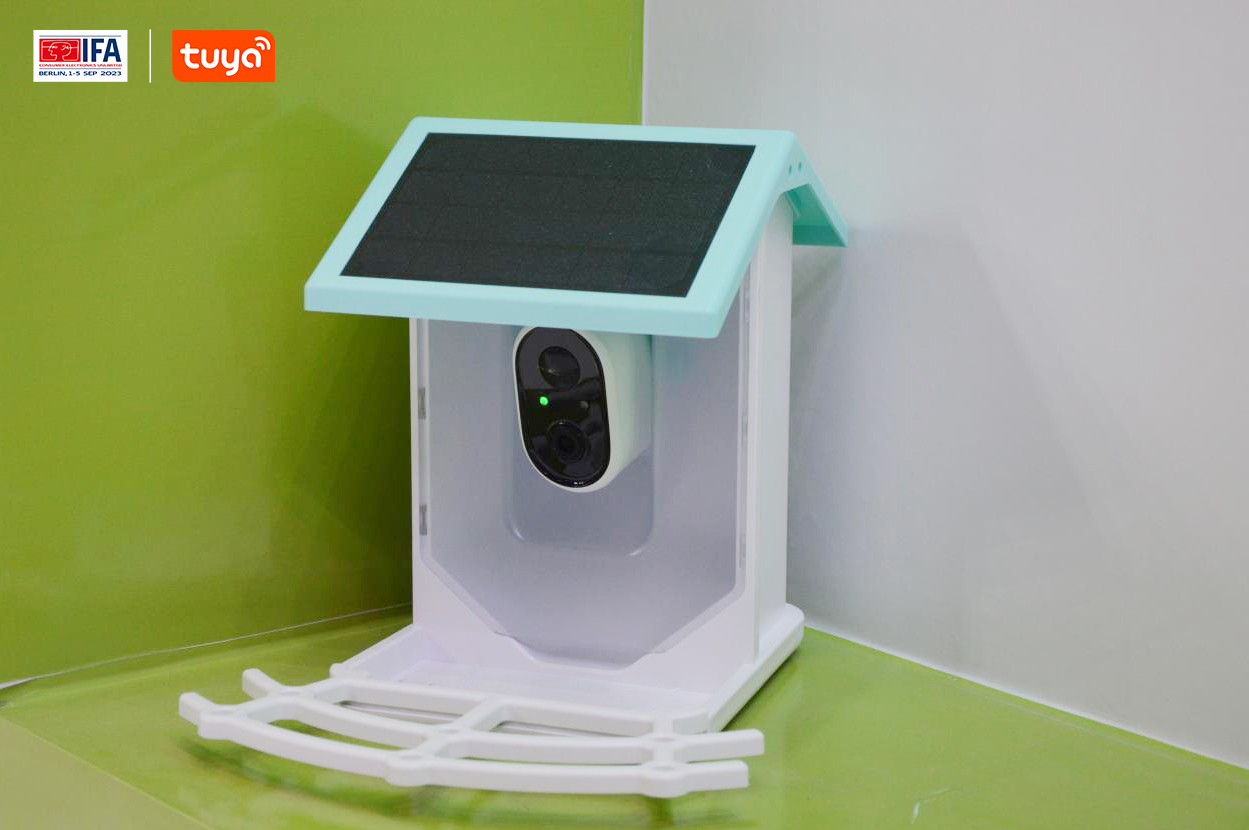 Smart bird feeder
At this year's IFA Berlin, where innovative technologies can be displayed to the fullest, Tuya undoubtedly brought a wonderful visual feast to global developers, as well as provided a platform for global developers to communicate and cooperate. In the future, Tuya will continue to lead the trend of IoT development, bring more intelligent and efficient energy-saving solutions and product experiences to global customers, and jointly promote the popularization of green and low-carbon life.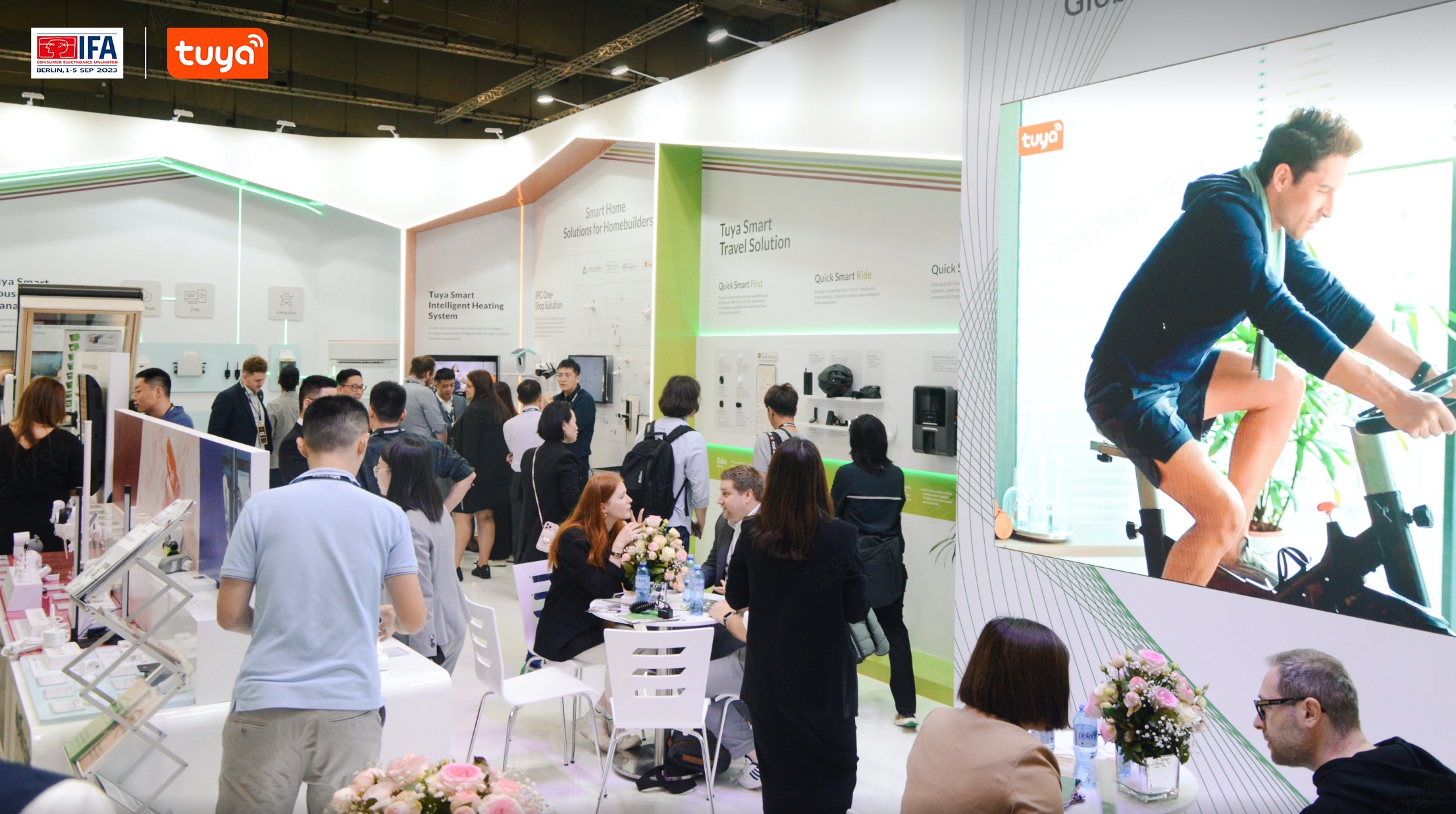 Visitors discussed collaborations at Tuya's Booth