The TUYA Developer Summit will be held on October 14th at the Hong Kong Convention and Exhibition Centre. At this Summit, Tuya Smart (NYSE: TUYA, HKEX: 2391), a global IoT developer service provider, will discuss the future direction and application trends of IoT technology with developers from all over the world with the theme of "The Future Reimagined: Go Beyond Smart". The summit aims to promote greener, smarter and highly-efficient development of various industries.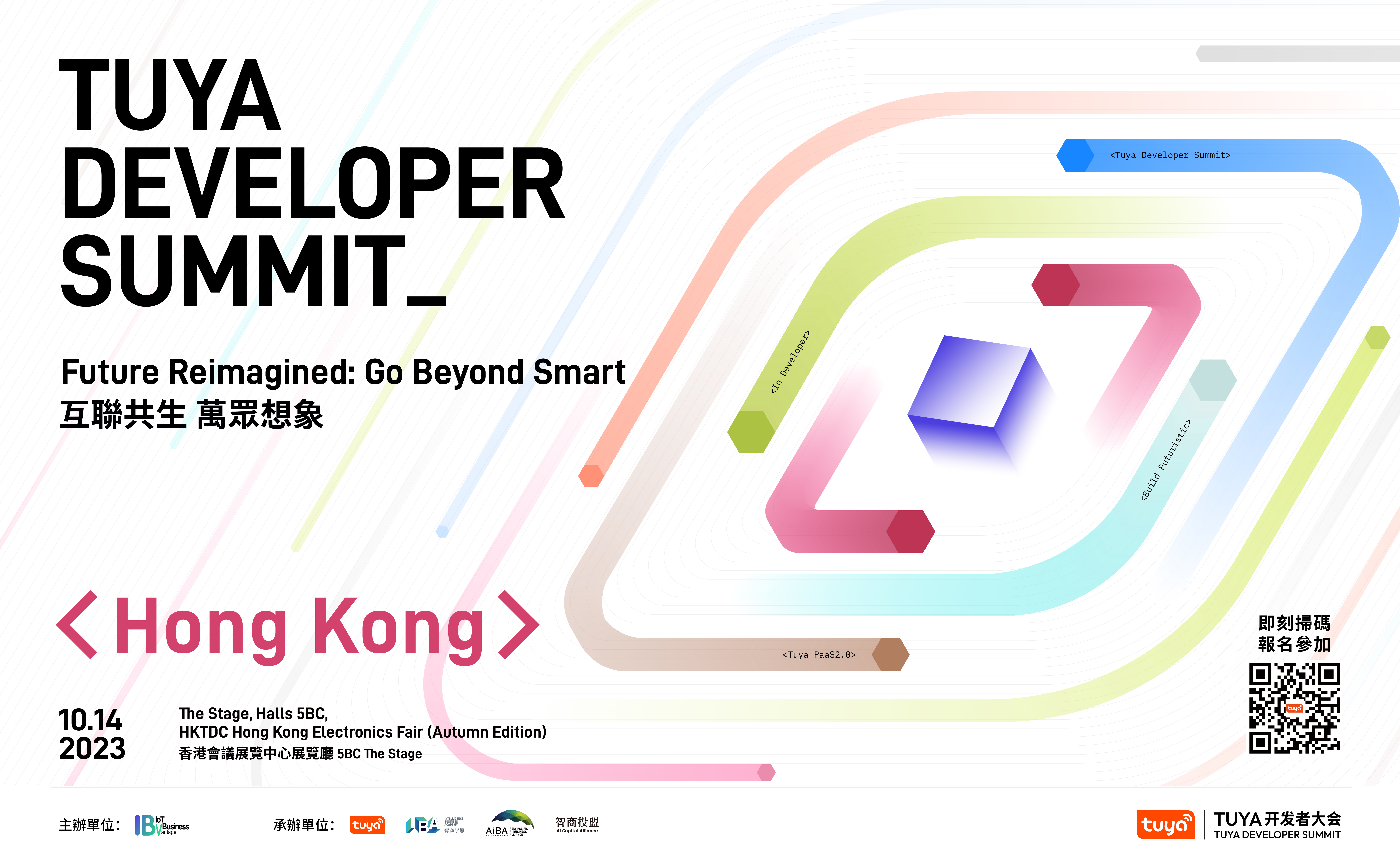 So far, the TUYA Developer Summit has been successfully hosted in Shenzhen and Zhongshan in China. The summit's first overseas stop in Singapore attracted hundreds of developers. To help developers fully understand the summit in Hong Kong, and to accelerate communication and cooperation on site, Tuya has prepared the following highlights for global developers.
Highlight 1: Based on the advantages of Hong Kong's IoT industry, Tuya will accelerate the speed of smart upgrading in the Asia-Pacific region
As an international financial center, and one of the largest in Asia, Hong Kong unveiled its Smart City Blueprint in 2017. It proposes to build Hong Kong into a world-leading smart city, to improve the effectiveness of urban management with innovative technologies, and to promote Hong Kong's sustainable development. In 2020, Hong Kong launched the Smart City Blueprint 2.0, further refining plans to build an upgraded version of Smart Hong Kong.
With the development of cutting-edge technologies such as IoT, AI, and big data, the construction of a smart city in Hong Kong has achieved important results. Digital Market Outlook data shows that the scale of Hong Kong's IoT consumer market is gradually expanding, and it is estimated that the size of Hong Kong's smart home market will reach US$215 million in 2025.
Hong Kong's deep industrial heritage and technological advantages will undoubtedly provide a fertile cradle for the development of IoT. Based on Hong Kong's pivotal role in leading smart transformation of industries in the Asia-Pacific region, the TUYA Developer Summit will efficiently integrate the upstream and downstream resources of Hong Kong's IoT industry, enable developers to bring forth plentiful smart hardware products and scenario solutions, and then take Hong Kong as the hub to radiate and influence the entire Asia-Pacific region to further promote the sustainable development brought by IoT.
Highlight 2: Tuya will attend the Hong Kong Electronics Fair Autumn Edition (hereinafter called Autumn Electronics Fair) and work with developers to promote smart energy development
During the TUYA Developer Summit, Tuya will also participate in the Autumn Electronics Fair organized by the Hong Kong Trade Development Council (HKTDC), with the theme of "Connect the World, Shape the Future of Energy", bringing Tuya's latest progress in the field of smart energy to global consumers, enabling customers to create green and low-carbon innovative solutions to help achieve energy conservation and efficiency. Tuya's booth number is 1F1B-B02.
With a history of 42 years, the Hong Kong Fair is the world's largest trading platform for electronic products, bringing together thousands of exhibitors from many countries and regions around the world to jointly display various smart technologies, startup products, and cutting-edge electronic components and technologies. It is the best choice to explore new markets and promote brands.
With the bridge built by the Autumn Electronics Fair, Tuya will further work with global developers to jointly build a smart energy ecosystem and accelerate the implementation of global sustainable development.
Highlight 3: Focusing on smart device interaction, Tuya AI assistant will make a blockbuster appearance
Developers are looking forward to the application of AI in smart homes due to the innovation brought by AI technology. At this Summit, Tuya will demonstrate its latest progress in AI interaction.
Tuya is working to build a home AI assistant that can more intelligently help end-users interact in scenarios such as the smart control of home devices. For example, by talking with smart control devices, creating timed tasks, suggesting lighting environment settings based on learning, entertainment, and other scenarios, and calculating energy consumption at home, end-users can fully enjoy the beautiful moments of life.
In addition, in terms of interaction methods, Tuya-enabled smart speakers will also usher in breakthroughs, such as supporting the sending of custom interactive voices to provide end-users with a more convenient and comfortable operation experience.
More interactive experiences and capability upgrades brought by AI will be "unlocked" at the Summit.
Highlight 4: Energy-saving solutions are upgraded, and more new capabilities are expected
As the concept of low-carbon life gradually becomes trendy, coupled with the impact of major trends such as the energy crisis and carbon neutrality in the Asia-Pacific region and the rest of the world, have begun to explore green and low-carbon development paths.
At this Summit, Tuya will introduce some new features for its home energy management system, such as providing the ability to set energy-saving scenarios through one-click on Apps, which has greatly improved the accessibility of energy-saving strategies.
On the other hand, Tuya's Cube Solution is expected to launch corresponding zero-carbon solutions for the energy-saving needs of vertical industries, enabling customers by industry to establish a circular carbon economy model in the ESG era and achieve zero-carbon transformation.
Highlight 5: Top figures join forces to talk about a sustainable future
At this Summit, Tuya has specially invited several senior executives of leading global technology companies and associations including Alexa, Google Cloud, ABB, CLP Digital, Hong Kong Green Building Council, Momax Hong Kong, German Pool, etc., as well as industry experts, all of whom are confirmed to be present.
Many big names will gather together to discuss the latest trends and future development of the industry through exciting keynote speeches and roundtable forums centered on IoT, AI, and other cutting-edge topics.
In addition, to enhance developers' experience, each time Tuya will display its enabled hardware products, solutions, etc. for developers and bring the latest technology and products in response to Hong Kong's IoT market demand, showing consumers the charm of technology.
In the era of the smart connection of all things, IoT technology has become the new engine of the next wave of the industrial revolution. As an IoT industry leader, Tuya is expected to fully stimulate the vitality of the IoT industry and expand more business opportunities through the TUYA Developer Summit in Hong Kong and the Autumn Electronics Fair.