Tuya Smart (hereinafter called Tuya) (NYSE: Tuya, HKEX: 2391), a global IoT development platform service provider, began to showcase its latest smart solutions at the Light + Building Autumn Edition 2022 (Light + Building 2022) in Frankfurt, Germany on October 2nd.
With carbon neutrality topics in trend globally and facing factors such as Russia Ukraine conflict, all countries are seeking ideal solutions to achieve short-term and long-term sustainable development. Among all rapidly developing technologies, IoT technology with its visible, controllable and smart decision-making capabilities, can be applied to various scenes and become a priority solution for many countries and companies.
Thus, during the Light + Building 2022, Tuya exhibited smart all-in-one solutions covering buildings, houses, outdoor roads, factories, etc. as well as Tuya-enabled smart devices, and showed global customers how Tuya balanced green energy-saving experiences and comfortable living experiences by leveraging IoT Innovative solutions.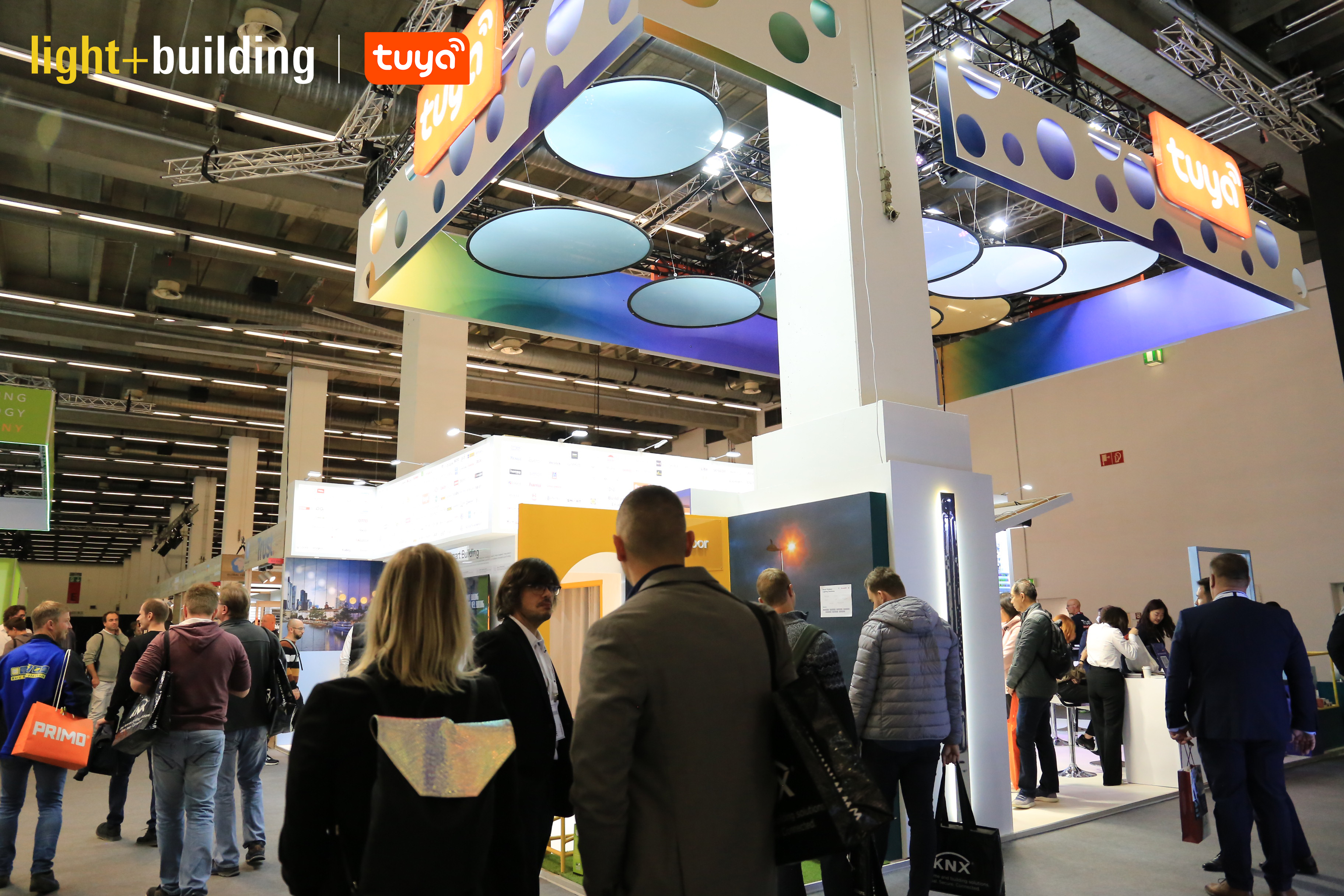 Tuya Smart Light + Building 2022 Booth
Tuya Building: Make buildings more efficient in energy saving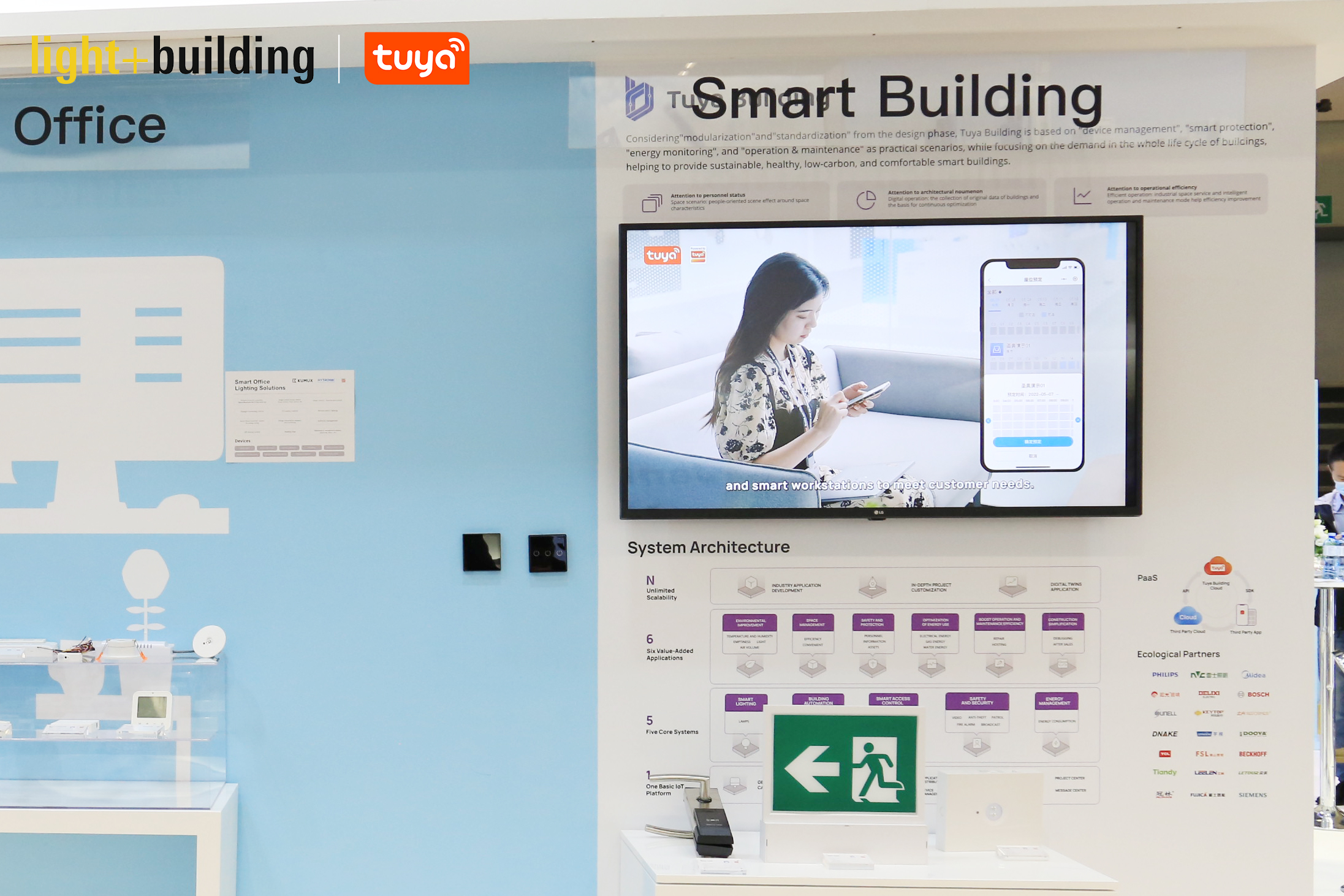 Smart Building Exhibition Area
For building management teams, how to provide comfortable services to users as well as improve the energy efficiency inside the building is their main concern. In this smart building showroom, Tuya brought up Tuya Building, the all-in-one smart solution for buildings, to show global customers the energy-saving capability from two dimensions: lighting and heat.
As a complete set of IoT lighting control systems, Tuya's commercial lighting solution displayed in the Tuya Building area can coordinate the lighting environment according to different scenes and provides full services from smart hardware, and software control to construction management, which can not only reduce building management costs but also reduce energy consumption and carbon emissions.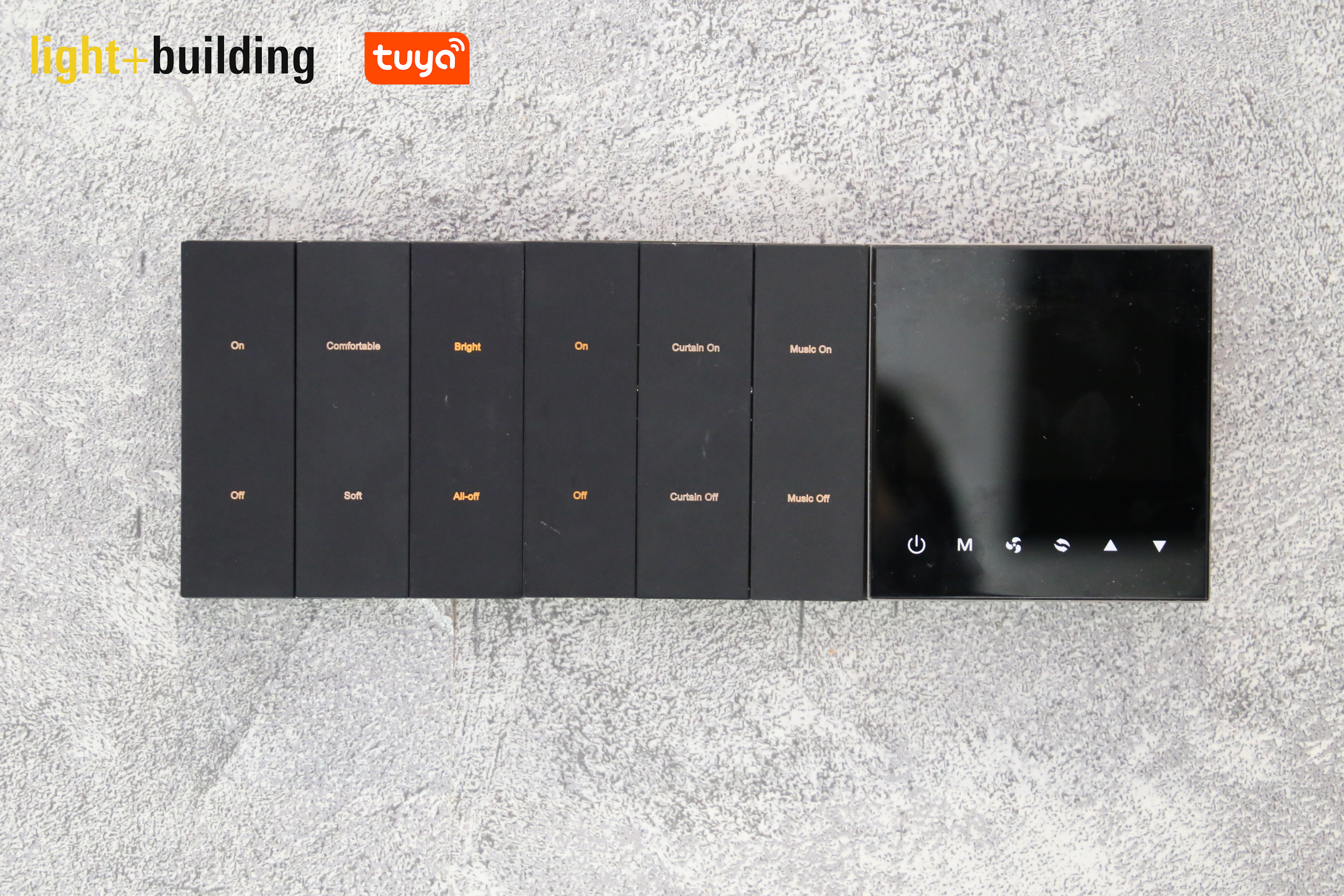 Scene Panel
For example, through the dynamic and static sensor, this solution can turn off the lights when there is no one in the area and turn on them when someone is there; Through the constant illumination sensor, this solution can connect the curtain motor according to different seasons and times of the day, and dynamically balance the natural sunlight and indoor lightings, to maintain the illuminance required by different spaces.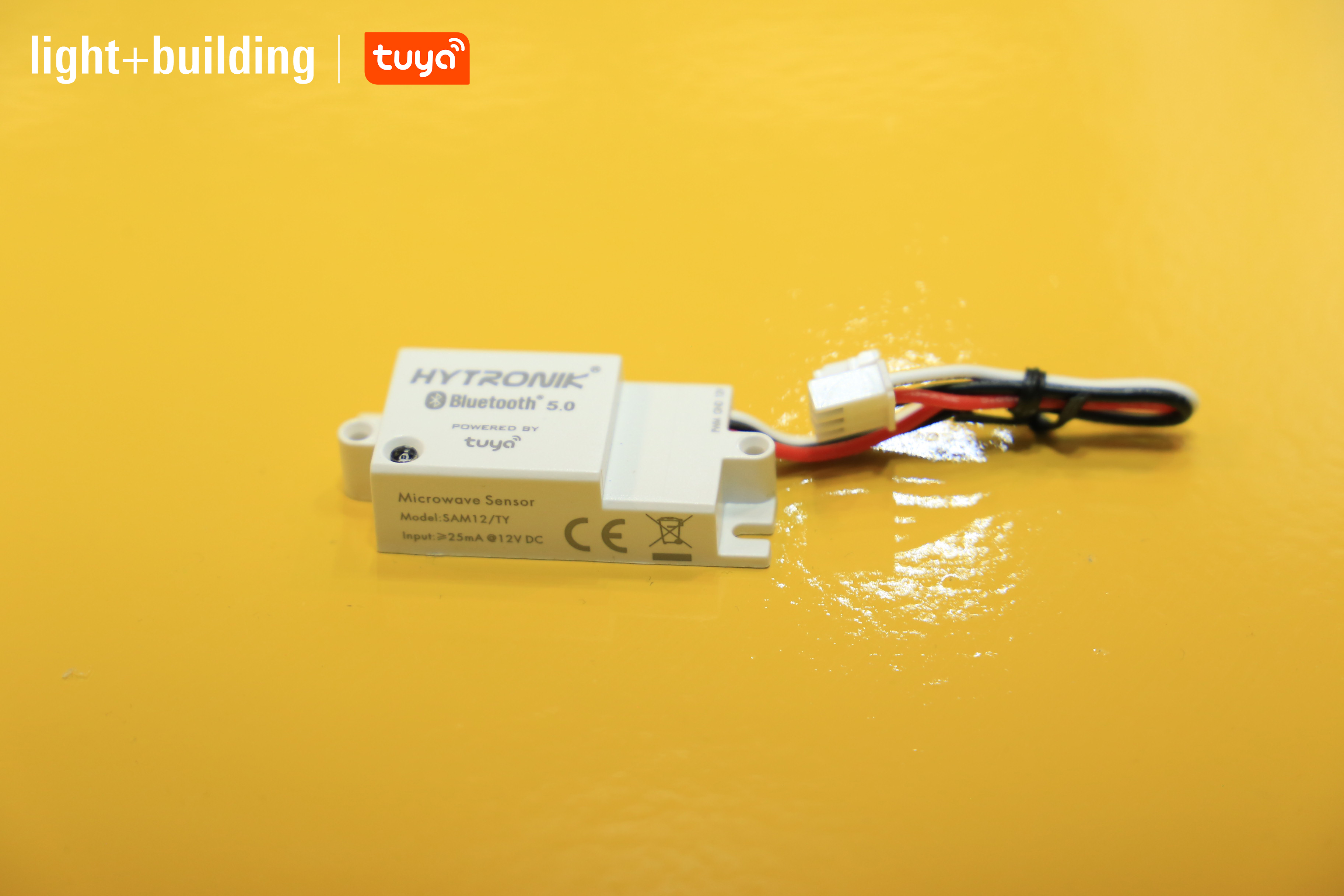 Constant Illumination Sensor
Moreover, this solution also supports energy consumption statics control. It can conduct multi-dimensional statistical analysis based on the scene's energy usage, including frequency of usage, usage period, power consumption level, etc., and further, create dynamic energy-saving strategies.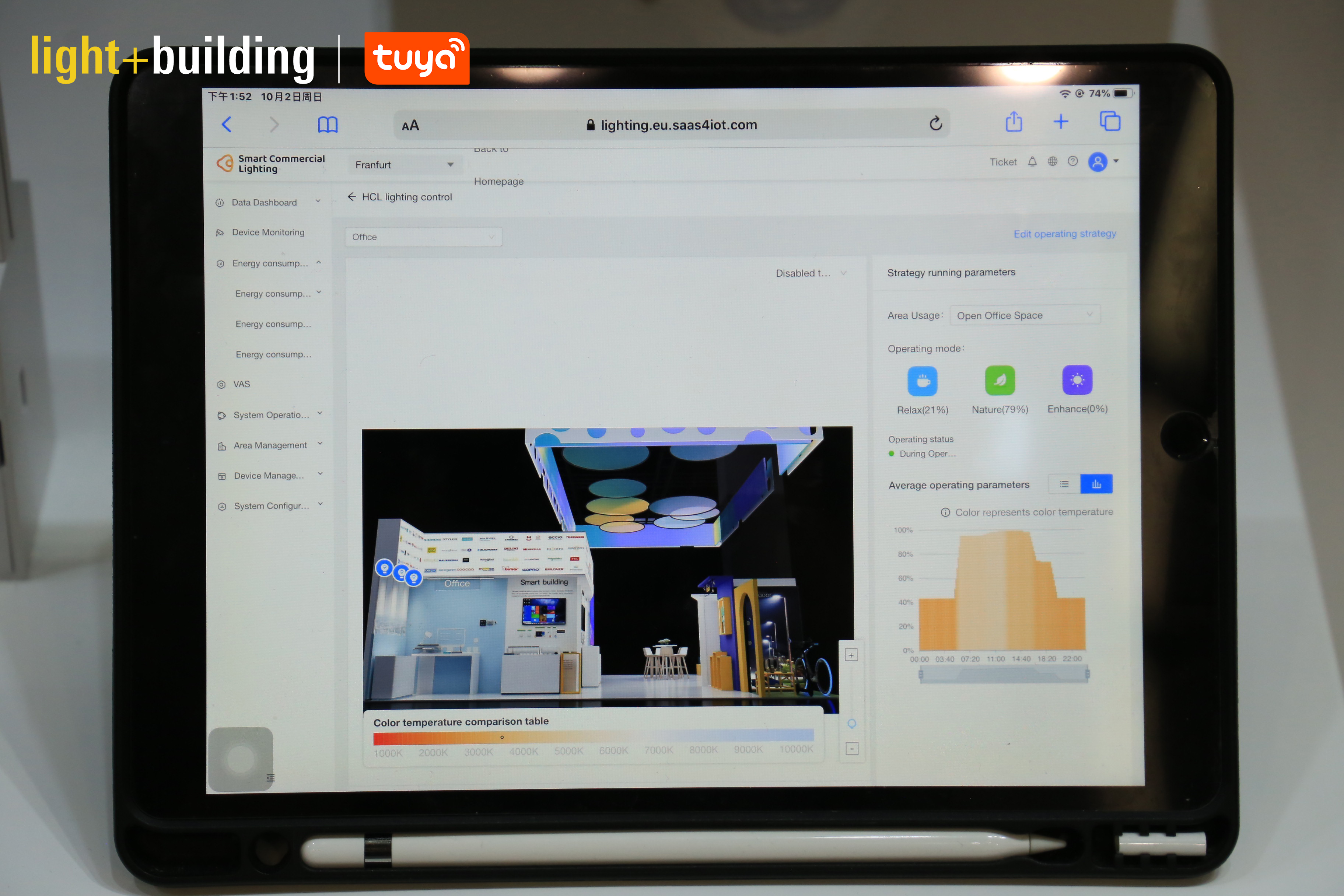 Energy Consumption Statics Control
In addition, Kumux-Human Centric Lighting Control Strategy that integrated with Tuya's commercial lighting management platform can automate light based on geolocation, time of the day, and human activities to get the benefits of natural light, improving productivity, concentration, health, and experience while saving about 40% of the electric power.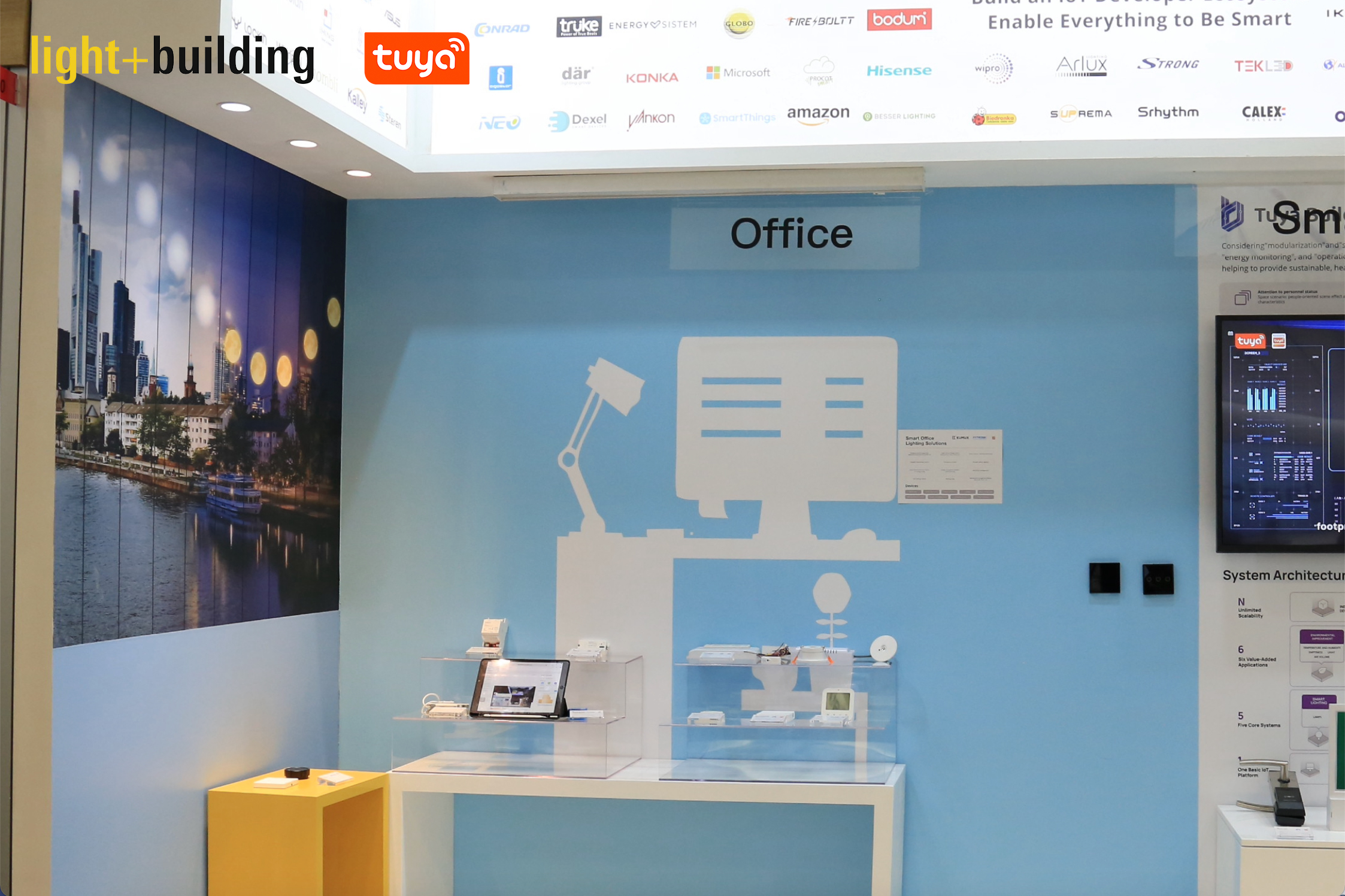 Office Scene Exhibition Area
Besides lighting management, heating management is another big concern for building management teams since its energy consumption accounts for more than 40%. Especially in cold winter, heating is essential.
Tuya's smart HVAC equipment management platform can help building management teams find a balance between cost control and user experience, which also maximizes energy saving while ensuring the best user experience. For example, for HVAC manufacturers that are managing thousands of HVACs, this platform can effectively manage and analyze energy data and provide visualized solutions. And it can quickly deploy HVAC equipment on the cloud by developing an all-in-one solution for equipment, cloud, platform, and mobile terminals.
It is worth mentioning that the predictive maintenance capability of this platform can effectively prevent in advance, identify in the event and trace the source after the event through remote management of HVAC equipment parameters, thus reducing the cost of manual inspection and promoting the improvement of equipment comprehensive operation and maintenance and operation efficiency.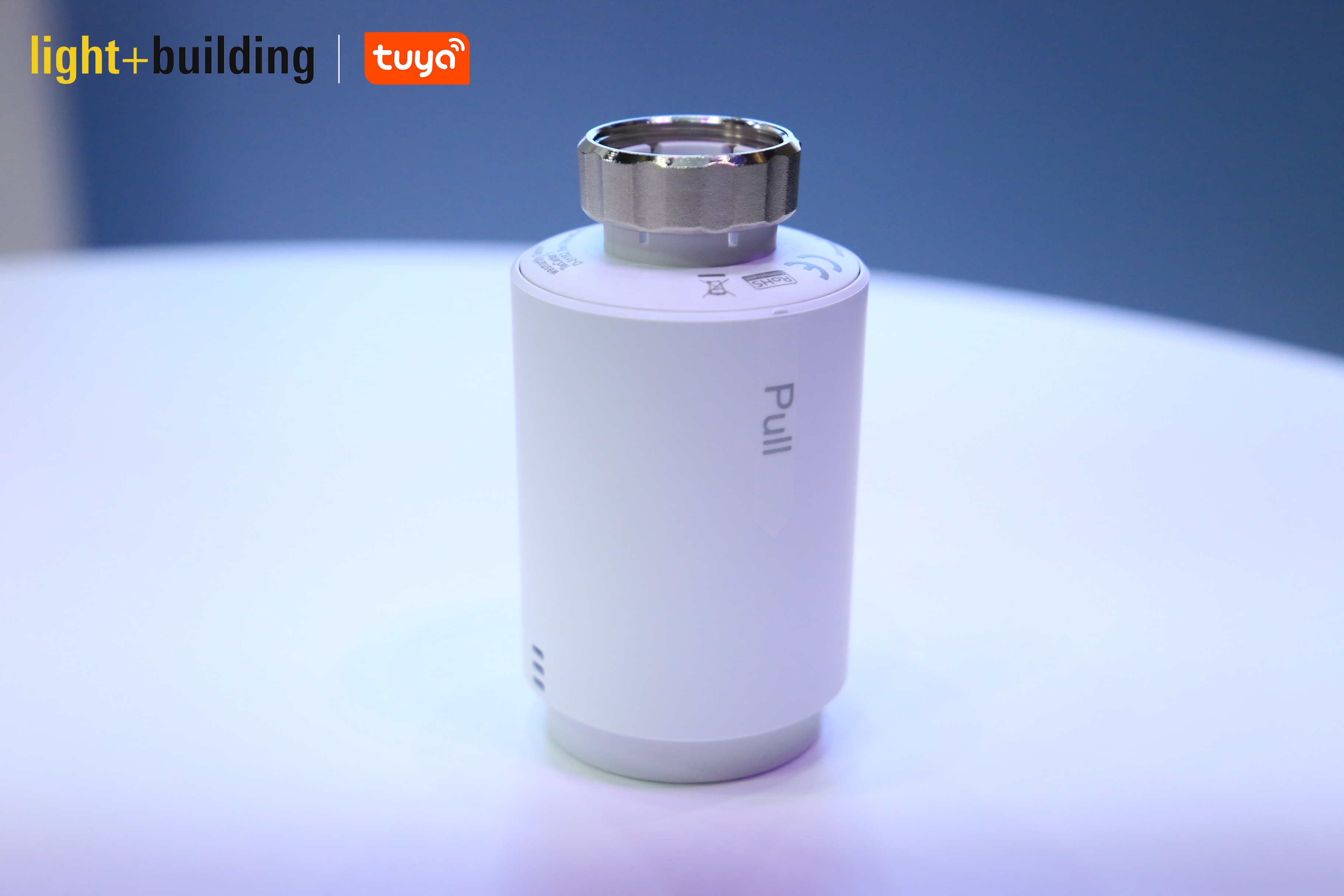 Thermostat
Smart Home Solutions: "Visible" energy consumption and "tangible" energy saving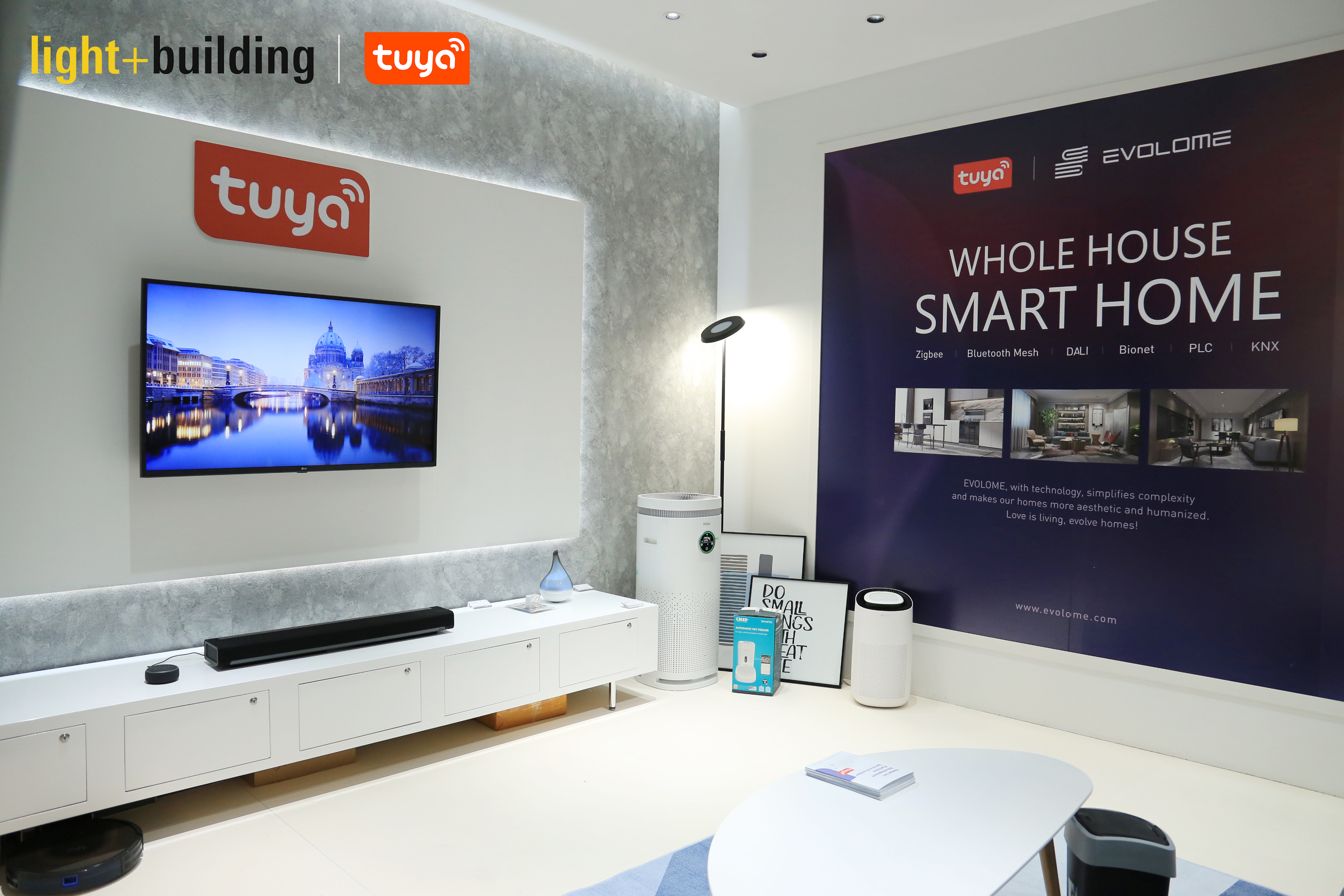 Smart Home Scene Exhibition Area
If any solutions can calculate how much electricity has been consumed by different home appliances such as air conditioners and heaters and can conduct reasonable distribution of the electricities, the energy efficiency will be improved. Tuya's showcase of the Home Energy Management Solution is the answer. It can not only enable users to understand household power consumption but also realize home energy savings.
In the home showroom, Tuya displayed several Tuya-enabled smart devices in this solution. When they are connected to the mobile App and the back-end management software, it can visualize the energy data of the entire procedure from photovoltaic power generation, power storage, power distribution, power consumption, and even electric vehicle charging, which enables users to trace the energy.
For example, users can connect the Tuya-enabled metering socket to the water heater at home to figure out the power consumption data of the water heater at any time and the corresponding electricity charges generated. The latest multi-segment billing function enables users to input the electricity price based on the price list from local electric power companies, and further calculate exact electricity expenses.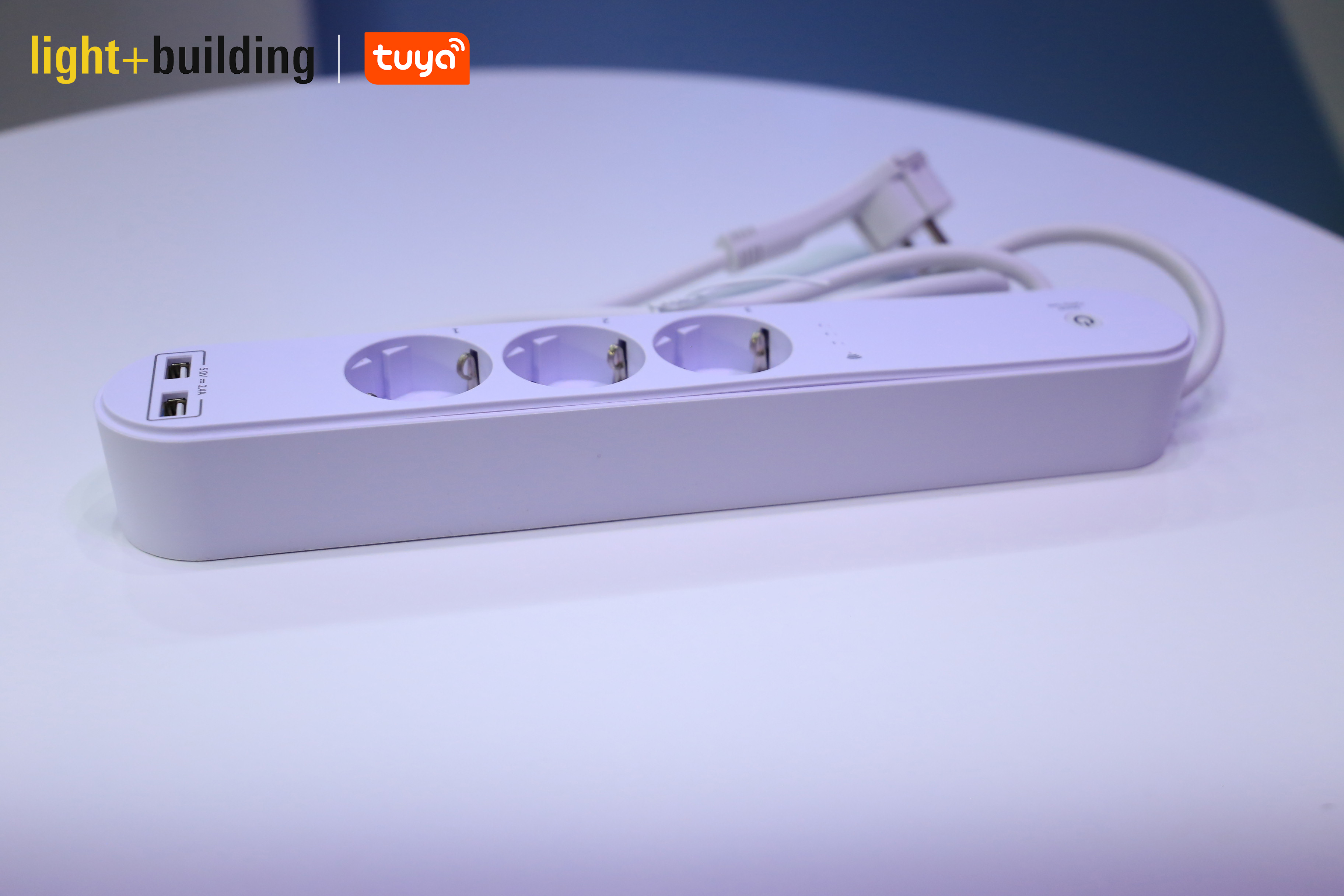 Tuya-enabled Metering Socket
In addition, Tuya-enabled portable power supply supports attached photovoltaic modules, which can realize synchronous power generation and storage while using. In the meantime, users can understand how much power has been converted and stored, and how much electricity has been saved accordingly through a mobile App.
Professional Lighting Solutions: Help Outdoors and Factories to Achieve Green Development
Outdoors Exhibition Area
In cities and towns, it happens sometimes when there is less traffic on main avenues but a lot of traffic in alleys. Street lights on main avenues are often very bright, and the distance between each light is short which causes lots of energy waste, and street lights in alleys are dim and cannot light up every corner. How to control street lighting systems to adapt to different occasions? Tuya's professional lighting solutions give the answer.
The professional lighting solutions cover areas including outdoors, streets, factories, and so on, and can realize timing function, constant illumination, brightness adjustment, single/group lights control, etc. which will significantly improve the energy-saving efficiency and develop a green and sustainable city.
For example, the NB-IoT street lighting solution can control lights according to the time of sunrise and sunset, and adjust the lights periodically according to the traffic flow. So far, this solution has been applied to the Tuya and Suzhou Taicang smart street lighting transformation project, and it can save up to 60% electricity power based on statistics.
NB-IoT Smart Street Light
Another case is in Jiangmen Ambofu smart factory, Tuya's Bluetooth Mesh industrial lighting solution helps this factory to save about 35% of the power. It can help customers to control the light switches of each area, achieve low illumination when no one is working in certain areas as well as realize the dimming control of the lighting from 0% to 100%, which significantly lower the lighting operation and maintenance costs and energy costs.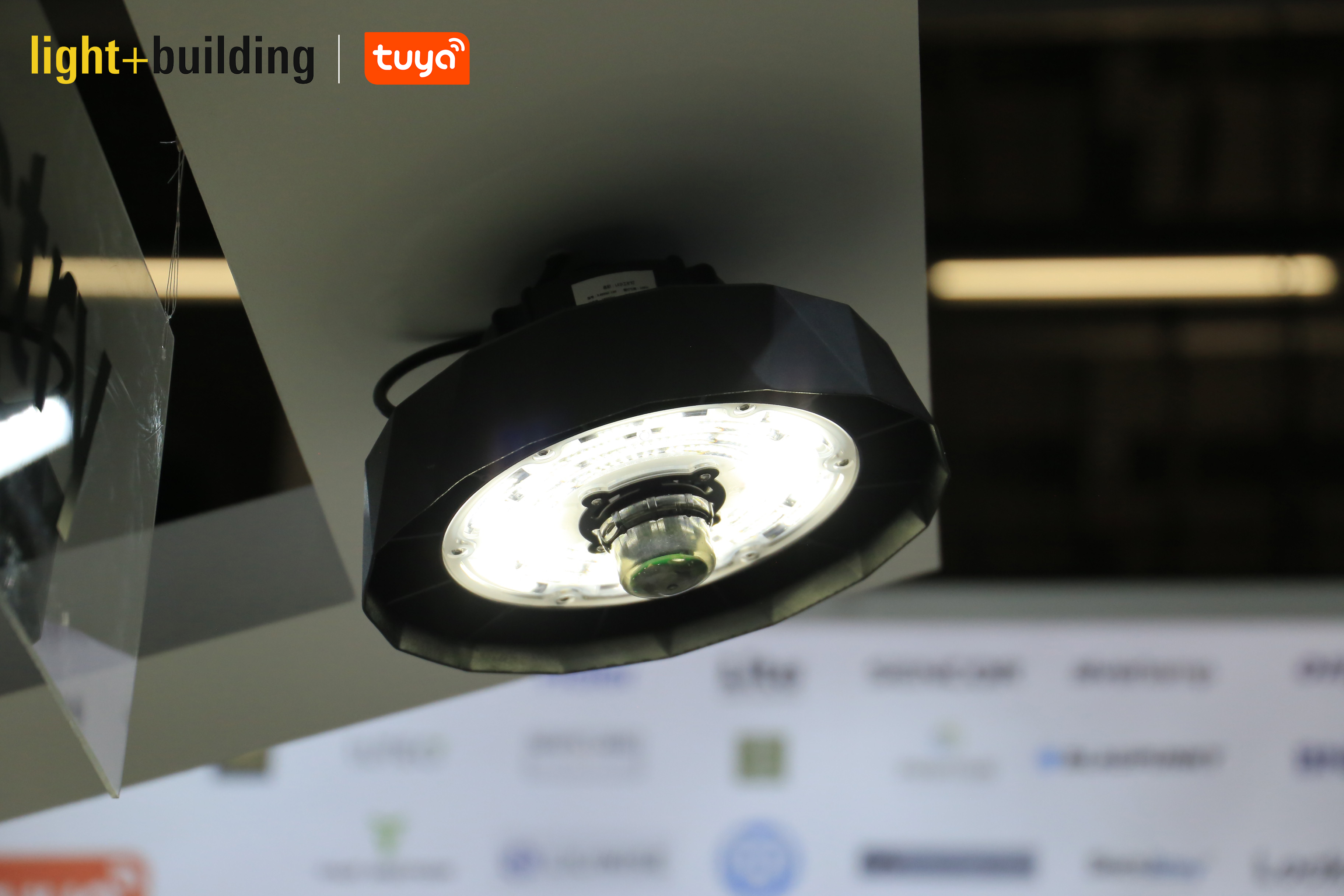 Bluetooth Mesh Smart Mining Light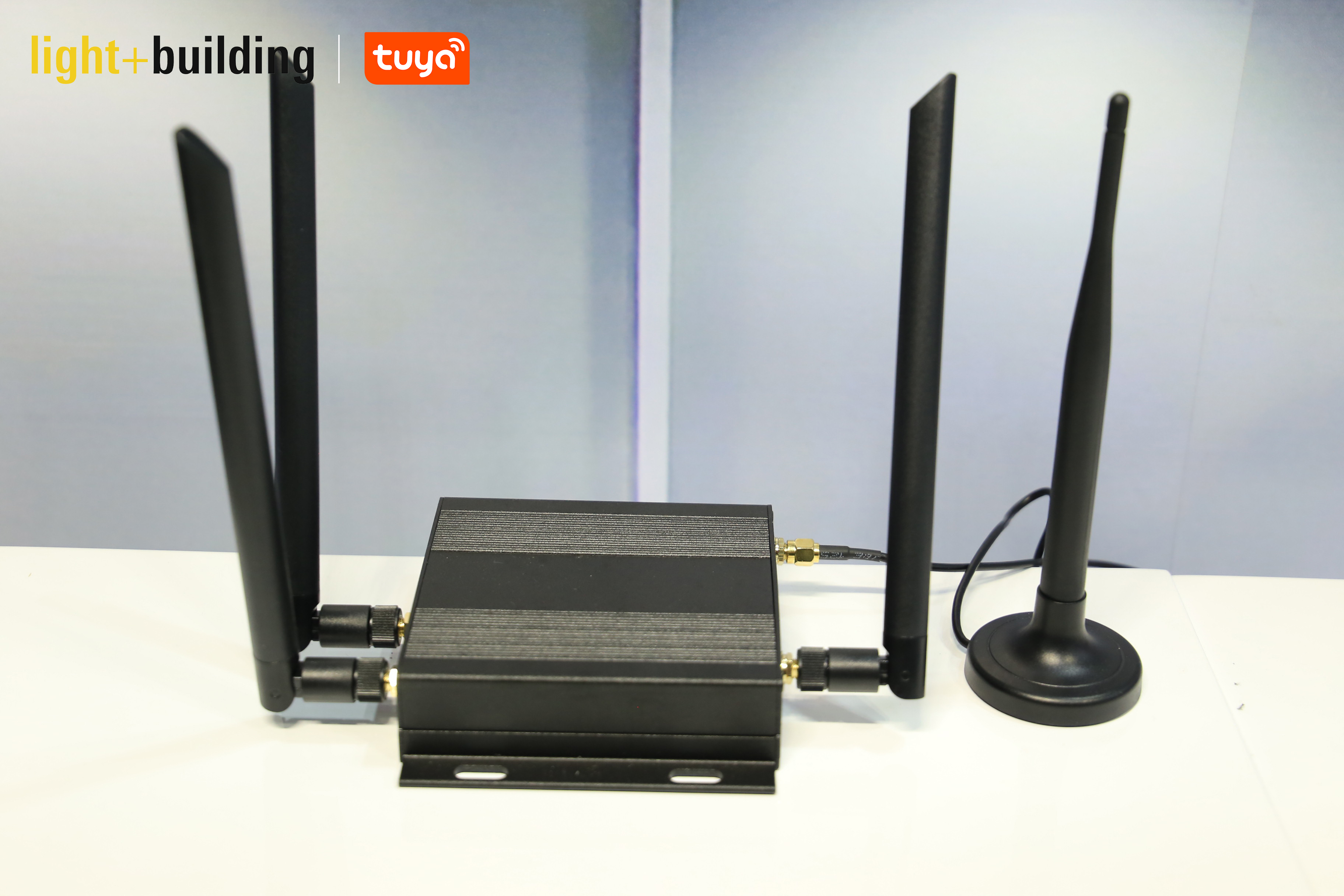 Engineering Gateway
IoT Solutions Constantly Contribute to Global Sustainable Development
At the Light + Building 2022, Tuya Building's all-in-one capabilities in energy saving have been attractive to global customers. From the perspective of light and heat, customers can see how it can contribute to global sustainable development. Looking at other scenarios such as home, outdoors, and factories, the potential of all-in-one smart solutions is immeasurable.
In addition to demonstrating the comprehensive ability of Tuya in energy saving, Tuya also brought other innovative solutions. For example, the HDMI screen synchronizer solution and Razer Chroma gaming lighting solution enhance the competitiveness of customers in the entertainment industry. The Tuya-enabled HDMI screen synchronizer can not only be used as the Zigbee gateway control to manage sub-equipments, but also can be connected with the lighting and audio system in the room to realize synchronization; The Razer Chroma gaming lighting solution allows the Tuya-enabled light products to be linked with computer games together with gaming devices such as Razer's mouse and keyboard, so to synchronize the game lighting experience with the lighting inside the room.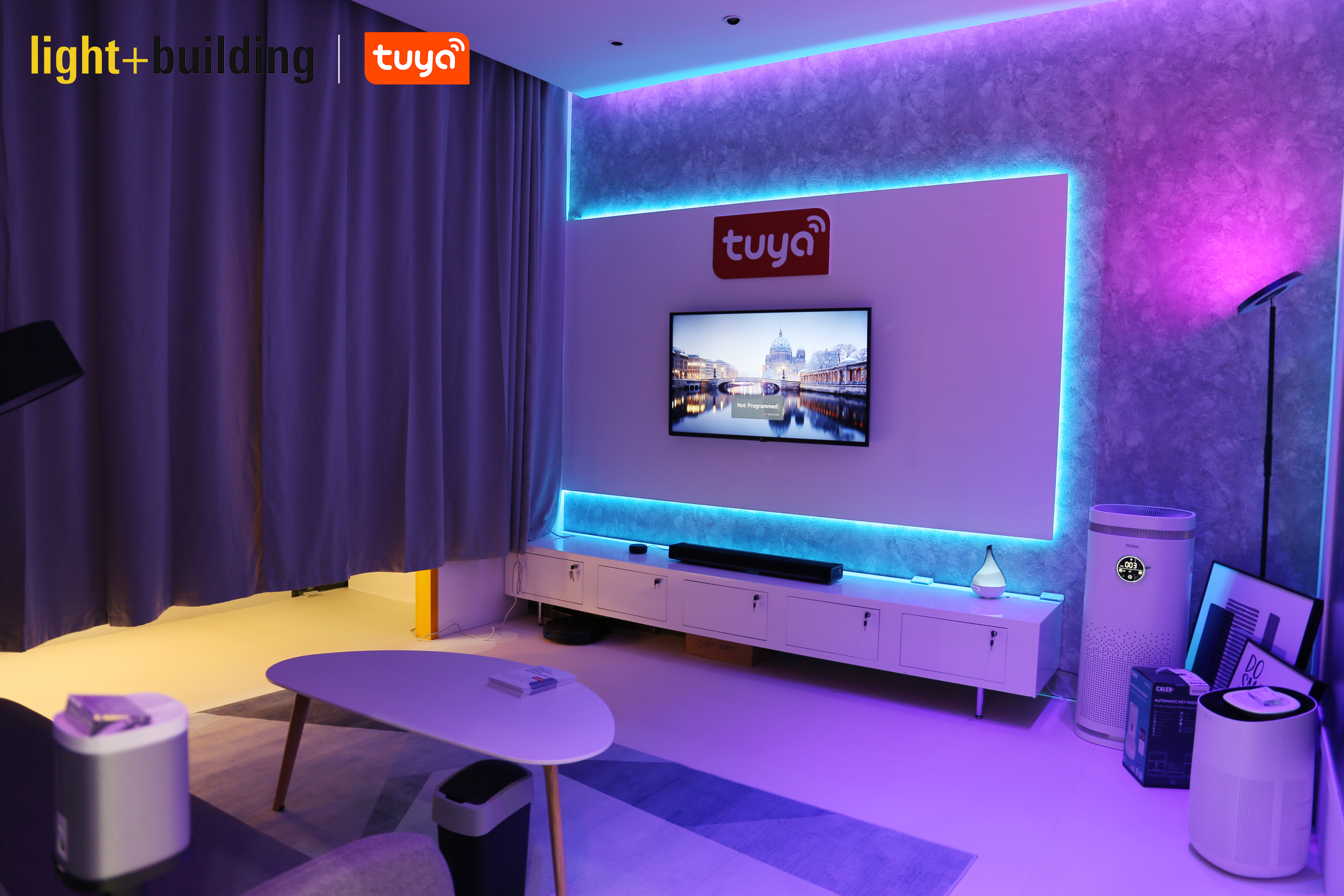 Synchronized Lighting Atmosphere in the Room
In addition, Tuya also exhibited several outstanding solutions. For example, Tuya exhibited its solutions for Matter, which have been applied in lighting, electrician, gateway and other product categories; Tuya, together with Amazon brought up solutions for Amazon Alexa BSS (Bluetooth Mesh Simple Setup) with the capability of non-sensing distribution network, helps global manufacturers' Bluetooth devices to realize fast network distribution, thus improving the market competitiveness of smart devices; and Cube Solution, which is popular among global customers, it enables them to build a proprietary IoT platform, so that they can enjoy a more flexible, independent and cost-effective smart experience, and further seize the business opportunities in the IoT industry.
The highlights in the exhibition only revealed a small part of Tuya's commitment which to leverage IoT technology to enable everything to be smart. In the future, Tuya will continue to empower global customers and to work with ecosystem partners to support global sustainable development.
On October 4th, Tuya will invite its ecosystem partners to hold 'Tuya on Light + Building 2022, to share innovative solutions and new ideas for smart lighting, smart home, and other fields for exhibitors and visitors.