2021 AI+IoT Business Conference Online Latin America aims to promote the development of IoT and business advancement in the region by tailoring the event to the unique diversity of languages, cultures and user preferences across Latin America.
Bogotá, Colombia—April 16, 2021—Tuya Smart (NYSE: TUYA), a leading global IoT cloud platform, on April 20 will host its first-ever AI+IoT Business Conference Online focused on Latin America. The conference will share the latest Internet of Things (IoT) trends, regional IoT case studies and experience to accelerate the development of the IoT industry in Latin America for consumers, manufacturing brands, OEMs, operators and retailers.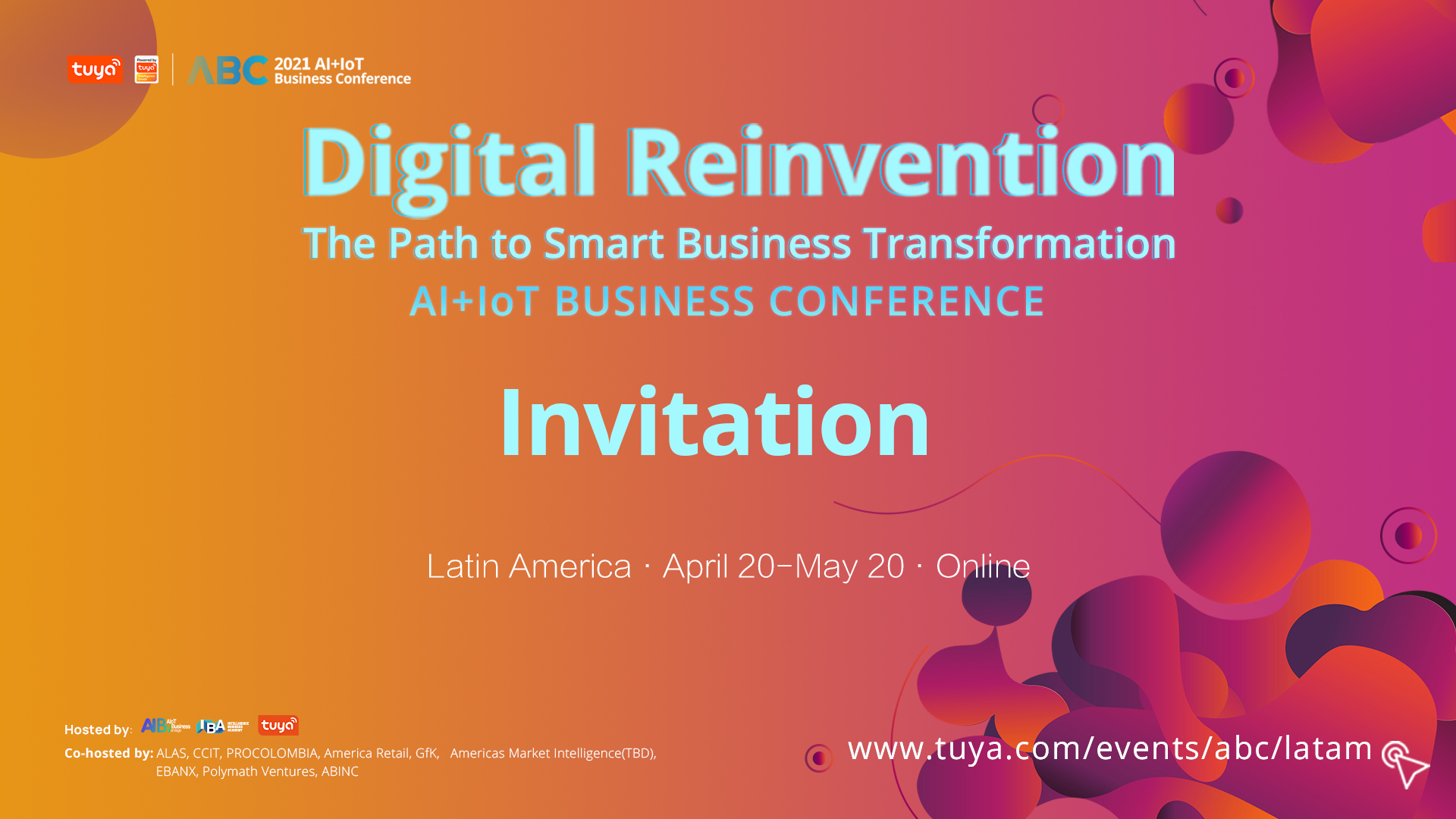 Latin America has become one of the fastest-growing regions in the global IoT industry, and there as elsewhere the most comprehensive analysis of conventional platform design will triumph in the post-pandemic era. In this conference, leading players in the IoT market will provide insight and share success stories from emerging markets.
"With the advent of the smart age, IoT has brought new business models and opportunities to the world. We are committed to helping companies understand how critical IoT is to their business and to connect global smart solution providers with local customers and partners to promote regional development," said Johnny Lu, Managing Director of Tuya Smart for Latin America, the Middle East and Africa.
Conference speakers will include thought leaders from Amazon, GfK, Google, GSMA, i2GO, Nexxt Solutions, Polymath Ventures, Tecnolite, Taurus, Tecnoshop and others who will host discussions and deliver speeches. Speakers will share insights on the most innovative, appealing and powerful IoT trends and IoT business opportunities for the Latin American market.
Since 2017 Tuya Smart has hosted five global AI+IoT Business Conferences and two AI+IoT regional conferences focused on Southeast Asia and Europe. These conferences were attended by hundreds of leading companies, thought leaders, and smart business pioneers.
For more information and registration, please visit: https://www.tuya.com/events/abc/latam
About Tuya Smart
Tuya Smart (NYSE: TUYA) is a leading global IoT Cloud Platform with a unique, all-in-one offering of cloud + connectivity + app that makes it easy and affordable for brands, retailers, and OEMs to make their products smart. Tuya's platform has smart-enabled more than 252,000 device SKUs in hundreds of categories worldwide, serving over 262,000 developers globally. Tuya is internationally operated with headquarters in the U.S., Germany, India, Japan, Colombia, and China.
For more information, please visit Tuya's website, LinkedIn, Facebook, Twitter or YouTube.