Tuya Smart (NYSE: TUYA; HKEX: 2391), a global IoT developer service provider, yesterday officially began its presentation at IFA 2023, with the theme "Driving Low-carbon Living with IoT". Tuya Smart brought IoT-enabled software and hardware solutions for energy management, smart businesses, and other fields, and inspired innovative development discussions for domestic and foreign enterprises to create products and businesses with energy-saving advantages.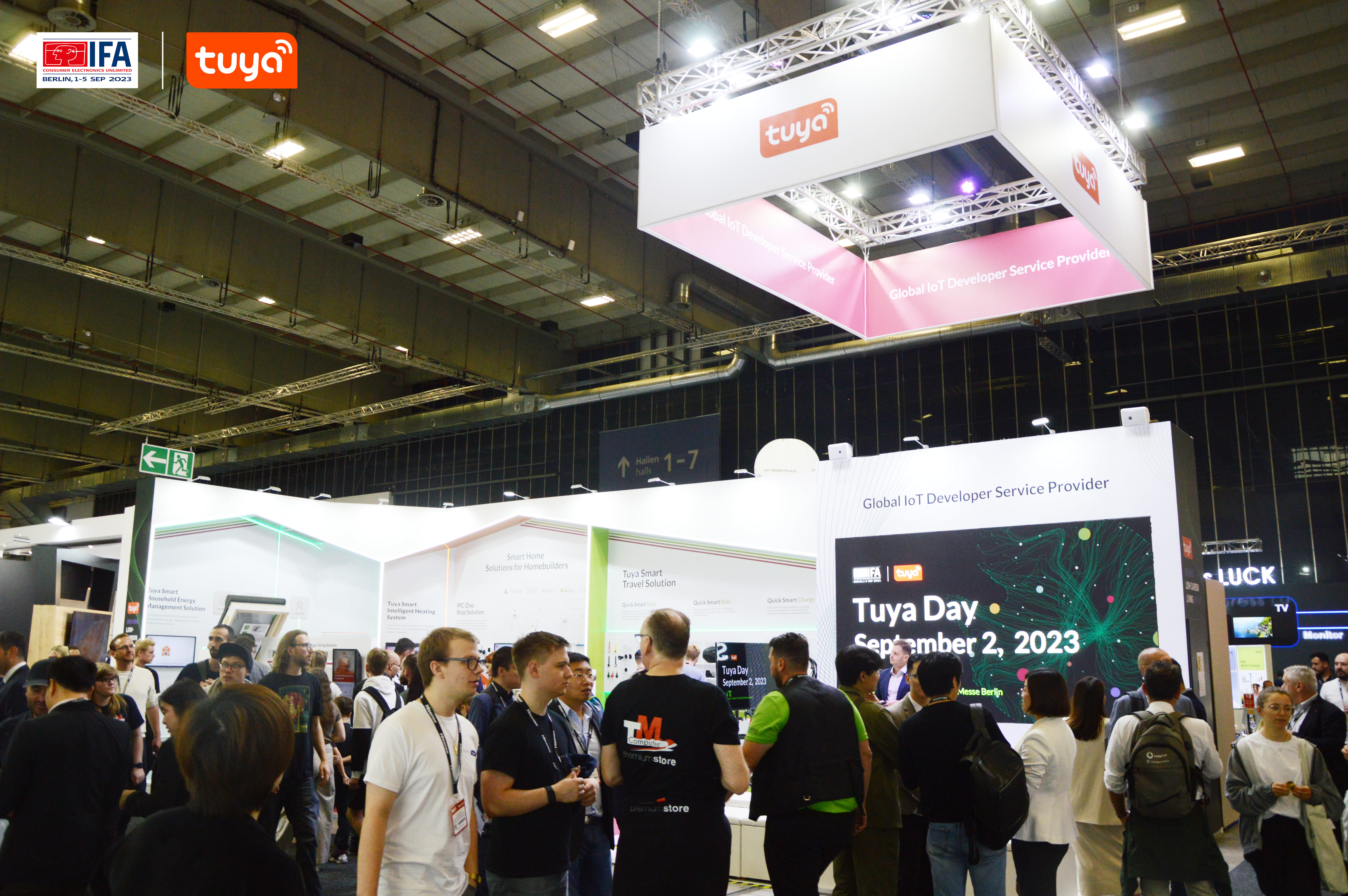 Booth of Tuya Smart
As one of the world's top exhibits for consumer electronics and household goods, IFA has long been the primary place for consumer electronics manufacturers and suppliers from across the world to come together and exhibit new products and technologies. As an "old friend" of IFA, Tuya is dedicated to providing participants with "AI+IoT" and other multi-technology solutions through its in-depth understanding of European and international market trends to effectively address the issues encountered in both production and daily life.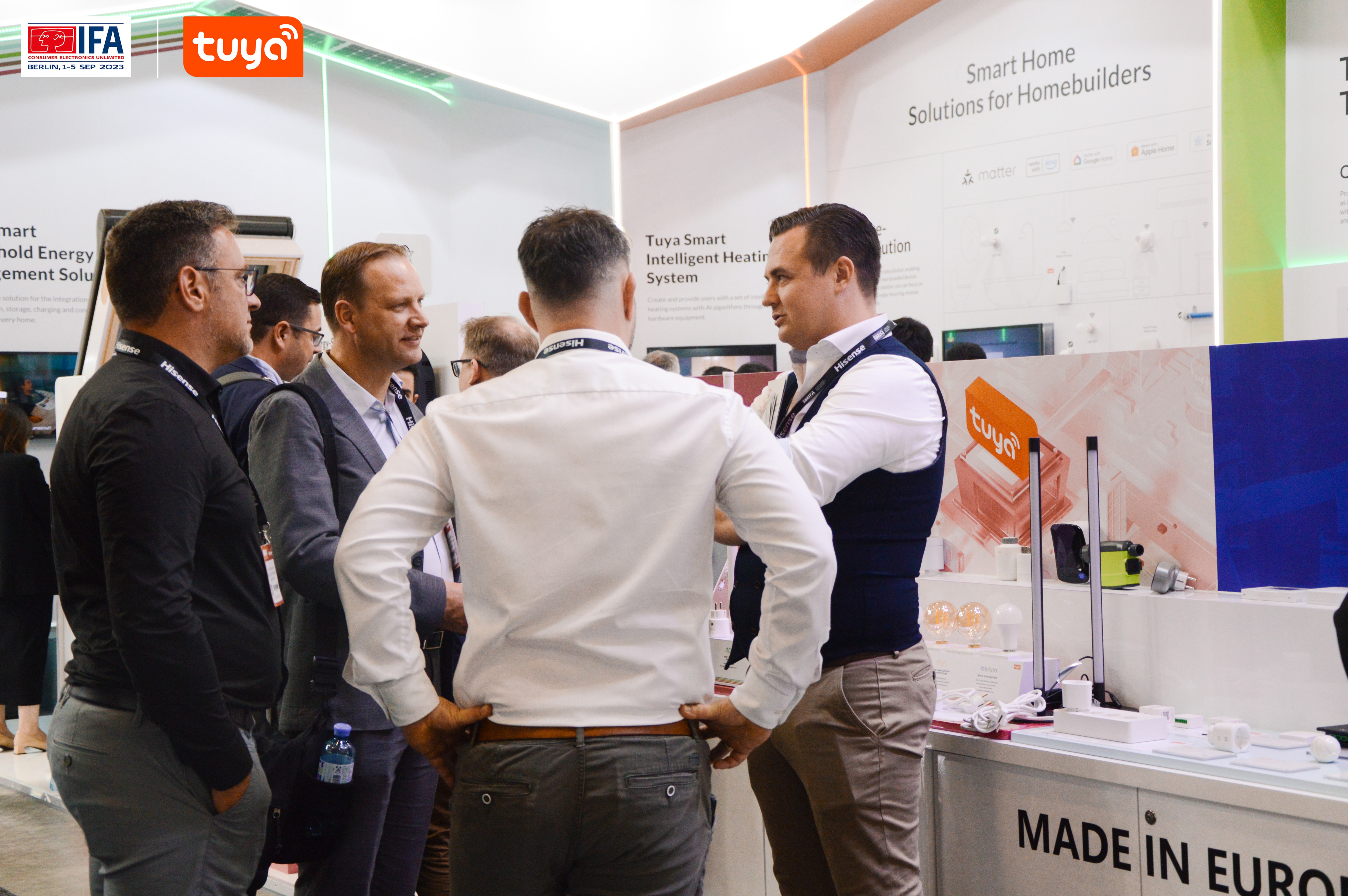 Many visitors learned about cutting-edge technology solutions at Tuya's booth
According to the most recent Statista estimates, the penetration rate of smart energy management in European households will rise from 7.4% last year to 30.4% by 2027. The enormous market potential for upstream and downstream customers in the energy industry will not only spur new rounds of business growth, but also encourage large companies to collaborate to create a green, healthy, and sustainable development model and quickly achieve carbon neutrality and net zero emissions.
In this regard, the energy-saving benefits of Tuya's smart HVAC solution and smart home energy management system attracted a large number of visitors who wanted to learn more on the opening day of IFA 2023. On Sept. 2, Tuya also invited leaders and senior executives from smart travel, smart homes, and other industries to gather at "Tuya Day," bringing attendees more core IoT applications, such as smart home appliances, smart mobility, and smart homes, which play a key role in realizing energy savings, reducing emissions, and developing a sustainable future.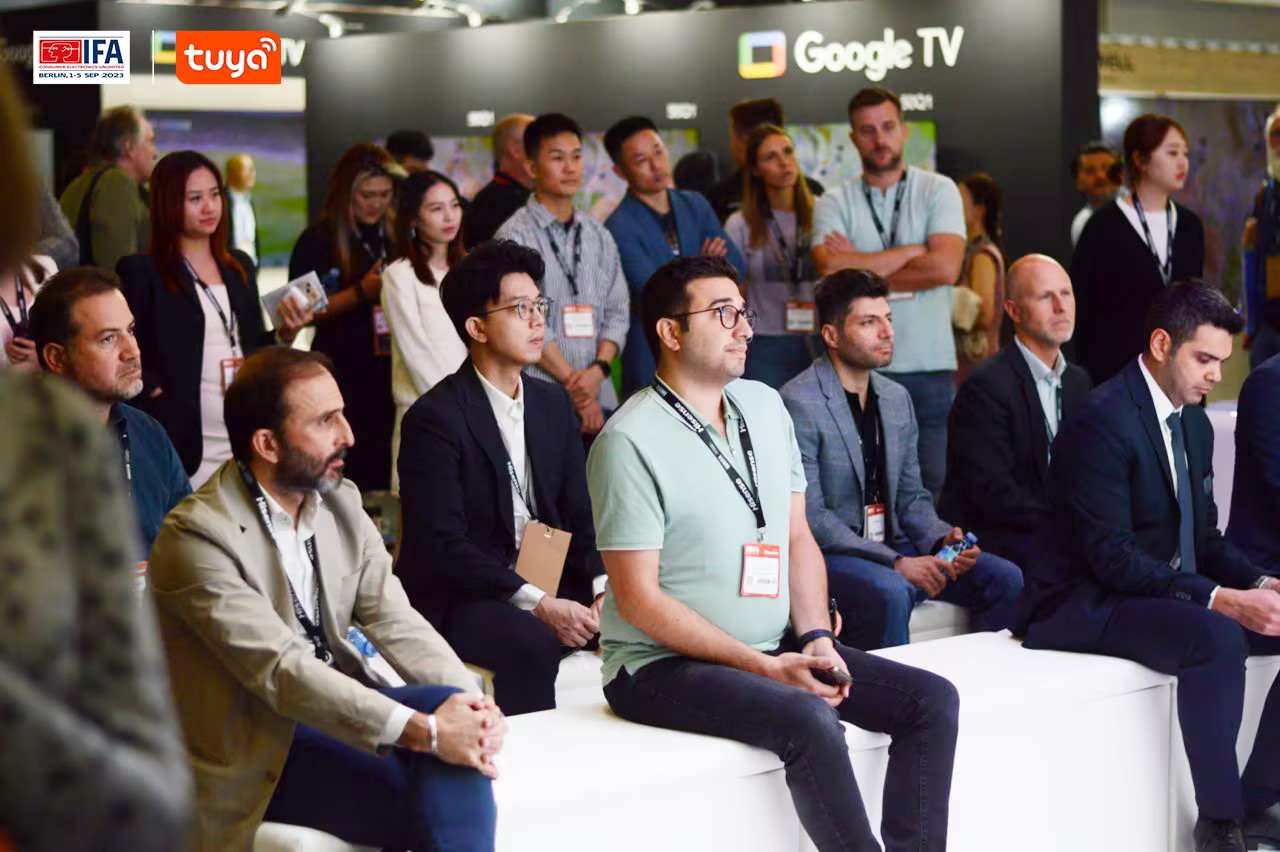 "Tuya Day" event
During the opening remarks at Tuya Day, Alex Yang, Co-Founder and COO of Tuya Smart, highlighted the continual strength of the IoT market, the growth of which has been proven with strong statistical evidence. Mr. Yang also highlighted the need for an increased focus on the application of data analytics, and how we leverage industry data in making decisions that better the end-user. Mr. Yang concluded his opening speech by highlighting Tuya's commitments to making every efficient technologies more accessible on both a B2B and B2C scale, raising examples such as Tuya's recent residential energy management solutions launched in Singapore.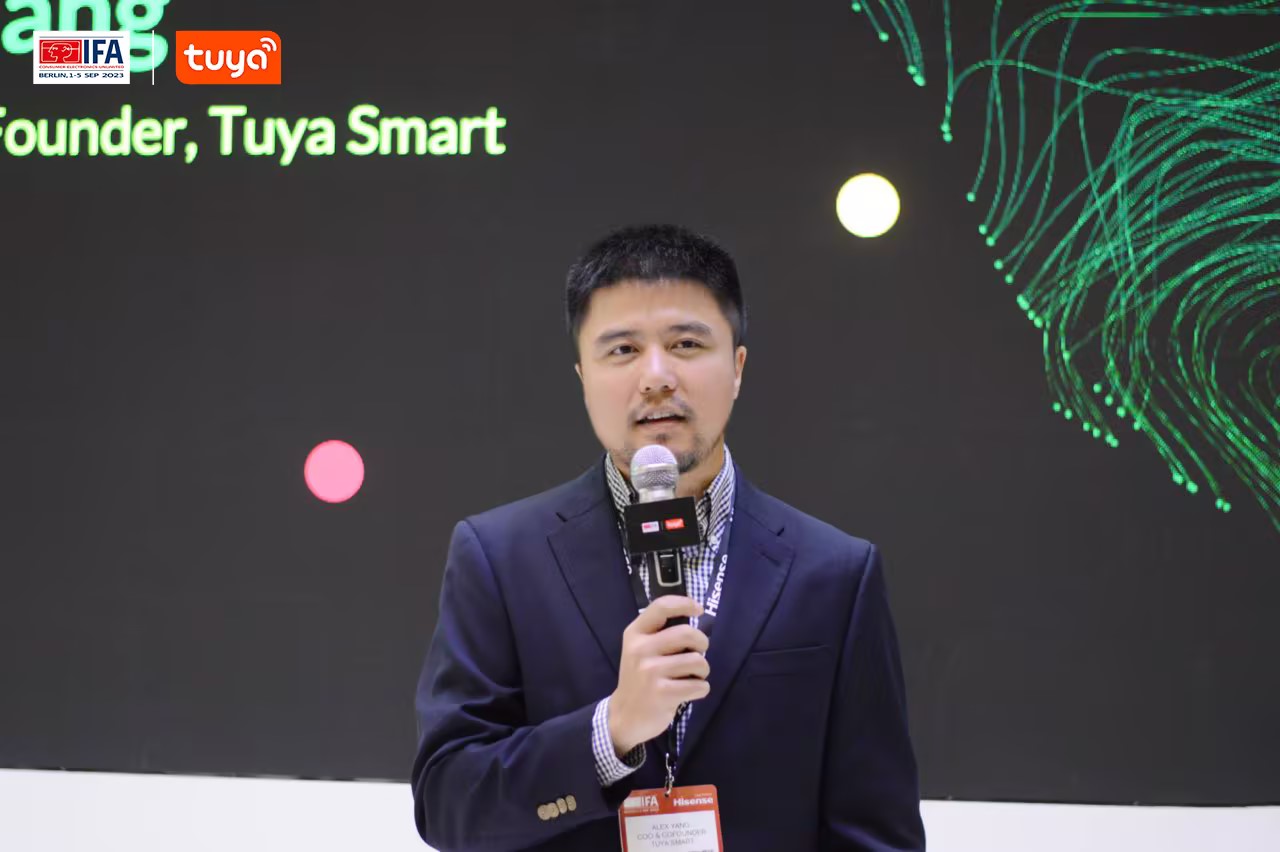 Alex Yang, Co-founder and COO of Tuya Smart
Tina Yu, General Manager of Eurasia of Tuya Smart, then discussed "Green IoT for Practical Sustainability" in her speech, and introduced multiple case studies of Tuya's clients to the audience.
"In our conversations with clients from a variety of industries over the past few days, we have concluded that high-performance products with greater added value and simplicity will soon dominate the market," Yu said. "Using the residential setting as an example, more and more households are focusing on energy efficiency and emission reduction in their houses and looking for technology tools to help them optimize energy consumption. This is an encouraging response to Tuya's recent, intensive work in the energy sector, and we think its basic IoT capabilities may help individuals and companies reduce their carbon footprints and increase their use of energy efficiently. For end-users, Tuya has developed a home energy management system that can manage solar, storage, charging, and usage visually and has worked closely with renowned photovoltaic and energy storage companies. For corporate clients, we introduced the innovative zero-carbon building energy management system, and continuously upgraded the energy-saving module in our Smart Business, providing effective commercial space energy-saving solutions for the pan-real estate and construction industries. We have successfully implemented projects in the Netherlands and the U.K. We formally signed the "Düsseldorf Climate Pact" this year, helping the city of Düsseldorf reach its 2035 carbon neutrality goal. In the future, we will actively participate in European energy transformation projects as an IoT enabler and collaborate with clients from other industries to continuously create green and low-carbon products for end users and enterprises themselves, promoting sustainable development.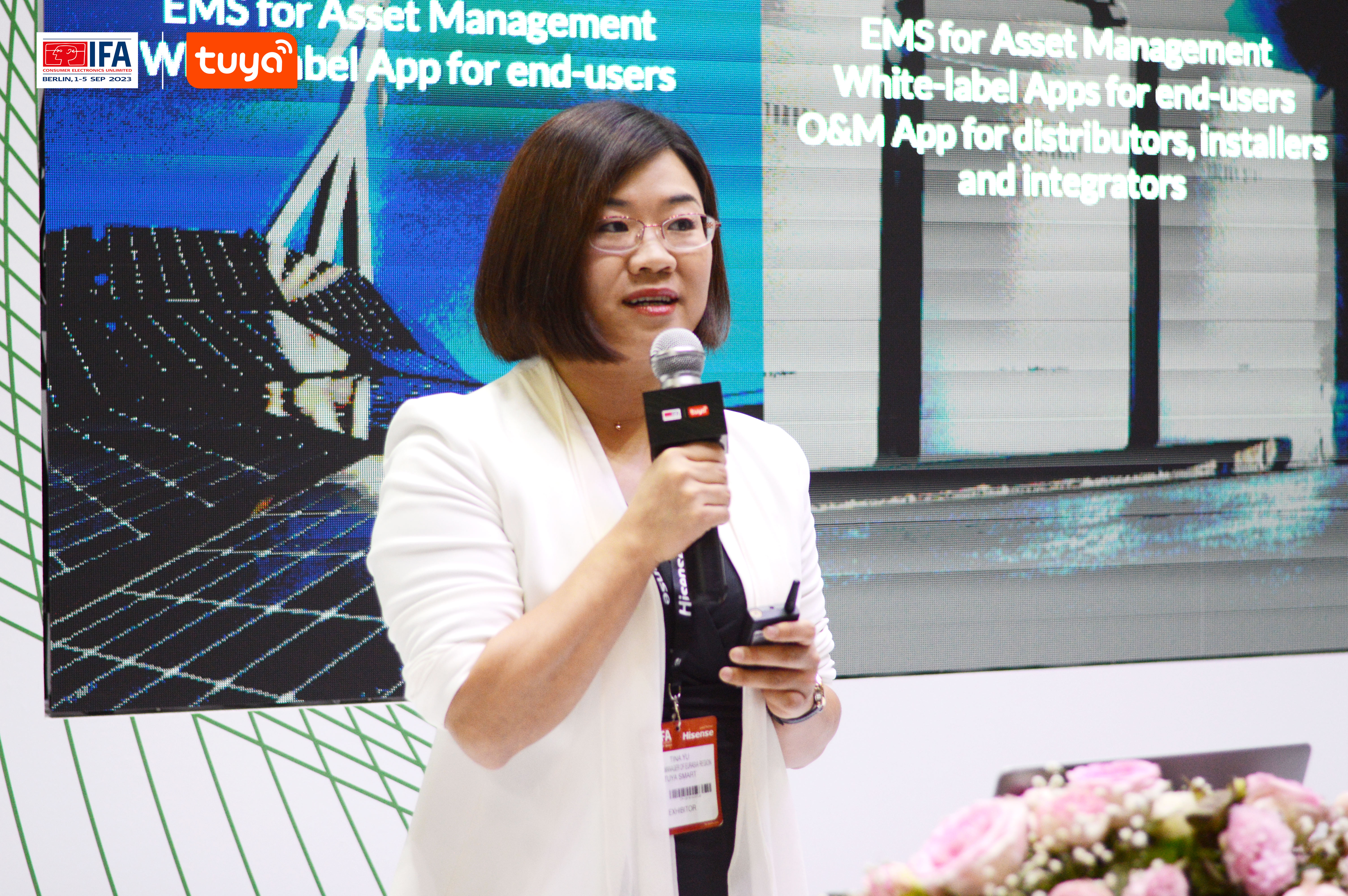 Tina Yu, General Manager of Eurasia of Tuya Smart
Following the opening remarks, speeches were given by Cem Sümengen, Head of IoT & Business Development of Arçelik; Jose García Pacheco, Chief Innovation Officer of astara and Managing Director of astara Connect; Pablo Fraile, Director of Smart Home of Arm, and Sean Woo, CEO of Goqual.
Arçelik: Unlocking Efficiency: The Power of Connectivity in Modern Home Appliances
Arçelik is a leading global company in the home appliance industry with global operations that include subsidiaries in 53 countries and 14 consumer brands owned or used with a limited license, Arçelik is a trusted lifestyle solutions provider to many digital households. With over 40,000 employees throughout the world, Arçelik has become a leading brand of home appliances, continuously delivering innovative, eco-friendly, superior design and technology to the world.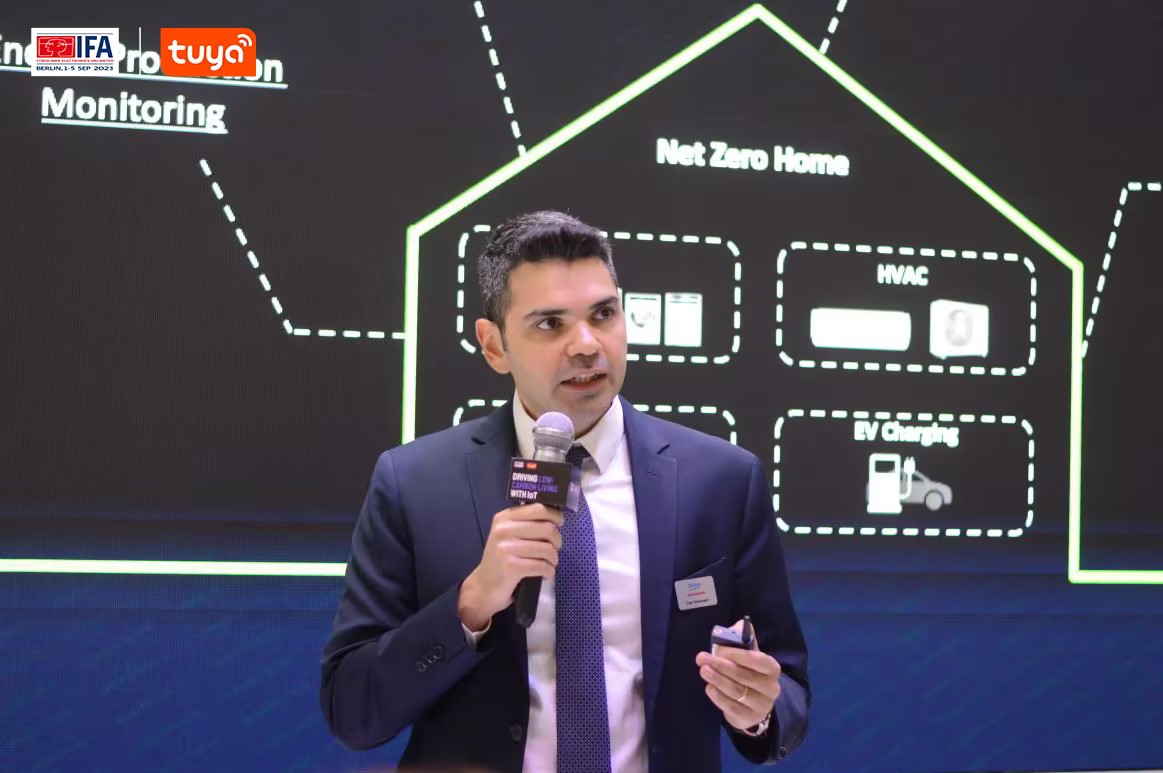 Cem Sümengen, Head of IoT & Business Development of Arçelik
Cem Sümengen, Head of IoT & Business Development at Arçelik, provided insights on the smart home's future development trends, stating that the ongoing penetration of IoT and other cutting-edge technologies into the home scene is subtly altering consumer behavior. Mr Sümengen then continued to highlight Arçelik's ongoing focus on energy efficiency across a range of their solution and product portfolios, highlighting examples from both their supply chain and manufacturing lines, through to end-user solutions, that delivered energy efficiency across the full value chain.
astara Connect: Empowering the Future of Smart Mobility
astara is a leading mobility company (the Open Mobility Company), with a human to human approach, committed to sustainability. Through astara Connect, an in-vehicle connectivity platform for customers in the mobility sector, it simplifies and standardizes the technologies used to communicate and share information. The platform improves the interconnection efficiency of mobility tools by collecting and optimizing data, providing customers with more simple, complete and intelligent insights for their daily work processes.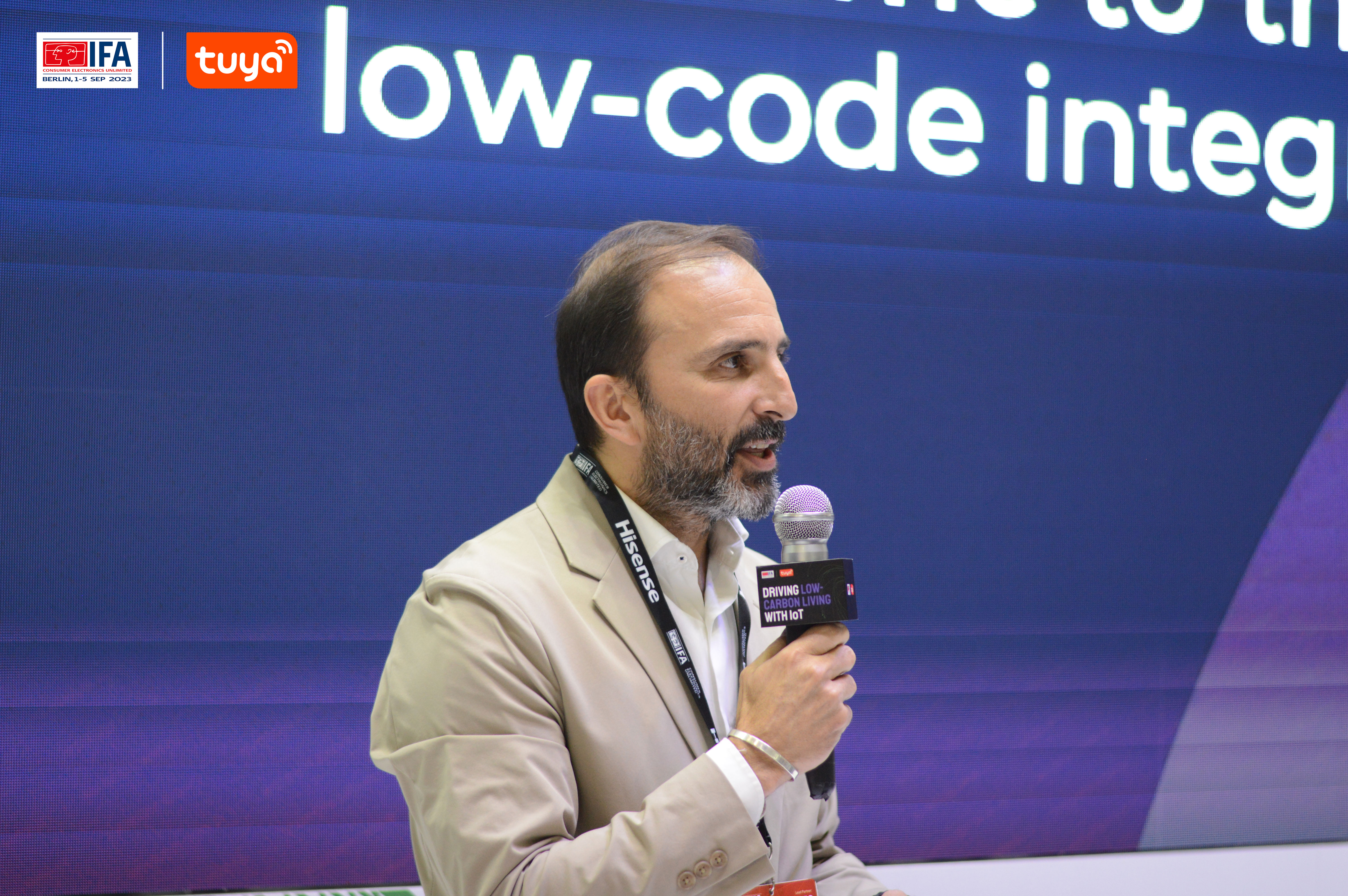 José García Pacheco, Chief Innovation Officer of astara and Managing Director of astara Connect
José García Pacheco presented a unique perspective on the connected car ecosystem, proposing that the rising need for energy efficiency and low carbon emissions is creating new opportunities for corporate growth and ESG compliance. He continued, "We have created the first low-code mobility platform that allows you to add any type of data, service or device, powered by Tuya's robust capability in device connection. We will continue to strengthen our collaboration to develop connected multi-space and multi-scenario in-vehicle, multi-vehicle and internal interconnection solutions, and provide users with quality and accurate data that will enable them to streamline, simplify and consolidate their mobility ecosystems."
Arm: Foundations for the Home of the Future
Arm is defining the future of computing. It is the foundation of a global ecosystem of technology innovators, empowering the world's most successful business and consumer brands. About 70% of the world's population uses Arm-based technology across all markets.
For his part, Pablo Fraile, Director of Smart Home Segment of Arm, pointed out in his presentation the significance of ecosystem collaboration and the development of smart homes.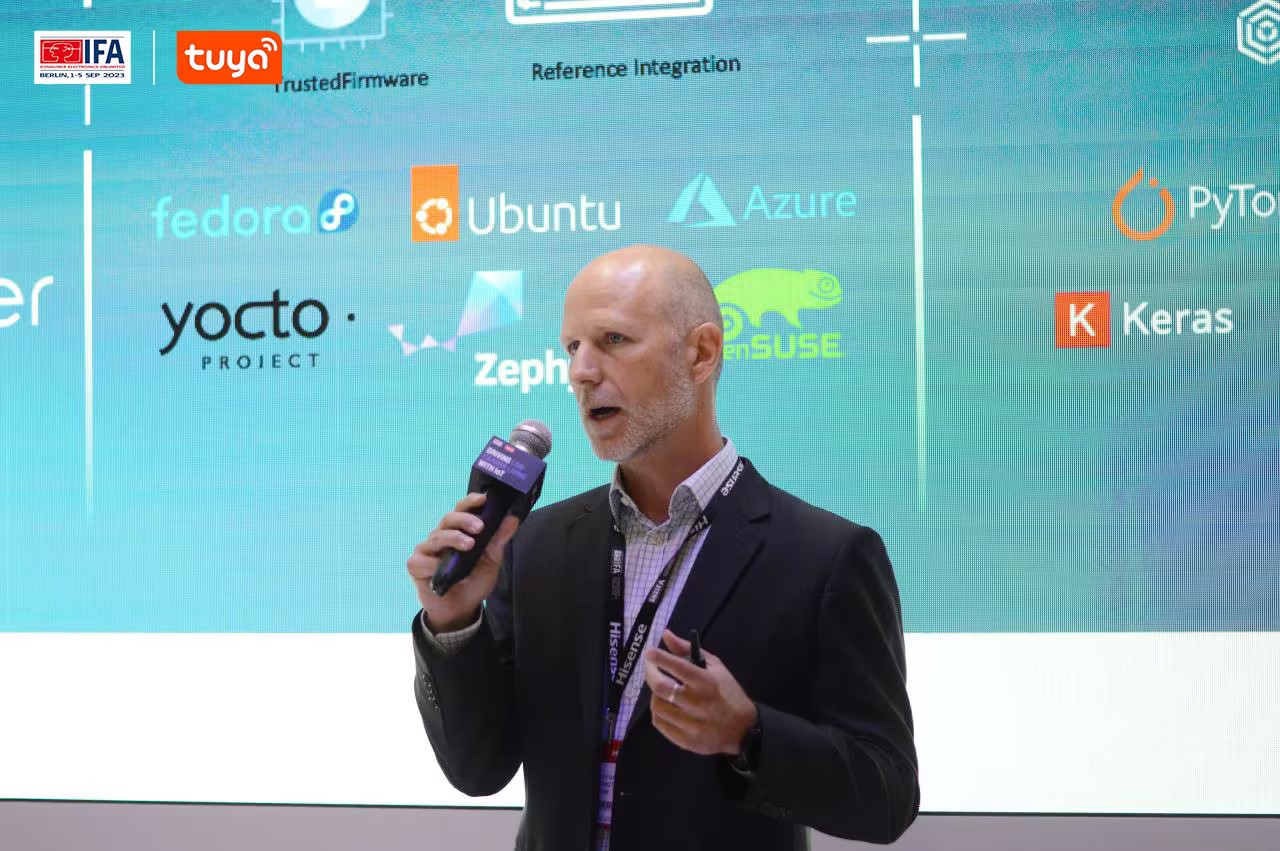 Pablo Fraile, Director of Smart Home Segment of Arm
Goqual: GOQUAL's Smart Home Adoption in South Korea: Enhancing Intelligent Living and Sustainability
Founded in 2014, Goqual is a technology company that has been deeply engaged in the smart home industry for many years. As a smart life solution provider, Goqual operates Hej home, one of the most active smart home platforms in South Korea, designs/manufactures/produces IoT electrical engineering products in the field of smart real estate, and has dozens of smart products applied to Korean real estate projects, integrated into rich and convenient smart life scenes, and continues to serve the most diverse types of smart home devices.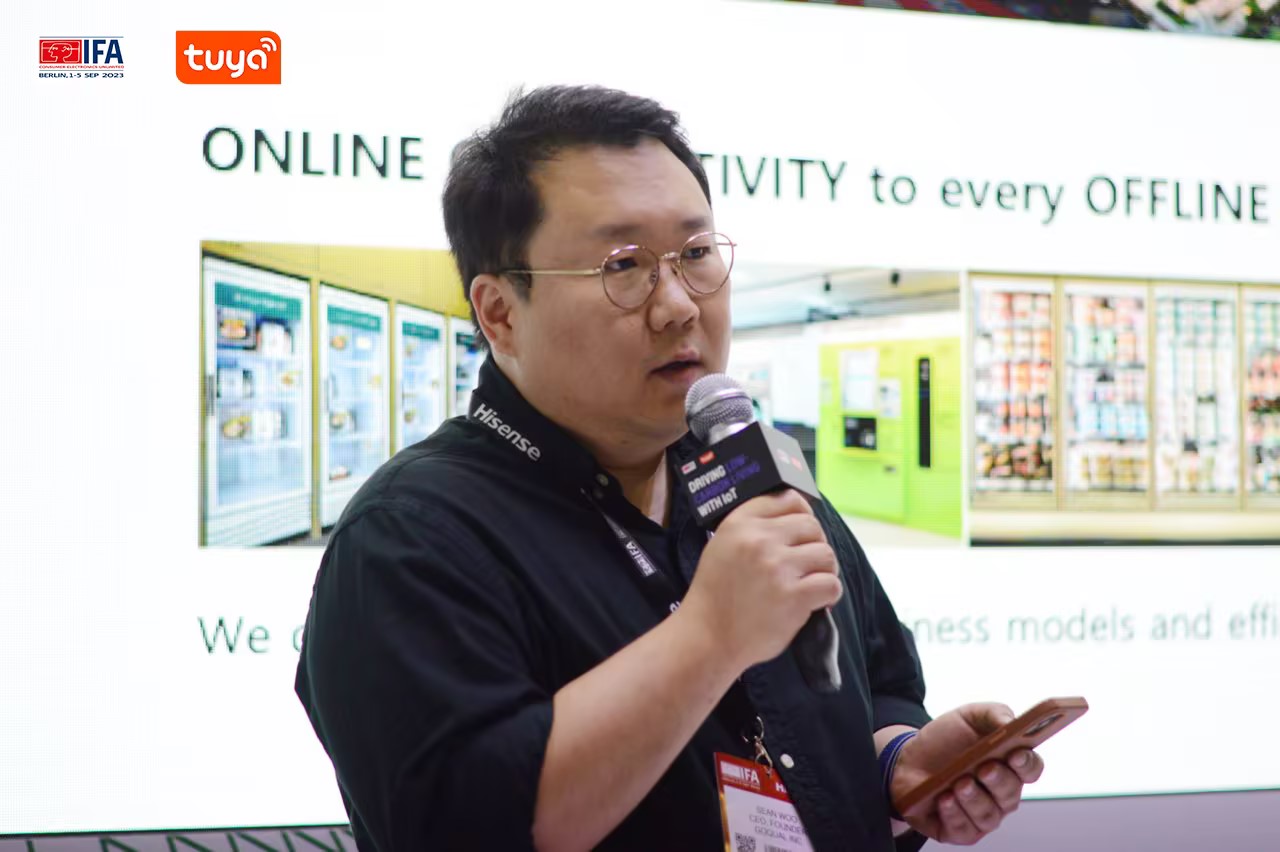 Sean Woo, CEO of Goqual
Sean Woo, CEO of Goqual, began by methodically outlining Goqual's successes in the Korean smart home market and remarked that the widespread adoption of smart devices is forcing them to consider how to better enhance their product strength and service capabilities.
"Goqual has effectively transitioned end users' lifestyles from simple controls to intelligent living," Woo said. "However, when we spoke with more and more clients in the real estate sector, we discovered that their needs were varied. Cloud platforms, software, and hardware must all work together to allow the development of a customized, secure smart home system that can support more device connections. Based on Tuya's Cube Solution, we intend to develop our own private IoT platform and collaborate with our customers to build a green, safe, and efficient future for smart real estate development."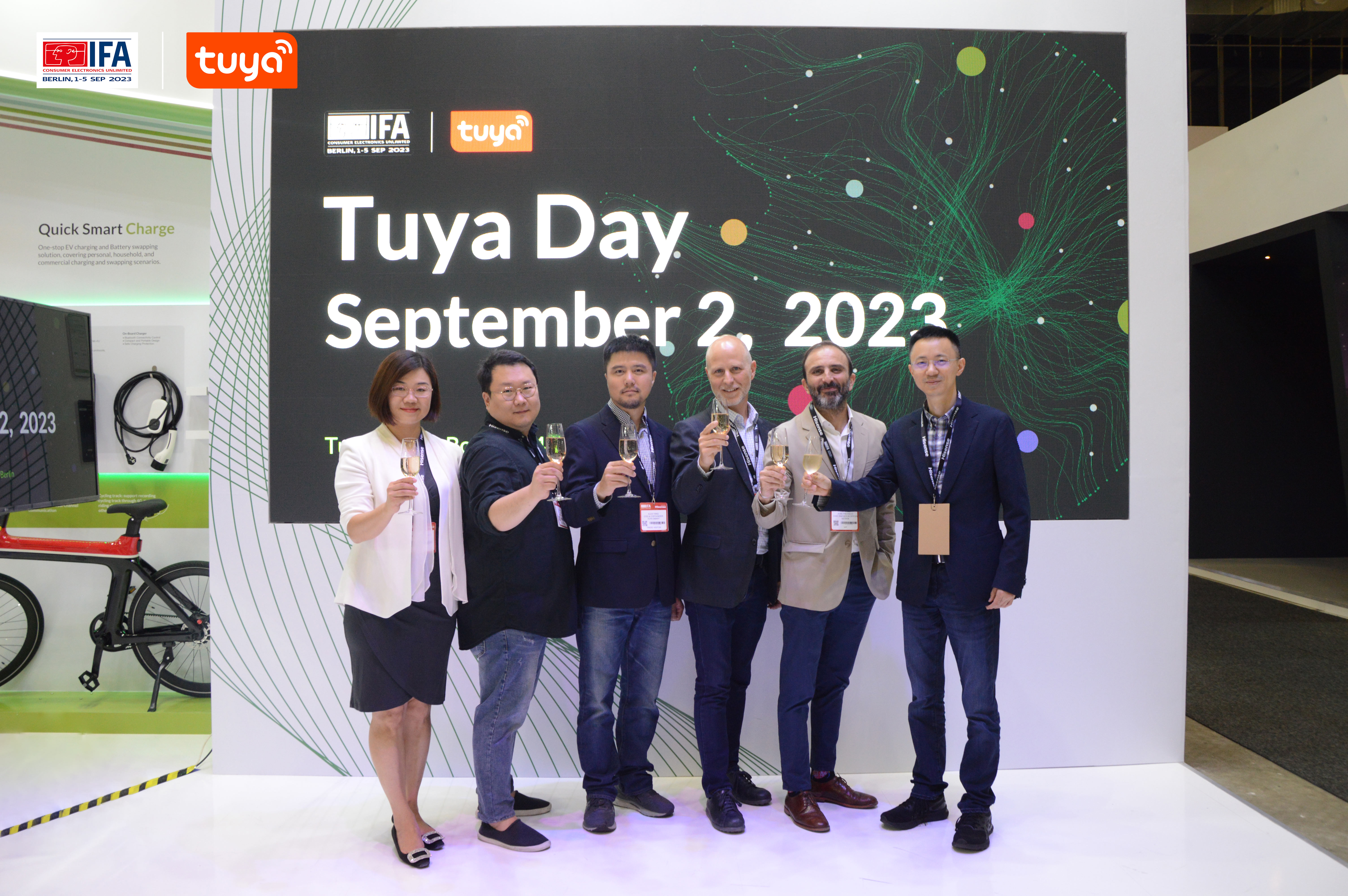 Group Photo
Tuya's booth has attracted tens of thousands of visitors since the IFA 2023 began. The "Tuya Day" event has successfully given the most cutting-edge insights from the global energy industries to developers and amply illustrated its industrial practice of collaborating with customers from around the world to investigate IoT technology in low-carbon living and sustainability. Tuya will keep an open and neutral attitude in the future, exert its own technical and ecosystem advantages, actively work with industry customers to practice social responsibility, and jointly create an eco-friendly, secure, and effective IoT ecosystem.