November 2, 2023, Tuya Smart (NYSE: TUYA, HKEX: 2391), a global IoT developer service provider, successfully achieved PSA Certified Level 1 device certification for its self-developed TS24-U module. The TS24-U is a Matter over Thread module created by Tuya that comprises the EFR32MG24 RF processor chip, EFR32MG24, a number of peripherals, and a built-in 802.15. 4 PHY/MAC Thread network protocol stack and rich library functions.
Since the Connectivity Standards Alliance announced Matter, leading brand manufacturers and OEMs have gradually increased their interest in the production of Matter devices. In addition to assisting customers in achieving cross-brand connectivity and breaking the ecosystem barriers that have bound them, creating a safer and more comprehensive Matter device development solution will also guarantee that end users receive stronger security protection, supporting the healthy growth of the Matter ecosystem.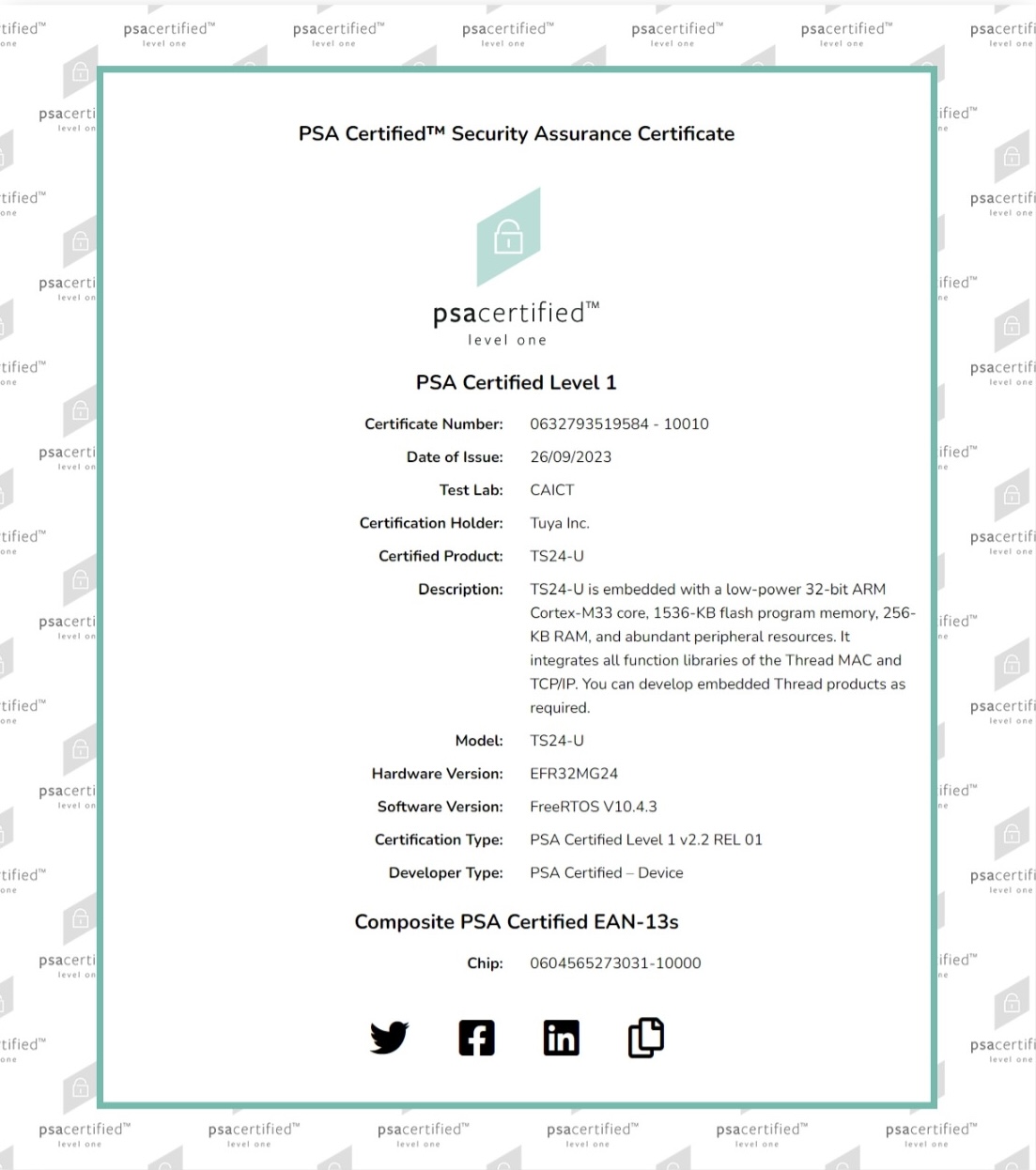 Screenshot of PSA certification
The PSA Certified program, through which the TS24-U module was certified, is an independent IoT security framework and certification scheme, originally founded by Arm and six industry-leading security companies and evaluation laboratories to support the large-scale deployment of secure IoT solutions.
Achieving PSA Certified Level 1 means that the TS24-U module created by Tuya has achieved the certification of security from design to deployment and gained the assurance of having the necessary security measures and defense mechanisms to effectively respond to security threats and potential risks. Developers who use the TS24-U module to finish Matter over Thread device development can not only ensure that the Matter devices have fundamental information security capabilities, but it also improves users' trust in the brand's product.
"Device security has never been more important, with connected devices being used all around us from intelligent buildings to smart homes and smart cities," said David Maidment, senior director, market development, Arm. "Building security in from the ground up is crucial and Tuya has proven their commitment to security through this PSA Certified accreditation, ensuring the next generation of Matter devices are built on secure foundations."
Reliable Interconnection by Applying Security Compliance Tuya Protects Matter Device Development Procedure
As a board member of the Alliance and an early participant of Matter, Tuya has the deep market expertise and vast practical accumulation in security due to its ongoing commitment to IoT development. Tuya released its full-stack solutions for Matter in addition to offering security modules, increasing security levels in the process of Matter device development.
While Thread and Wi-Fi have the potential of offering secure connectivity and access on their own, Tuya's full-stack solutions for Matter, for instance, support the development of Matter over Thread or Matter over Wi-Fi devices, enabling Matter on top of the Thread or Wi-Fi layer to enhance the security performance of the Matter device accordingly, through their underlying features and security functions.
Moreover, developers have to submit the product details and pass the Matter product compliance certification after successfully developing Matter devices. To complete such a procedure, the developer must either buy a Device Attestation Certificate ("DAC") from a certificate issuer recognized by the Alliance or create their own certificate infrastructure and secure an Alliance license. Obtaining such authorization from the Alliance takes a significant amount of resources. Tuya has now successfully obtained the Alliance-approved PAA qualification and finished the development of Matter PKI, which is capable of providing developers with high-volume DAC issuance while ensuring the security of the issuance process via hardware encryption machines.
On one hand, The DAC can be obtained quickly and securely through Tuya's Authentication Transfer Program for developers developing Matter products based on Tuya's solutions, with no changes in hardware and software, and with the same device type and functionality as the Tuya-enabled one that passed the Alliances' certification. This not only saves investment, but also shortens the development cycle and quickly pushes the products to market. On the other hand, end-users can trace the certificate chain of the device's DAC certificate to determine whether the Matter device in their hands came from the manufacturer listed on the device's packaging, quickly identify counterfeit products, avoid uncertified devices entering the user's network, causing problems in information security and other areas, and significantly improve the security level of Matter device management.
Furthermore, the OTA firmware software that the developer used for remote upgrading must be verified and encrypted during the maintenance and updating process, and if the software update is not certified and is not listed in the list of known manufacturers and compatible software, it will not be allowed to update to ensure the security of device maintenance and update.
Customers can benefit from the triple security protection of the Enabling Chip, module, the Matter Security Specification, and the Tuya Security Specification with Tuya's full-stack solutions for Matter, including security check, security defense, and auditing of external services such as OTA upgrading. The solution innovatively integrates information security and compliance components into software development and management to comprehensively ensure the quality and security level of software, hardware, products, and services, guaranteeing that the customer's Matter devices have the technical strength and brand power worthy of users' trust.
Win-Win Cooperation for Ecosystem Prosperity Tuya Teams Up with Partners to Accelerate Matter Iteration
The global number of IoT-connected devices is expected to reach 51.9 billion by 2025, and 95% of the world's enterprises use both public and private clouds, which all need to be secured.
Achieving PSA Certified Level 1 for the TS24-U is just one of the numerous benefits that Tuya and its partners are providing to developers globally. As the demand for a higher quality of living experience and smart home product technology matures, more brand manufacturers, OEMs, and other customers will begin to work on Matter device development. Tuya's solutions for Matter not only provide technical support to ensure the security of Matter devices and assists customers in building branded Matter devices that are interconnected with the ecosystems of Amazon, Google, Apple, and others, but it also provides solutions that allow Tuya to collaborate with customers to rapidly build a branded Matter device product matrix in a multi-dimensional manner, further building its own branded Matter ecosystem.
With the ongoing efforts of Tuya and many other companies, Matter will be widely utilized in the smart home industry and continue to be iterated and updated, opening up more cross-brand and cross-ecosystem chances for global developers.