More than ten industry experts shared their insights into the status, solutions and development trends of the IoT market in Latin America.
Bogota, Colombia, April 24, 2021 – Tuya Smart (NYSE: TUYA), a leading global IoT cloud platform, this week concluded its first-ever AI+IoT Business Conference focused on Latin America, held from April 20 to April 22, 2021. The three-day conference, themed on "Digital Reinvention: The Path to Smart Business Transformation," invited more than ten senior industry experts to share their thought-provoking views about IoT.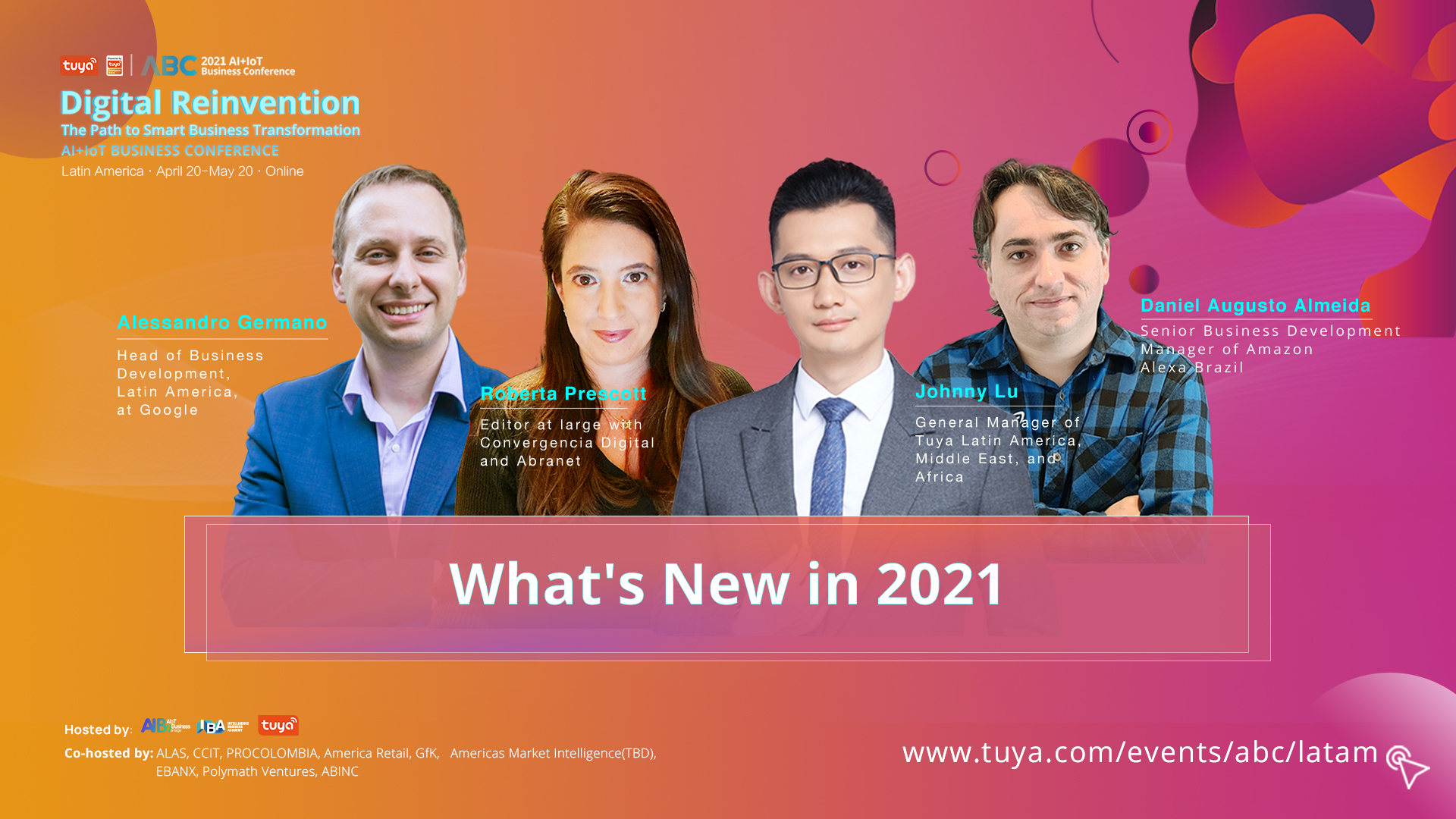 Jeff Immelt, Chairman of Tuya America (Former Chairman and CEO of GE), commented that from his standpoint as an investor and now as a partner with Tuya, he sees Tuya's solid foundation, great business model, strong global concept, and good governance from the outset as the key signs that it is on the path to becoming an impactful company.
Dr. Eva Na, CMO of Tuya Smart, shared the exciting news that earlier this year, smart home technology was deployed on the Mars by using Zigbee. "It's exciting to see that the innovations we continue to make will help enable a future where everything can be interconnected, even beyond what we can imagine." Dr. Na said.
Alejandro Adamowicz, Technology & Strategic Engagement Director of GSMA Latin America, an industry organization for mobile network operators, observed that the IoT connections in Latin America would reach up to 1.2 billion by 2025, doubling the level of 2019, which were around 642 million connections.
Johnny Lu, General Manager of Tuya in Latin America, the Middle East and Africa remarked at the conference "Everything can be reinvented in the era of IoT. More importantly, everything will be affordable. Smart devices and IoT brings access to the mass market, not just high-end consumers." Mr. Lu also pointed out that IoT is very egalitarian, leveling access to features for high-end and mass market consumers.
Alessandro Germano, Head of LATAM Business Development of Google Assistant, stressed the importance of the home to consumers. "Our home, even more now during this pandemic is our refuge, our safe harbor, our resting place, our concentration place and our place to stay with our family and loved ones." In homes that were already connected, the number of devices grew threefold between 2016 and 2020.
Daniel Augusto Almeida, Senior Business Development Manager of Amazon Brazil, when talking about the development of smart home in Brazil, highlighted that having great partners is crucial. "Tuya IoT solutions were quite important. I would like to say that we already have over 250 smart home skills from partners and Tuya is greatly contributing to this success by developing skills, apps and helping to develop products for all sorts of companies in Brazil."
Commenting on consumer interests in smart home, "LATAM consumers are mainly interested in lighting and safety. Smart speakers come as a solution to access digitization," said Felipe Mendes, Managing Director Latam of GfK, a company specialized in the electronics market and consumer behavior. Mr. Mendes also said he believes that smart appliances are a clear opportunity in Latin America, but that it needs the right incentives to unleash potential among a broader segment of population.
Speaking at the conference Marcelo Castro, CEO of i2GO, a major Latin American electronics company said "I'd like to thank the entire team from Tuya. The team has been helping us, not only in providing a great IoT platform, a user-friendly app and innovative tools, but also by being a solid partner. The team has provided us with ideas, suggestions, and has incentivized us to grow the business and to come up with some new product ideas."
Pedro Pablo Rivas, Sales Director of the Latin American region of Nexxt Solutions, a cabling and connectivity solutions provider, found that the most pervasive problem in the IoT era is how users interact with different smart devices that cannot be controlled through a single application. However, this offers opportunity for enterprises to enter the market. He commented that through the cooperation with Tuya, he realized that when users use Nexxt Solutions apps and voice assistants to control their devices, they begin to experience smart homes.
Octavio Urzua, General Manager of Osoji Robotics, a Chilean company specializing in automated robot solutions, observed four trends of smart homes: the first trend is that the home is not a home anymore, but a multi-purpose home. The second trend is that over 50% of the employees or the companies will not return to their offices after the pandemic. The third trend is that companies are going to help their employees. They're going to provide them with devices at home in order to improve their efficiency. The fourth trend is that some people have their houses in the city, and they also have their second home in the beach, in the mountains, or in the countryside.
"We think Latin America is a very interesting region to start investing in," said Wenyi Cai, Founder & CEO of Polymath Ventures, a Latin American digital venture group, "because the demographics show a large middle class. And that's something you don't see in India or in Southeast Asia. The technology infrastructure and the adoption of digital behavior have been greatly accelerated by the pandemic."
Jose Torres, Marketing Director of Tecnolite, a second-generation lighting company, deemed IoT as a fairly young market. Mr. Torres commented that with the pandemic, there is a big acceleration taking place in the smart home and IoT market. He estimated that the market will grow to four billion dollars in 2022, which represents a more than 256% growth since 2016.
"We have to create value." expressed Andrés Haro, Development Manager of Taurus Mexico, a small appliance company, "We believe that by integrating into the smart home and the concept of IoT, making an ecosystem, and ensuring that products can share information with each other, it would add much more value than the cost of the technology."
Lierly Bastian Pozo Araya, General Manager of Tecnoshop, provided insights into major changes of the smart home: Influenced by the pandemic and more people staying at home, the adoption and use of IoT devices, connected and controlled through an app, became popular. The ability to create scenes and automation between smart devices allowed customers to easily, quickly, and safely interact with more devices in their home. Tuya's reliable resources and technical support have helped in the creation of Arkifi.
Attilio Catalane, technology influencer in Brazil emphasized that the compatibility between devices is one of the key factors for home automation smart home success. He commented that Tuya's ability to let consumers control devices from different brands within one integrated app is a very positive selling point.
The past year with social distancing has demonstrated how smart products have brought changes to consumers. For enterprises offering traditional products, the faster they enter the market, the earlier they can seize the IoT opportunity. Tuya Smart will continue to drive discussions of the industry development through conferences, lectures and other events that connect leaders across the IoT industry.
To review this conference, please visit: https://www.tuya.com/events/abc/latam
About Tuya Smart
Tuya Smart (NYSE: TUYA) is a leading global IoT Cloud Platform with a unique, all-in-one offering of cloud + connectivity + app that makes it easy and affordable for brands, retailers, and OEMs to make their products smart. Tuya's platform has smart-enabled more than 252,000 device SKUs in hundreds of categories worldwide, serving over 262,000 developers globally. Tuya is internationally operated with headquarters in the U.S., Germany, India, Japan, Colombia, and China.
For more information, please visit Tuya Smart's website, LinkedIn, Facebook, Twitter or YouTube.