Tuya Smart (NYSE: TUYA, HKEX: 2391), a global IoT development platform service provider, recently launched a Bluetooth tracking device called the Tuya-enabled "Find My" Tag. Compatible with Apple's vast product network, it tackles the limitations of traditional tracking devices to offer long-distance tracking of valuables in everyday life. Tuya's clients have been able to utilize the technology in their product development and make sales through major retailers.
While smart tags are common on the market, most of them rely on basic Bluetooth communication, which has many limitations. For example, using Bluetooth usually limits range to about 15 meters indoors, and between 30 and 50 meters outdoors. A user can only see the location that was last updated by the device on their cellphone. Even within a short distance, it may be difficult to locate the device if other objects are blocking its signal.
With a small size that's easy to attach and carry, the Tuya-enable "Find My" Tag overcomes these drawbacks by working with Apple's "Find My" network. It is capable of providing both Bluetooth short-distance and long-range tracking. This can also significantly reduce the impact of signal interference.
According to an Apple report released on February 3, 2023, there were more than 2 billion Apple devices in use globally. This means the "Find My" network, composed of these devices, can greatly increase the success rate of locating missing items. Even for an item on the move, as long as it is attached to the Tuya-enabled "Find My" Tag, the tag can send standard Bluetooth signals to detect nearby Apple devices from the "Find My" network. The Apple devices can then send the location of the standard Bluetooth signals to iCloud, and the user can see the real-time location of the item on the "Find My" app.
Although traditional real-time positioning on cellphones can help people look for missing items, service providers face high product development and solution deployment costs. Real-time positioning is based on the cellular network module and requires the support of communication base stations, 4G data cards and positioning chips. Now, with the Tuya-enabled "Find My" Tag, providers can choose a low-cost, fast and innovative solution to enter the market.
Recently, by leveraging Tuya's low-code development tools and its rich IoT ecosystem, the Turkish brand Neutron has quickly developed its own Neutron Smart Tag through the Tuya IoT Development Platform. The tag is sold through multiple online and offline channels, including Turkey's largest online shopping platform Trendyol and the online and offline stores of well-known local e-commerce platform Hepsiburada, Amazon and Vodafone. Neutron calls the product "convenient, safe and energy-saving", as it can be applied to multiple lost and found scenarios. Tuya's collaboration with Apple's "Find My" network is also a key feature, which has attracted much attention.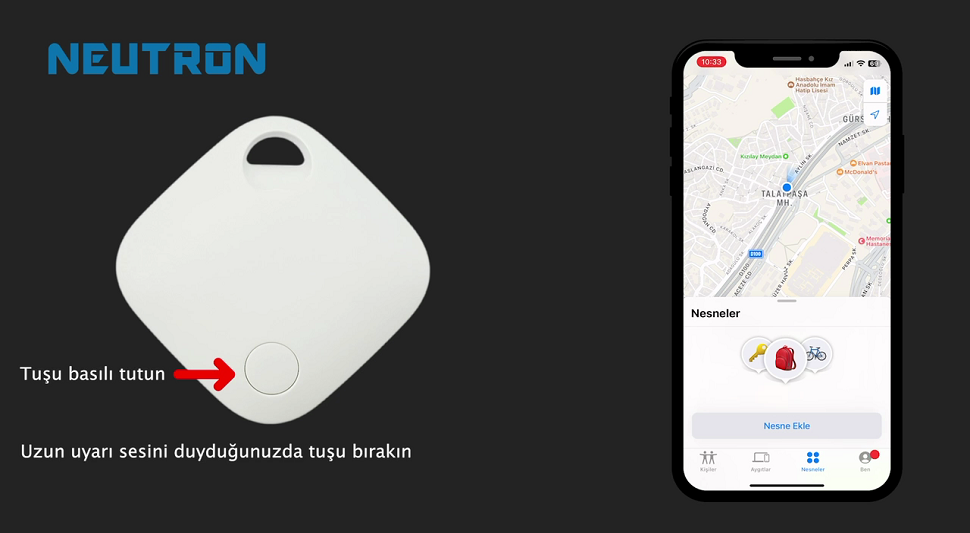 The Tuya-enabled "Find My" Tag is easy to use. Users only need to attach it to an item they want to track, connect its signal to Apple's "Find My" app, enter a name for the item, and then its location will be visible on the app.
Moreover, users do not need to worry about a short battery life or excessive data consumption. The Tuya-enabled "Find My" Tag has an ultra-low energy consumption design. It can run on a 2032 button battery for about a year.
Tuya will continue to upgrade the Tuya-enabled "Find My" Tag and expand NFC access control, NFC social activity functions and other diversified functions.
With the rapid development of science and technology and ever-changing consumer demands, companies need to pay increasing attention to digital intelligence transformation to better attract customers. Tuya not only provides innovative ideas for global clients to expand their business but also helps them quickly develop and implement relevant products and solutions with comprehensive technical strength. Tuya aims to enable clients to expand markets with convenient, safe and energy-saving Tuya-enabled products and solutions and jointly develop IoT applications.