Barcelona, Spain, February 28, 2023 -- Tuya Smart (NYSE: TUYA, HKEX: 2391), a global IoT development platform service provider, and STC, the largest telecommunications provider in the Middle East and Africa, today announced a strategic partnership at Mobile World Congress (MWC) 2023. Together, they will build a closed-loop business for smart hardware and all-in-one IoT solutions to enable STC to create more business opportunities and accelerate the digital transformation.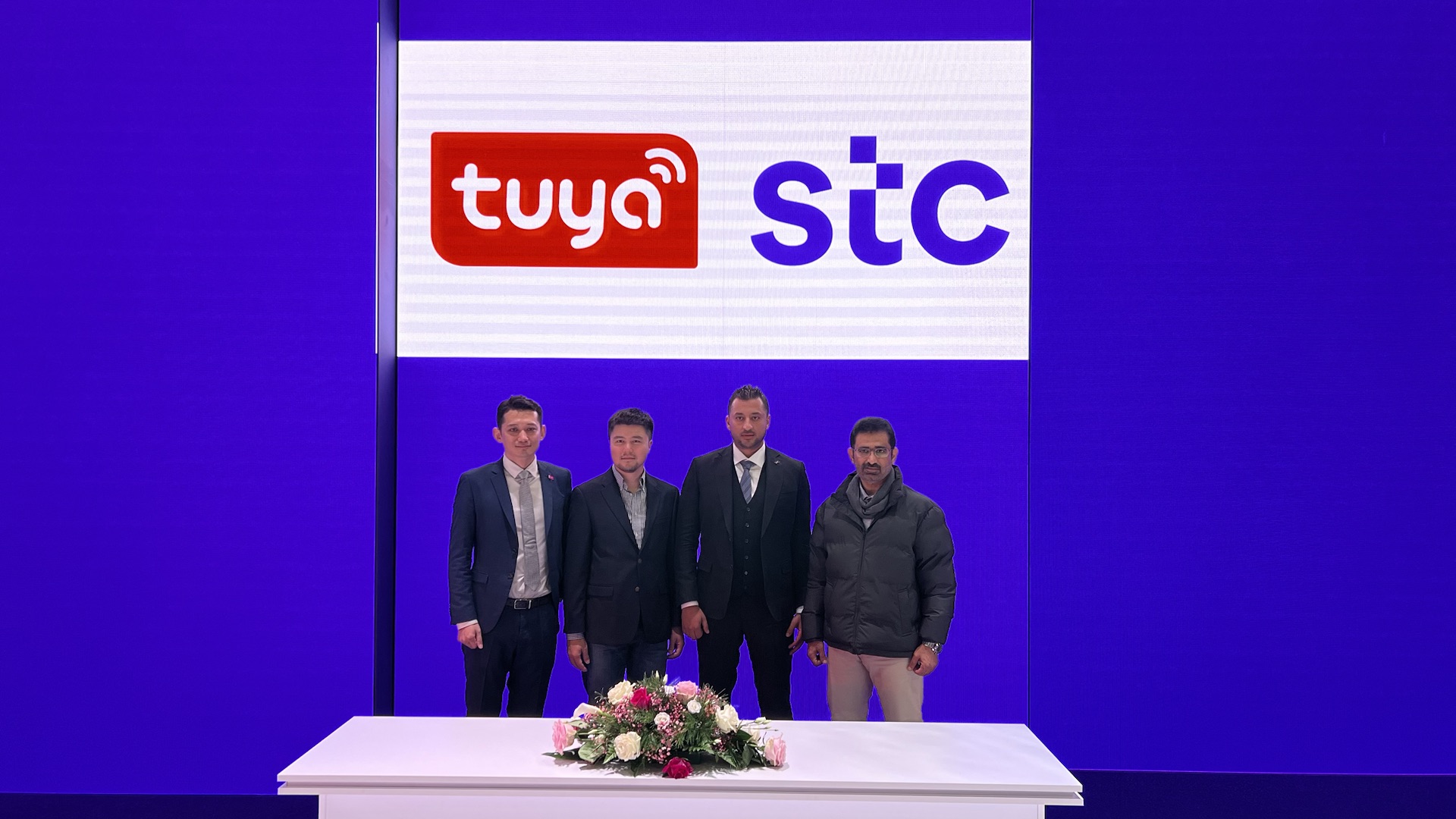 Through the partnership, Tuya will work closely and through their local partner NAV technology with STC to conduct market research in the smart home industry, explore and launch specific Tuya-enabled smart home devices and private smart home platforms. This will not only better meet local consumers' demands but also incorporate new business models and IoT potentials into STC's digital transformation plan.
STC has a leading market share in Saudi Arabia with over 43 million subscribers. It has captured 70% of the mobile market and over 60% of the broadband market. The two parties will jointly explore and advance the adoption of smart home devices and solutions across the region.
"We are delighted to collaborate with STC. Leveraging Tuya's comprehensive software and hardware solutions and years of experience in building the IoT ecosystem, coupled with STC's extensive roots and rich operation experience in Saudi Arabia, our strategic cooperation will enable the region to become smarter and greener," said Johnny Lu, General Manager of LATEM Region of Tuya Smart.
"We realized the digital transformation would be essential to remaining competitive in the market and providing the best possible experience for our customers, and that is in line with our mission. Through our partnership with Tuya, STC can continuously deliver personalized, energy-efficient and high-quality smart home devices and solutions to our customers and further enrich our business portfolio and increase our market value," said Turki A. Al Naim, Growth Services VP of STC.
"We are delighted to contribute to the IoT transformation of STC through our partnership with Tuya and represent Tuya in the execution smart home development strategy for STC utilizing our local resources to achieve that goal," said Mr.Najeeb Al Harthi CEO of NAV technology Tuya local partner in Saudi Arabia.
Together with Tuya, STC is expected to expand its smart product offerings not only in the smart home industry but also in smart security, smart energy and other areas. The companies will jointly explore and implement new industrial solutions to advance the digital transformation of Saudi Arabia. These include smart healthcare, transportation and manufacturing, which are expected to enhance STC's market impact.
Tuya has been committed to providing value-added services for business customers with industry-leading technology capabilities and a comprehensive IoT ecosystem. Tuya aims to add more value to global customers' businesses while pushing forward the digital transformation and contributing to building a smarter and greener world.
About Tuya Smart
Tuya Smart (NYSE: TUYA, HKEX: 2391) is a leading technology company focused on making our lives smarter. Tuya does this through offering a cloud platform that connects a range of devices via the IoT. By building interconnectivity standards, Tuya bridges the intelligent needs of brands, OEMs, developers, and retail chains across a broad range of smart devices and industries. Tuya solutions empower partners and customers by improving the value of their products while making consumers' lives more convenient through the application of technology. Through its growing commercial SaaS business, Tuya offers intelligent business solutions for a wide range of verticals. The Company's platform is backed by industry-leading technology complete with rigorous data protection and security. Tuya partners with leading Fortune 500 companies from around the world to make things smarter, including Philips, Schneider Electric, Lenovo and many others.
About STC
Established in 1998, STC operates in various fields, including fixed-line, mobile, internet, and digital services. STC is committed to providing innovative and advanced technology solutions to its customers and contributing to the development of Saudi Arabia's digital infrastructure. The company embarked on a comprehensive digital transformation program that included a range of initiatives, such as expanding its fiber-optic network, enhancing its mobile app and online channels, and launching new digital services.