Thailand, Bangkok, August 17, 2023- Tuya Smart (NYSE: TUYA, HKEX: 2391), a global IoT developer service provider, announced a partnership agreement with Siam Cement Group (SCG), the largest cement and construction materials producer in Southeast Asia, at the Techsauce Global Summit 2023.
As the first collaboration in Thailand that leverages Tuya's Cube Solution in the smart home field, SCG will be able to create a house IoT management system and privatized IoT platform to manage devices offered under the SCG smart home brand. The two companies will also collaborate to explore additional smart business opportunities, such as growing SCG's smart product line, enhancing its IoT services with integrated hardware and software solutions, and advocating for the smart transformation of Thailand's real estate sector. The two parties also intend to work more closely together in the future to advance the adoption of IoT, AI,and numerous other cutting-edge technologies in the fields of smart lighting, smart community, and smart city, among others.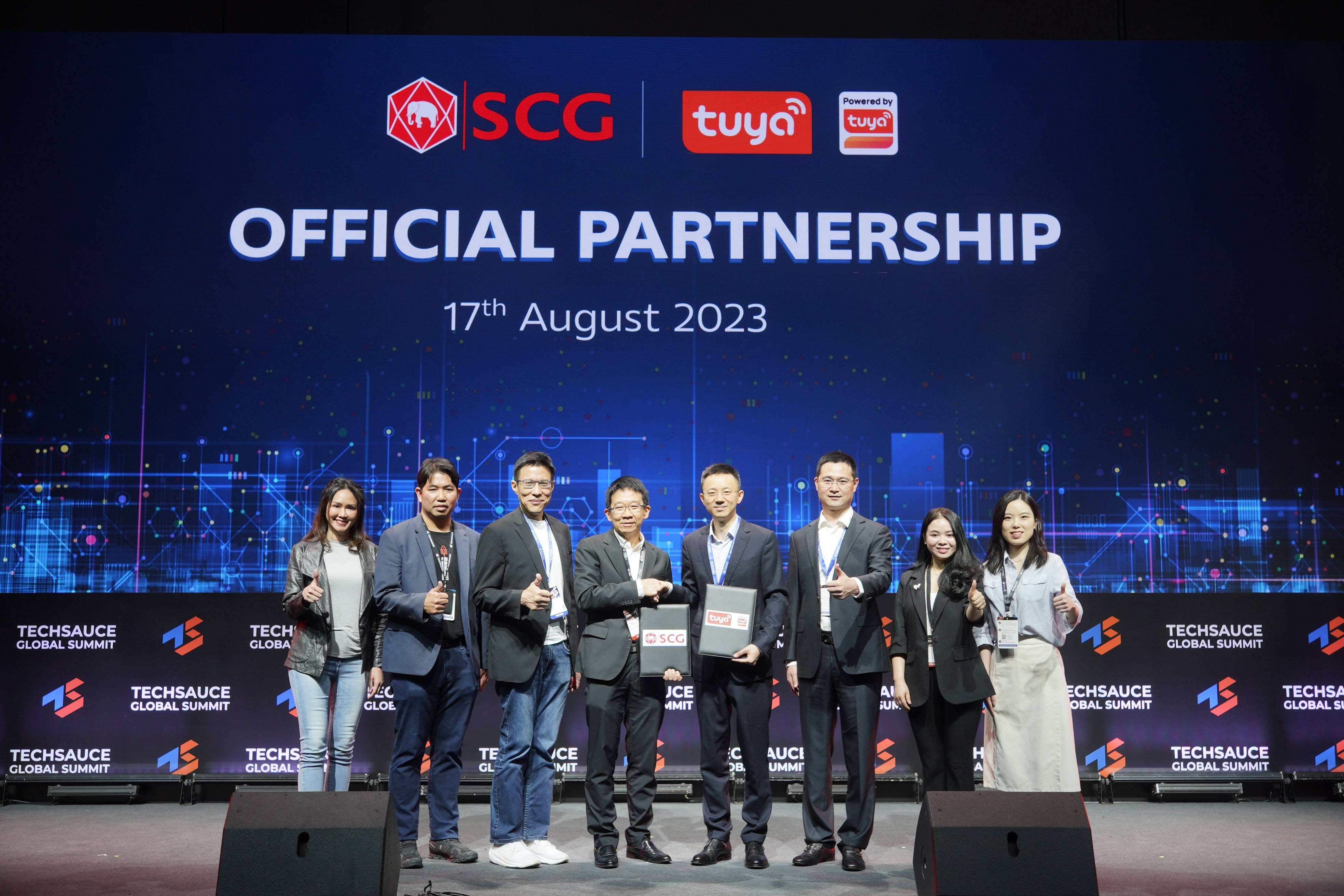 SCG has made significant contributions to the advancement of the nation's infrastructure initiatives for more than a century, operating over 300 subsidiaries. Ranked No. 878 on the Forbes Global 2000 list of the world's largest companies for 2023, SCG has divided its core businesses into three segments: cement-building materials, chemicals, and packaging. Its operations span many Southeast Asian countries and regions, including Vietnam, Laos, Indonesia, and Myanmar.
SCG's business encompasses more than 90% of the Thai real estate industry, and it has also established long-term and reliable connections with several of Southeast Asia's premier real estate developers. Based on its deep roots in the real estate industry, SCG discovered that innovative technologies such as IoT can add more value to traditional industries, so it has actively explored and launched the real estate integrator and real estate branding business, to assist the transformation and upgrade of Thailand's real estate industry through its own branded smart products, systems, and services.
Therefore, SCG decided to partner with Tuya to strengthen the sector with advanced technologies and jointly develop a new landscape of smart real estate in Thailand using SCG's channel resources and local market expertise, as well as Tuya's core technology, solutions, and extensive global deployment strength.
Cube Solution Expands Development Potential for the Real Estate Industry
To assist SCG in better providing comprehensive IoT solutions for customers in the real estate industry and to jointly provide technical and service support for the smart transformation of the real estate industry, Tuya will provide all-around support for SCG's real estate integrator and real estate brand business, covering the three pillars of privatized IoT platform, hardware ecosystem, and software development.
In particular, Tuya will construct a privately-owned IoT platform for SCG based on the Cube Solution with exclusive functionalities, high system stability, and complete data independence. Tuya's Cube Solution is composed of five modules: IaaS, Cloud Native PaaS, IoT Core, IoT Capability Expansion, and Application Development and Integration Platforms. With the ability to choose from more than 40 functional components packaged in the five modules, based on business development needs, SCG will be able to deploy its private platform quickly and affordably, enabling it to offer its own platform functionality for the future expansion of its business operations.
Meanwhile, Tuya will further open up more business potential for SCG based on its Cube Solution, including assisting SCG in enhancing its smart home brand, developing a smart home management system, and offering intelligent transformation support to fulfill the demands of a variety of real estate industry customers. SCG will be able to realize a wide range of value-added functions, such as device connectivity and management, user management, information collection and analysis, etc., and swiftly complete the development of various applications, to better meet the varied IoT application needs of its own and the customers in the real estate industry and to provide differentiated functional support for various businesses and scenarios. For instance, SCG will be able to deliver product analysis for smart household products of its own brand. It will also be able to offer extensive device management capabilities to improve management efficiency for property management in industrial parks, commercial buildings, communities, and other real estate projects, based on SCG's privatized IoT platform.
Tuya's Integrated Hardware and Software Solution Extends SCG's Business Layout
After completing the private IoT platform, Tuya will collaborate with SCG on hardware and software solutions to further explore the development of smart real estate businesses.
Regarding hardware, SCG's edge gateway will be incorporated into Tuya's IoT ecosystem, greatly increasing the number of interoperable products offered by SCG and expanding the range of goods available under its smart home brand. Tuya will work with SCG to develop more intelligent interaction scenarios for the real estate industry and develop a flexible and scalable business management model, drawing on the nearly 2,700 product categories enabled by Tuya and SCG's in-depth understanding of the pain points of real estate industrial transformation. To help customers in the real estate business achieve energy savings and cost reductions, Tuya will work with SCG in developing a smart building energy management system including Zigbee sensors, smart thermostats, meters, edge gateways, and other devices.
In terms of software, SCG's own App, SCG Smart Living, will be seamlessly connected to Tuya-enabled App through the Tuya App SDK of Tuya's PaaS2.0, ensuring the management and control of SCG's brand as well as realizing connectivity, management, and control of Tuya-enabled devices.
Notably, as both parties are closely watching clean energy, SCG and Tuya will also jointly expand the zero-carbon solutions in the field of commercial real estate, energy management solutions for households, as well as smart cities and other proactive applications, to further open up the real estate industry towards the direction of green, intelligence, and sustainability, to enhance the brand value of social responsibility and ESG, and to work with customers to develop new collaboration patterns.
"As IoT, AI, and other technologies break through, enterprises in each ecosystem have to speed up the pace of smart transformation to adapt to new technological upgrades and applications. Tuya has committed to supporting industrial upgrade with cutting-edge technologies, while remaining open and neutral. Its IoT technical prowess and experience in the global market will be critical to our collaboration in developing a one-stop solution that satisfies SCG's development ambitions while also fitting the local development environment. We will continue to focus on 'innovation' and 'sustainable development' in the future, and will work closely with Tuya to explore further business prospects in the fields of smart lighting, smart community, and smart city and to work together to enable customers to thrive," said Mr. Apirut Vancha-am, Chief Digital Officer of SCG Digital.
"The collaboration between Tuya and SCG will provide a new development momentum to Thailand's real estate industry. With SCG's channel resources and Tuya's technological and ecosystem advantages, we will combine our efforts to develop smart real estate benchmark customers, jointly construct a green and highly efficient IoT ecosystem, and expand the impact of industrial smart upgrading. Tuya will continue to collaborate with SCG in the future to broaden its innovative business coverage with distinct products and services, bring energy-saving and efficient IoT solutions to traditional and emerging industry customers, and meet customers' needs for autonomous control and differentiated transformation while promoting the prosperous development of the local IoT ecosystem," said Ross Luo, General Manager of Asia Pacific Region of Tuya Smart.
SCG and Tuya will form a synergy of strengths to lead the emergence of smart real estate in Thailand, bringing an entirely novel environment to the real estate industry and laying the groundwork for both parties to expand more cooperation scenarios and cross-industry cooperation in the future. At the same time, Tuya will continue to invest heavily in the advancement of IoT technology and the application of smart businesses, as well as collaborate with customers worldwide to open up a broader market for diverse industries and create greater business value.