The cooperation will help both sides pool together advantages and capabilities to bring a greater variety of smart devices into more households.
The Middle East is an emerging market for smart home. In the United Arab Emirates, the nearly 90% penetration rate of smart phones and the high GDP per capita provide fertile soil for interconnected smart products to enter the market, from which local manufacturers realize that seizing the opportunity of smart devices is an effective way to expand market share.
To this end, UniHoms Smart Home, a leading smart home enterprise in the Middle East, has come to a partnership agreement with Tuya Smart (NYSE: TUYA), a global leading IoT cloud platform. Both sides will leverage their respective advantages in technology and market channels, enhance popularity of smart home in the Middle East market, and contribute to vigorous development of the industry.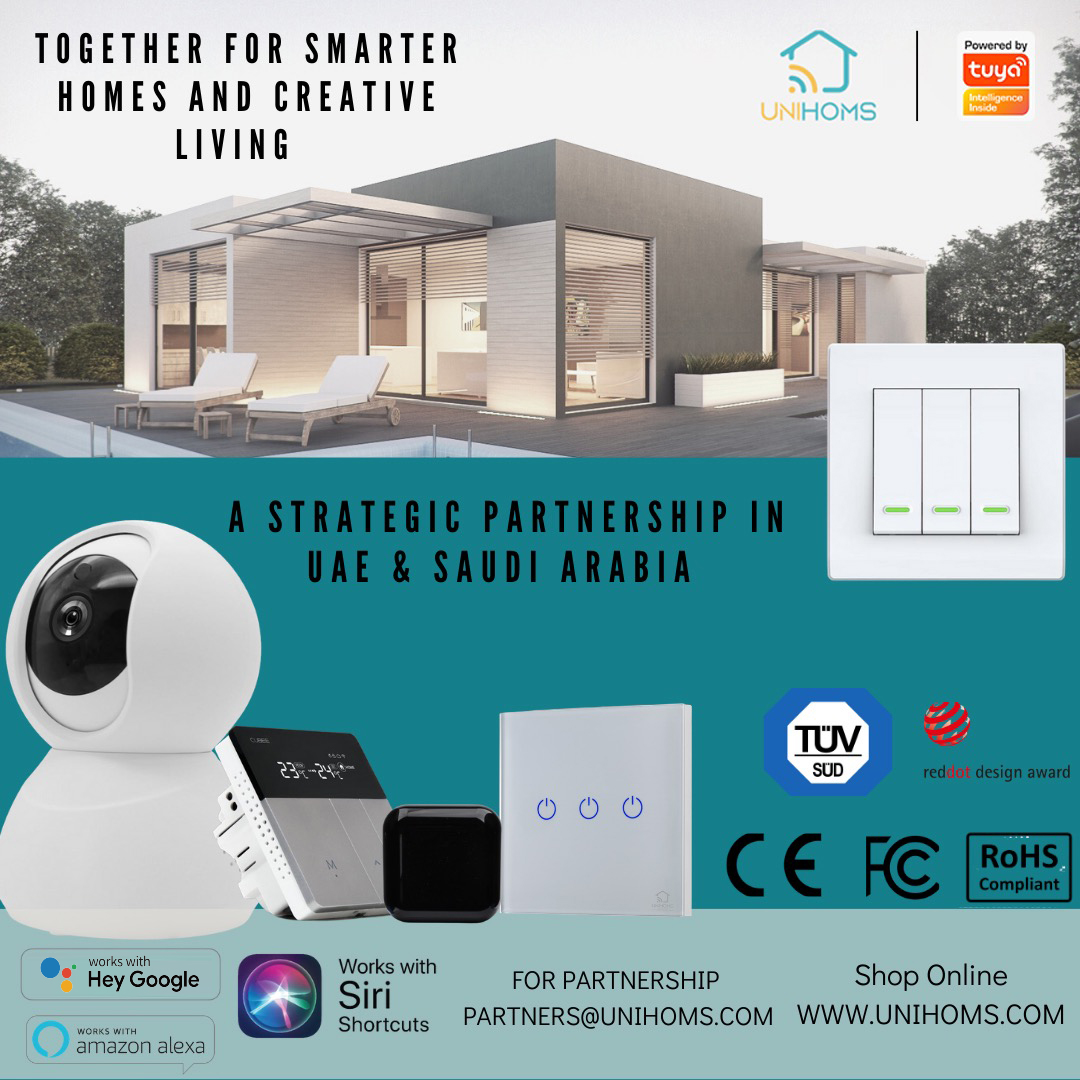 Tuya provides IoT development tools to help UniHoms develop more than 20 types of smart home devices, including smart lighting, electrical, security cameras, and sensors. Regarding the software, Tuya's SaaS solutions for lighting, security, and other verticals will also help UniHoms develop more industry-specific software applications.
By leveraging Tuya's IoT platform, UniHoms has successfully developed its exclusive app "UniHoms", thus realizing the interconnection and integrated operation with more than 310,000 'Powered by Tuya' smart devices.
Tuya's global marketing channels, together with UniHoms' e-commerce stores throughout the Middle East, as well as its one-stop service from free delivery to on-site installation, will help both sides bring smart home devices to a wider group of consumers and therefore gain a larger share of the market.
"Our mission is to facilitate smart home products with the lowest setup cost and quick installation for homeowners and to provide efficient SaaS approaches for building facilities to boost performance and reduce operation cost," said Mohammad Bakkour, President of UniHoms Global Tech.
Johnny Lu, General Manager of Tuya Latin America, Middle East, and Africa Region from Tuya Smart, said, "the Middle East is one significant market of smart home for Tuya. The cooperation with UniHoms is not only conducive to developing more categories of smart devices, but also in penetrating into the Middle East market and bringing cost-effective and easy-to-use smart devices to consumers."
It is foreseeable that with more and more smart devices emerging in the Middle East market, a future-oriented smart lifestyle will appear in every household of the Middle East.
About UniHoms
UniHoms was founded in 2020 as a sister company of Ukplus UAE and specializes in smart home products and solutions. Headquartered in Dubai, UniHoms operates across the Middle East, with its security and e-commerce business ranking among the top in the Middle East market. The vision of UniHoms is to improve standards of living by making smart home and home automation technologies accessible and affordable to people in the Middle East. Its mission is to become a leading smart home solution provider in the region.
About Tuya Smart
Tuya Smart (NYSE: TUYA) is a leading global IoT cloud platform with a unique, all-in-one offering of cloud + connectivity + app that makes it easy and affordable for brands, retailers, and OEMs to make their products smart. Tuya's platform has smart-enabled more than 310,000 device SKUs in hundreds of categories worldwide, serving over 324,000 developers globally. Tuya is internationally operated with headquarters in the U.S., Germany, India, Japan, Colombia, and China.
For more information, please visit: Tuya's website, LinkedIn, Facebook, Twitter or YouTube.