Tuya Smart (NYSE: TUYA, HKEX:2391), a global IoT development platform service provider, has confirmed that it will showcase its latest smart energy-saving solutions at Hall 5.2A Booth 121 at IFA 2022, from September 2 to 6 in Berlin.
IFA 2022 presents the latest products and innovations in the heart of Europe's most important regional market. Only IFA offers such a comprehensive overview of the international market and attracts the attention of international trade visitors each year from more than 130 countries. This year, the exhibition area is expected to reach 163,900 square meters, the number of visitors will reach 245,000, and the number of exhibitors will reach 2,000.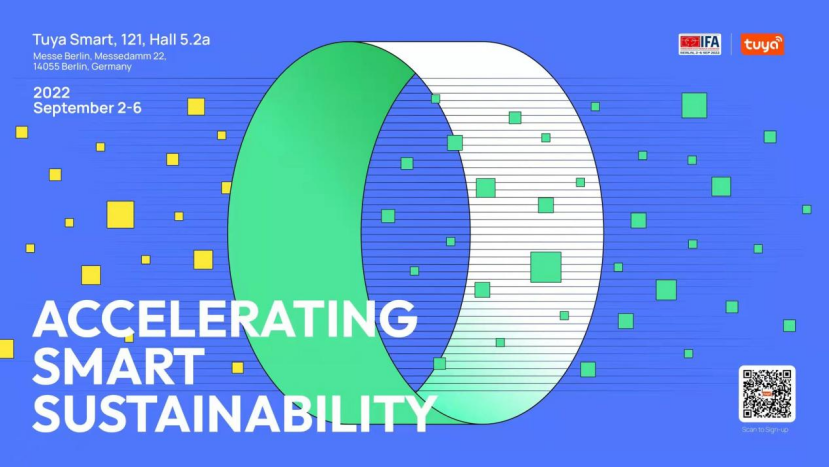 At this year's IFA, Tuya Smart will demonstrate its latest innovative solutions to global partners and customers with the theme of 'Accelerating Smart Sustainability'. The showroom, which covers an area of 100 square meters will be divided into three immersive scenes and show new solutions such as intelligent drug dispensers, gaming headsets, security door locks, flood alarms, etc.
Tuya will also be displaying some new products that feature the latest innovative energy-saving solutions. For example, the smart controller with a temperature and humidity sensor can detect the ambient temperature and humidity, and notify users when the temperature or humidity level exceeds the upper or lower limit. Furthermore, the thermostat radiator valve is another great energy-saving solution, it can be connected through either Zigbee or Wi-Fi, and can save between 15% to 30% of the heater's energy output, while correspondingly reducing the electricity cost for users.
Tuya Smart's Energy Saving Dashboard, a power consumption monitoring system, is suitable for customers with, or interested in energy monitoring products.
Moreover, during the exhibition, visitors can experience Matter-capable devices from the Tuya ecosystem and learn more about Tuya's Cube Private Cloud solutions.
In addition, 'Tuya Day' will take place at IFA 2022, with keynote speeches from guest speakers representing leading smart solution providers and consumer electronic brands, including CALEX, Nedis, Sharp Consumer Europe, etc., who will provide invaluable insight into the application of IoT in solving a range of pressing global and regional issues.
Needless to say, we can see Tuya Smart's strength in the upcoming exhibition in the fields of healthy living, smart security, and energy savings. By deepening cooperation with global partners, Tuya will continue to help families achieve a smart, sustainable, and energy efficient lifestyle, while also supporting enterprises in optimizing energy measurement and carbon emission strategies, so as to achieve carbon reduction goals and green transformation, eventually building an intelligent and sustainable environment.